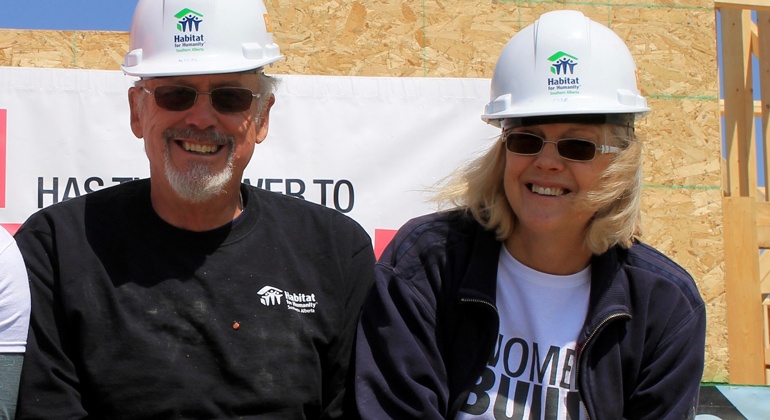 Sue said she was touched by Chinook Financial's initiative to organize Build Days in Nigel's memory
"I don't think there are many bosses who were so well loved that their organization would do something like this years after their retirement."
Nigel Teucher , a volunteer Crew Leader, passed away earlier this spring. To honour and remember his commitment to Habitat for Humanity, his former employer, Chinook Financial alongside his wife Sue Teucher , organized build days on June 8th, 20th, and 29th dedicated as "Nigel Builds." Nigel was the General Manager/CEO of this local credit union from the mid-1990s to 2010 when he retired.
Sue began volunteering with Habitat in 2007 and Nigel in 2012. Together they have amassed nearly 2,000 combined volunteer hours assisting at the Calgary ReStore, working with local Habitat chapters, and helping on the construction of 13 Habitat homes in southern Alberta. We posted a volunteer spotlight on the pair last year.
We spoke with Sue about her and Nigel's time volunteering with Habitat and why "Nigel Builds" was significant to her.
Read More