Sue and Nigel Teucher are regular weekly volunteers with Habitat for Humanity. Sue has been volunteering with Habitat in Calgary since May 2008. It was a life long dream of hers to give back to the community through Habitat, and her retirement allowed her the time to fulfill this dream. In 2013, after three years of semi-retirement, Nigel retired completely which also allowed him to donate some of his time to Habitat.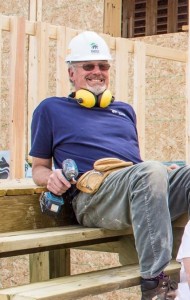 In June 2013 the High River flood occurred devastating the town. Habitat for Humanity was one of the volunteer organizations chosen to do the rebuilding of many of the homes in town. Having lived on an acreage outside High River for the past 25 years, Sue and Nigel were well placed to help after the flood.
Both Sue and Nigel are very comfortable with construction after many years of almost constant renovations and building improvements on their property. High River has been their home town since 1991 and Habitat was a perfect way to give back to such a welcoming warm community.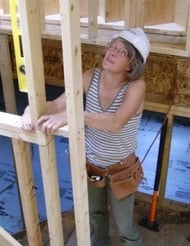 When the flood rebuilds were completed construction on the duplex in High River began, and they transferred their rebuild skills over to the new build site. It was a great project and meeting the two families who were to live there made it all the more meaningful. The other volunteers and site supervisors were great to work with and it was a fabulous way to give back to the community.
Sue and Nigel are both crew leaders, and they continue to help each week at the various Habitat sites in Calgary. They are really looking forward to the next build in the Foothills Chapter.
We salute your dedication Sue and Nigel!