Sue said she was touched by Chinook Financial's initiative to organize Build Days in Nigel's memory
"I don't think there are many bosses who were so well loved that their organization would do something like this years after their retirement."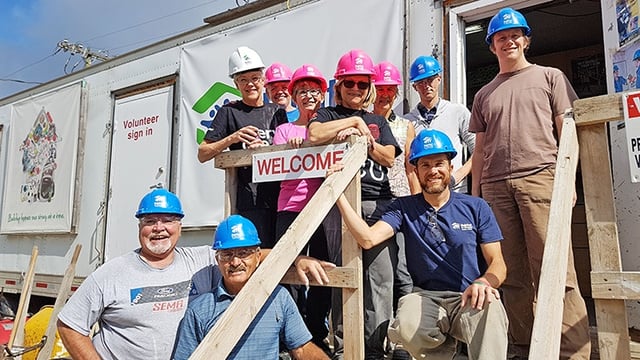 Nigel Teucher, a volunteer Crew Leader, passed away earlier this spring. To honour and remember his commitment to Habitat for Humanity, his former employer, Chinook Financial alongside his wife Sue Teucher, organized build days on June 8th, 20th, and 29th dedicated as "Nigel Builds." Nigel was the General Manager/CEO of this local credit union from the mid-1990s to 2010 when he retired.
Sue began volunteering with Habitat in 2007 and Nigel in 2012. Together they have amassed nearly 2,000 combined volunteer hours assisting at the Calgary ReStore, working with local Habitat chapters, and helping on the construction of 13 Habitat homes in southern Alberta. We posted a volunteer spotlight on the pair last year.
We spoke with Sue about her and Nigel's time volunteering with Habitat and why "Nigel Builds" was significant to her.
---
Their motivation to give back and why they chose Habitat
"As immigrants to Canada, we are extremely appreciative of the life we've been able to build here. We also wanted to do something tangible. Habitat's model of giving a hand up was very important. We'd always been keen renovators and felt we would be useful. Having a home to call one's own is fundamental to family stability and helping families achieve that was gratifying".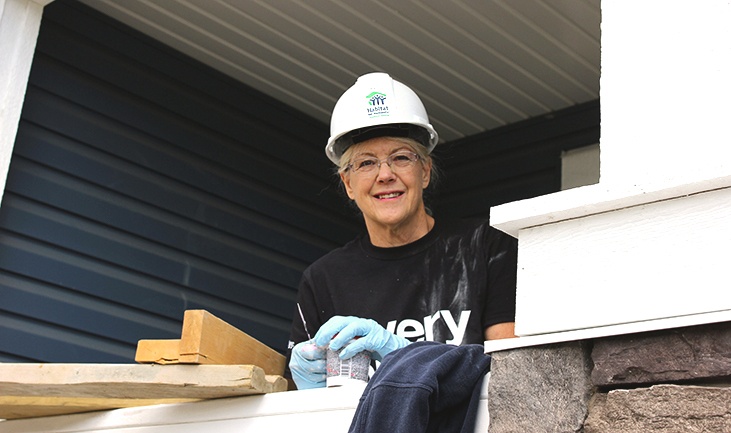 Their favourite parts of volunteering
Sue recounts some of their favourite parts of volunteering with Habitat over the years, including meeting homeowners, listening to their stories, making friends with fellow volunteers, and participating in Women Build days.
Sue recalls that she and Nigel were always learning and being able to teach newer volunteers felt like they were paying it forward.
When asked about her and Nigel's favourite things to help out with on a build, she said, "The whole process! We were happy to do whatever the site supervisor needed to move the project along".
On having family participating in "Nigel Builds"
Sue says that the best part of having family attend these build days was seeing their kids enjoy being on site and knowing they understand their relationship with Habitat. The family also enjoyed hearing about Sue and Nigel's past times on site from other Crew Leaders.
"It was very meaningful that Habitat welcomed my kids and their spouses to work alongside Chinook Financial's build in memory of Nigel. Our youngest daughter first volunteered for Habitat in High River after the [2013] flood. Our children have kept up our renovation tendencies and so we felt confident they would be useful on the site".
The impact of having a safe and stable home
For Sue, the impact of having a safe and stable home means not having the constant stress or worry about where one is living which frees up families to focus on things such as relationships, education, careers, parenting, and enjoying life in general.
"Meeting with homeowners, working alongside them, often teaching them building skills, hearing their stories constantly reinforced all the reasons we were there".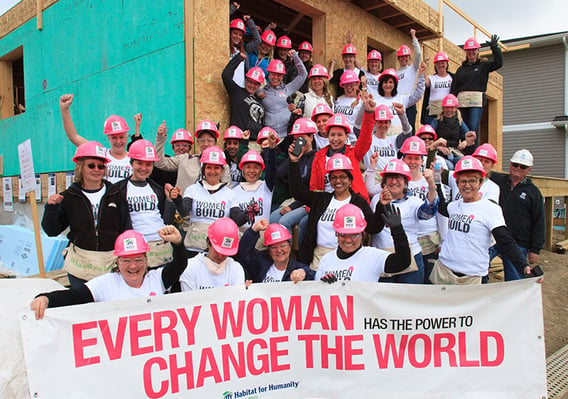 For anyone looking to give back
"Habitat gives you everything you could want in a volunteer job; a busy productive day, the opportunity to learn new skills, camaraderie, satisfaction at giving and doing something tangible, and a direct connection to the outcomes that the organization is setting out to achieve," says Sue.
Sue and Nigel's biggest takeaways from volunteering have been realizing how lucky they are to be Canadian, the difference Habitat makes in people's lives, and how great the people who work and volunteer there are.
"We have made such good friends and every day on site is fun, sociable, productive and satisfying".