On Jan 11th, while most of us were hibernating, 16- and 17-year-old AA Canucks traded their helmets for hard hats on our Silvercreek site.
"We love doing anything to give back to the community and show we're more than just hockey players," says team Captain Cole Martin.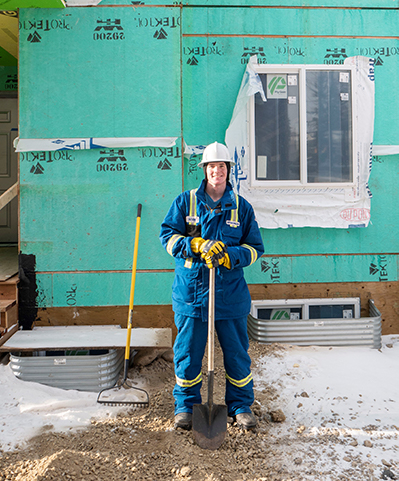 Cole Martin, wearing his Dad's cold weather work clothes.
If you were to take in the scene from our newly finished parking lot you would see the players working with precision.
You would also see relaxed smiles, hear a few "whoop, whoop's!" and Avicii thumping through a speaker. Only their bulky layers, hats and gloves would give away the frigid temperatures of the day; the highest being -14.
Despite the winter weather, the boys were living it up, enjoying their time together and learning new skills.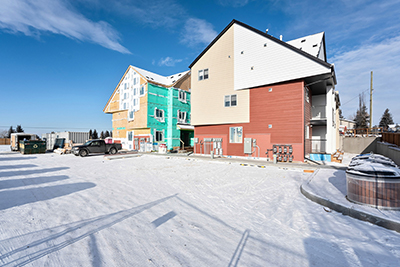 Silvercreek site from the parking lot entrance.
Kevin Martin, Cole's Dad, organized this Build Day for the players the last two years. Kevin has volunteered on a Habitat site through his work as a Surface Land Coordinator at Enerplus.
"My first experience with a Habitat Build Day was with my colleagues—it was immediately apparent what a great team building initiative this can be. We had people from all parts of the company come out and I was with people I don't typically work with. You can feel the power of being part of a team and actually see what you're accomplishing together on the site," says Kevin.
For these reasons Kevin thought the activity would have more than a scoring chance with his son's hockey team.
"It's nice to take a step back from the intense hockey and spend time together differently," says Cole.
Last year, when Kevin first approached Kelsey Murdoch, the program manager, she wasn't sure what to expect. Before every Build Day, a group is required to donate or fundraise to help pay for the cost of building Habitat homes.
"As a youth hockey team they are already required to do a lot fundraising, so I was a little worried that they would struggle with that part. Much to my surprise, and theirs, they far exceeded the $1,500 fundraising target for their Build Day in 2019, and now in 2020 they topped themselves again!"
This year the boys raised $4,161.80. It's a huge win for the team.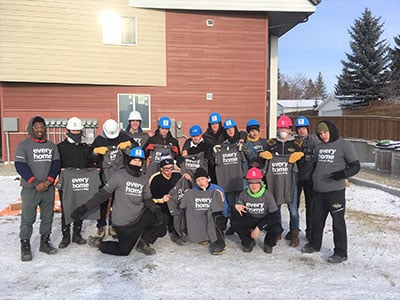 A team photo after their pizza lunch and new Habitat shirts.
"I'm inspired when I see young people getting so involved in their community, and grateful that they choose Habitat to support."
Because Habitat ReStores cover nearly 100 percent of Habitat's administration costs, the player's dollars go directly toward the cost of home construction.
The families who move into these homes are part of our lives; sometimes in surprising ways.
"My wife's a preschool teacher and when I showed her the family who's house we helped build, she knew the family as she had taught one of their children," says Kevin.
A Habitat home is a stabilizing force for a family. Better, affordable living conditions lead to improved health, stronger childhood development and the financial flexibility for parents to make investments in their families' futures.
After moving into a Habitat home, there is a 60 per cent reduction in food bank usage and 70 per cent of homeowners donate their time and money to charities.
Related content:
Why organize a Build Day?
How to bring positive change to your life and your community
Fundraising cyclists prove we're better together
Construction skills are especially empowering for youth. To know these teenagers are taking on something new, being trusted, serving their community, it's a pure hat trick.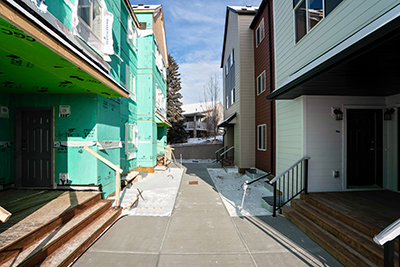 The player's work on Building 2 will help get families into affordable housing sooner.
People with these values stand out.
"Kevin is an example of a person who serves everywhere in his life. He helps out at any opportunity around the office, clearly prioritizes stepping up to help in his community, and is now inspiring future generations of Calgarians to see the value in doing the same. We are so proud to have him working with us," says Lindsey Moen, Senior Specialist, Communications & Corporate Investment with Enerplus.
And we won't be forgetting the AA Canucks anytime soon at Habitat. The team is currently on the leader board for top fundraising teams of the past 12 months.
"Their enthusiasm and commitment is inspiring—not to mention the hard work they did on the job site moving dirt in the winter and getting the insulation started in one of the four buildings on the Silver Creek job site," says Kelsey.
Join us, for the first time, or again, and set a goal of raising $125 each with a group of 12 teammates, colleagues, or friends and family. Be part of the Build Day fundraising program and change your life and the lives of families across Calgary and southern Alberta.