It is the beginning of the second day. Cyclists, Martine and Liz, are meeting for the first time on a bus shuttling them to the start of their 100 km plus ride. One will cycle towards Lake Louise, the other towards Kananskis. Later that day they will finish together hugging, with both of their lives changed.
Liz and Martine are two of 29 riders who participated in the 6th annual Ride Through The Rockies this past August. Cyclists from BC, Alberta and Manitoba each pledged to raise $2,500 and over three days ride 350 km through Kananaskis, Canmore and Banff. Ken Crockett is the VP of Star Building Materials and the founder of this event.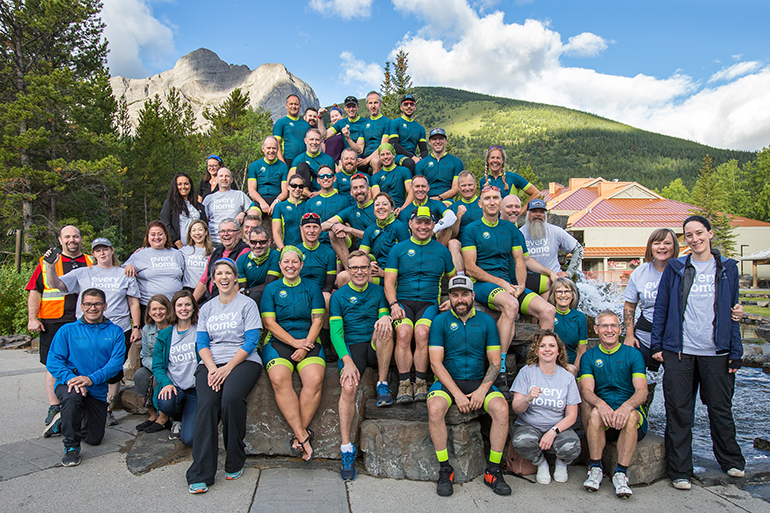 Volunteers and cyclists the beginning of day two
"It's all about challenging people to go outside of their comfort zone."
Ken has loved cycling for a long time. Riding seriously since he was 21, he raced competitively on the BC mountain circuit before turning over to road cycling.
In 2013 Ken was invited by riding buddies, one of them being the president of Qualico, to participate in an event called Ride Around the Lake in Winnipeg.
The event is one of Habitat Manitoba's longest-running, signature fundraisers, with Qualico as a keystone donor, and has raised $2.2 million since its beginnings 12 years ago.
That weekend something changed for Ken. "I was blown away by the camaraderie of the ride, and passion for cycling and raising money," he said.
"I was also inspired by the Habitat team and how they were very involved. "I thought, I've got to put a ride together."
The following year Ken started his own event closer to home. The first Ride through the Rockies hosted 13 riders, was over four days and raised $65,000.
Six years later the event has raised over $700,000. Ken's goal is $1 million.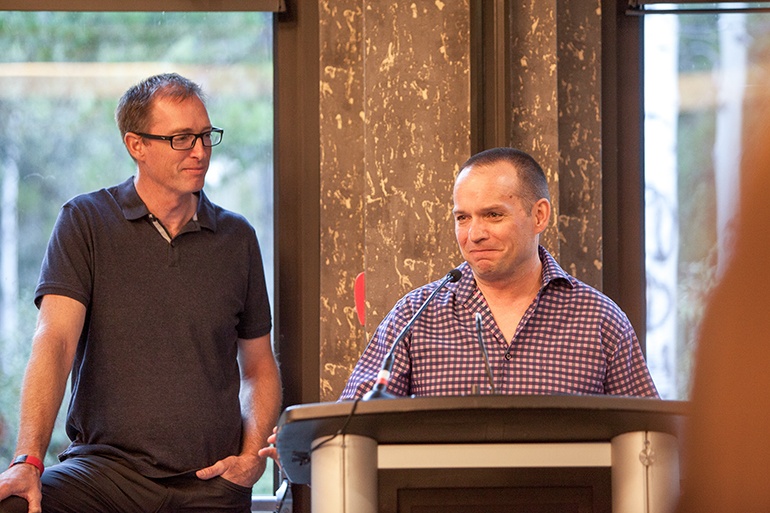 Ken (left) and one of the top fundraisers, Marty Smith, speaking at a Star sponsored banquet
Star Building Materials is the key sponsor of the Ride and it's through this network Ken has grown the event.
"We have a core group of riders who have really helped to spread the word, inspire people to join, and help cyclists who might struggle with fundraising," said Ken.
The gorgeous scenery, intimacy and inspiring challenge of fundraising and riding is establishing a more diverse group of riders every year.
Liz Kovach, president of the Western Retail Lumber Association in Manitoba, found out about the Ride from one of those core groups of riders. Although cycling is not new to Liz, the path through the Rockies was unnerving.
"I actually lost sleep a few nights after I saw the race course because I had no idea what I was thinking," she laughed. Liz started cycling seven years ago training for a triathlon. Her passion for cycling has been put on hold a few times because of injuries.
"This event got me back on my bike and reminded me how much I enjoy commuting by bike and going for training rides and getting out of the city."
Martine Yzerman, another first timer to the Ride, lives in Calgary and is a seasoned cyclist. She's cycled seriously for 25 years, owned her own cycling studio for seven years and clocks in three to four thousand kilometers a year on her bike. She signed up when a rider at her studio recommended the event.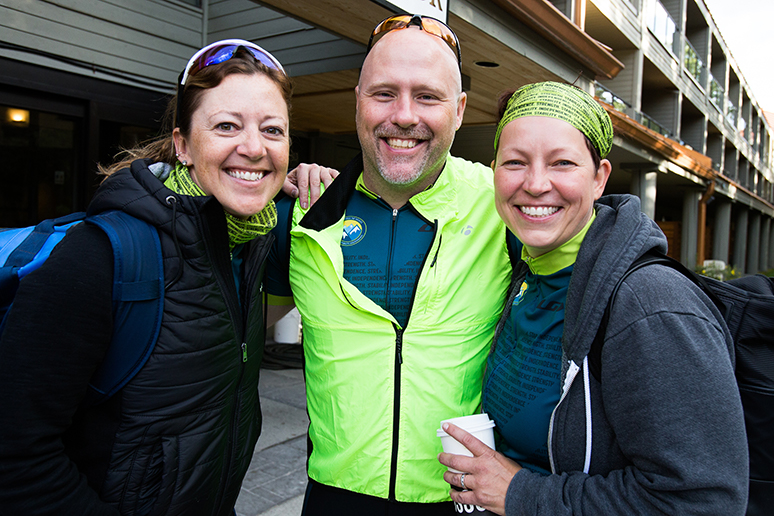 Cyclist Liz on the far right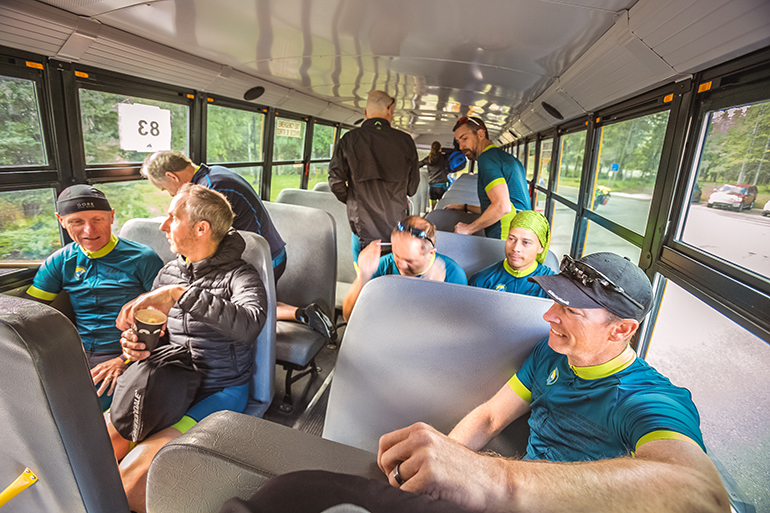 Cyclists boarding the bus on day two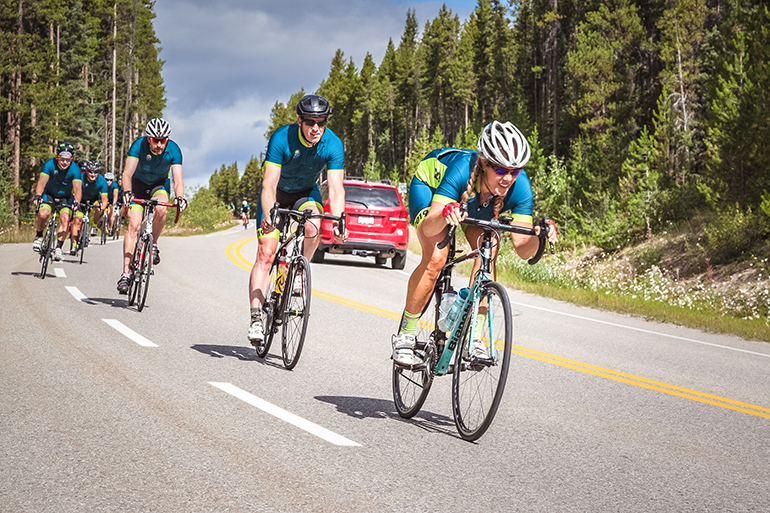 Cyclist Martine on the far right
Martine and Liz didn't know each other until halfway through the Ride, but they share an experience Ken describes as a highlight of the weekend.
The second day of the Ride involves participants choosing to cycle a distance of 120 km or 173 km by starting at Castle Junction and either cycling towards Lake Louise or straight to Kananskis. That morning all 29 participants piled onto the bus to the drop off. This is where Martine and Liz meet for the first time.
They sit on seats right in front of one another. Together they are half of the female riders on the bus. Martine compares their introductions and small talk to someone sitting beside you on an airplane.
Liz asked Martine what ride she was going to do. Martine said "the 173 km one" to which Liz replied "oh-my-god, you're my hero." Martine shrugs at the compliment and points out they were both going to burn a few calories that day. The two ladies laugh together at the understatement. A connection is formed. They say goodbye at the drop off. Martine heads towards Lake Louise to ride 173 km and Liz starts her 120 km's. Liz has never cycled this distance in her life.
"To see a family get the keys to their house and know it's theirs. We tap into that energy and that experience. It really turns a key in your heart to want to help with something like this."
Ken Crockett, founder of Ride through the Rockies
Later that day Martine would see Liz again. Riding with the fastest group Martine catches up to Liz 25 km before the finish.
She slows and notices Liz isn't looking as cheerful as she did on the bus. Martine pulls away from her group and pedalls alongside her.
"I have never ridden 120 km in one shot in my life, let alone in the mountains," said Liz. "This was my first experience and they are beautiful, but humbling beasts."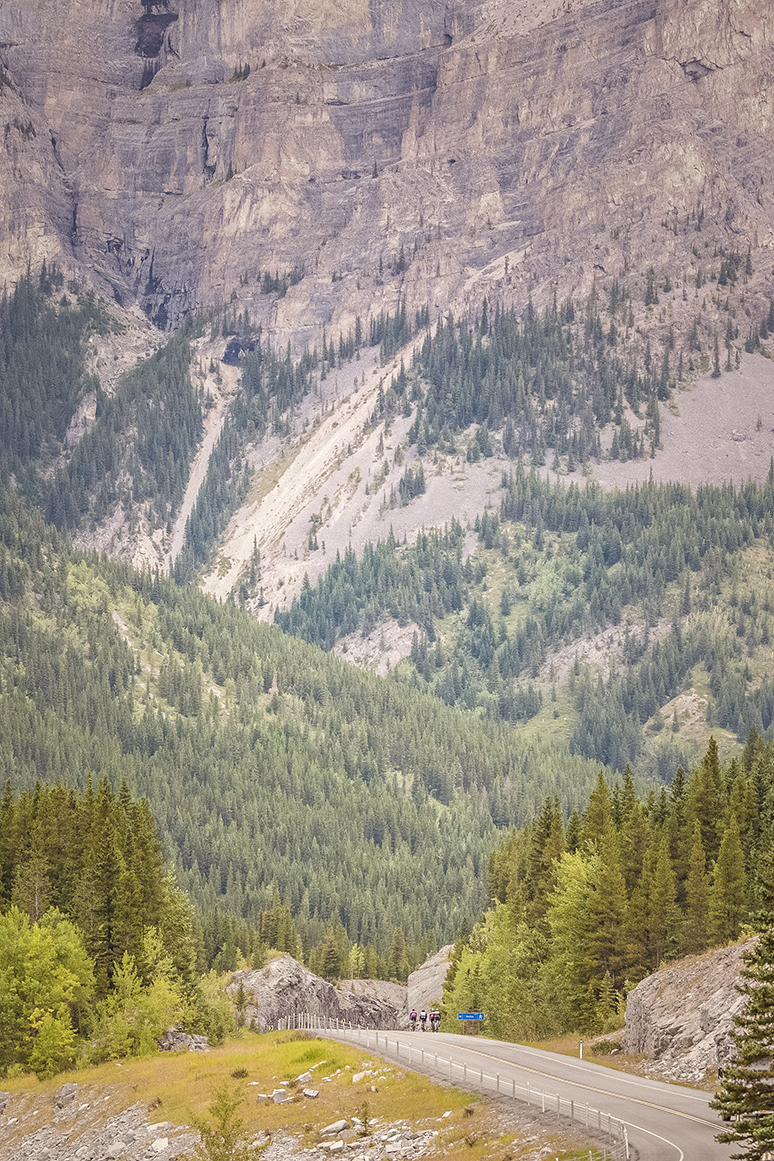 Cyclists tackling hills on the first day
Martine reaches out to Liz. "Do you mind some company?"

Liz accepts. With the Ride's big distances, small group size, and being one of the slower riders, Liz had been cycling alone for most of the day.
"The last 30 km on day two was tough. Heading up the highway into a strong wind and elevation was not easy," said Liz. The two cycle together for a bit and then slow down. Liz has to stop. At that moment all she can do is walk.
They dismount and walk the bikes side by side, their cycling shoes clicking on asphalt. With cars moving past on their left and mountains looming in the sky something happened.
"You're walking in your cycling clothes and shoes and it's hard, but to me that seemed like nothing in comparison to people trying to provide for their families," said Martine.
The funds raised from the 2019 ride will go to a development in Radisson Heights. Once completed, this development will be sold to families with an interest free mortgage, geared to their income.
"Knowing that we were helping a family was motivating and helped get me through some of the climbs," Liz echoed.
When the two riders reached the end where 27 other riders and volunteers were waiting, Liz embraced Martine with tears on her cheeks.
"It has been a long time since I participated in an event that challenged me physically, mentally yet had participants who were supportive and respected the effort regardless of the result," said Liz. "If it wasn't for Martine keeping me company, I'm not sure I would have made it."
"When I wrote my family that day I referred to her as my guardian angel."

"The connection that you have and conversation in the last 20 kilometers of a ride, you learn more about a person in those 20 km than 20 years of a friendship. Meeting Liz was a very life changing moment, she really altered how I felt about being part of a cycling event," said Martine.
"As a seasoned cyclist, I am inspired when I see someone who is challenging themselves beyond what they thought they could do and working through the mental struggle," said Ken.
"I am also inspired by a seasoned cyclist who rides a ton of miles, but stays back to help another finish. That camaraderie is very difficult to manufacture-a group of people who are passionate about helping others."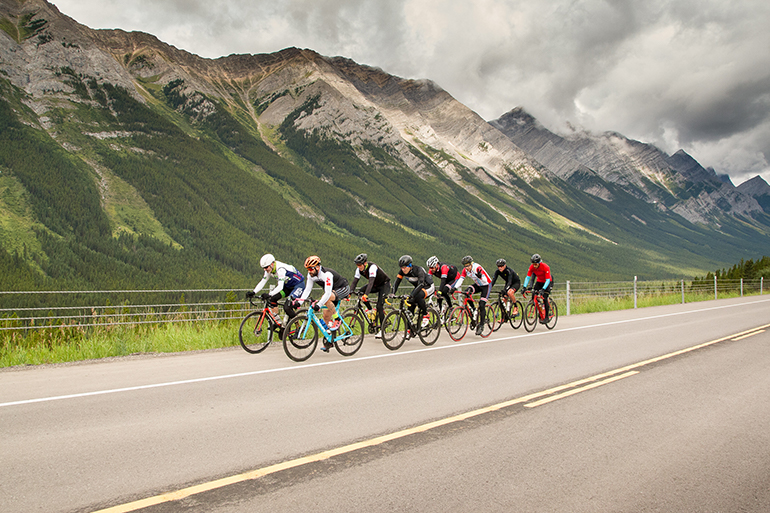 Cyclists charging through the third day
Ride Through The Rockies is about challenging yourself physically, mentally and personally to ride and fundraise. Both are intimidating for riders on different levels, but by partnering together, we can all go the distance and reach our goals.
For Ken, using your passion to raise funds or bring awareness for a cause is something everyone should consider.
"What's holding you back? We get so caught up in our day to days, the fast pace of this world and we think we don't have time to do anything." For Ken it all comes down to the Home Dedication, an event where donors, volunteers and community partners come together to celebrate the completion of a build.
"To see a family get the keys to their house and know it's theirs. We tap into that energy and that experience. It really turns a key in your heart to want to help with something like this."
Here at Habitat for Humanity Southern Alberta, we need people like Ken to use their network to come alongside and support us. We can't do it alone.
Partner with us by hosting your own fundraising event and give families across Southern Alberta lives of strength, stability and independence through home ownership. Similar to how it was for Ken, Martine and Liz, this could be the start of something amazing.