"How are you doing? Where are you going? What's important now that wasn't before?" are questions Ashlea Cook explored in an exercise called a Life Audit. This exercise is how she lands on a build site and although Habitat has had 92 wonderful groups volunteer this year, "probably once a year we get someone like Ashlea," according to Kelsey who manages the Build Day program.
It began eleven months ago when after living in New York City for four years and Philadelphia for one, Ashlea returned to Calgary. "Home is home" says Ashlea sitting across from me taking a break from the Habitat work site in Radisson Heights. "The deep roots that I established here in Calgary assisted me in building the confidence to explore the world."
As she began to establish herself again in Calgary, Ashlea came across Xsven Goechea's article "How and why to do a life audit." "The purpose is to write down wishes, categorize them and see if you're living a life in line with your wishes," says Ashlea. While Ashlea didn't write 140 wishes like Xsven, the result was the same: an analysis and readjustment of how her time is spent.
On one of her Post-it notes Ashlea wrote, "Volunteer with Habitat" and after ­­­­eight weeks of fundraising, on Oct 5th surrounded by her closest friends and family, that wish came true.
"It is so neat to see a finished product and to help others put a stamp on a home. I think people are looking for an opportunity to give back and are overwhelmed with volunteering and the many options out there."
- ASHLEA COOK, HABITAT VOLUNTEER
Ashlea volunteered through the Build Day Program, where groups of up to 12 volunteer on a Habitat construction site for a day. It's a fun time learning new skills, there's a catered lunch and coffee, and they work alongside experienced Crew Leaders and future Habitat homeowners. Interested groups have the choice to invest $5,000 or fundraise $1,500 using Habitat's online fundraising system. The financial support helps us pay for the land, building materials, and expert trades needed to complete each home.
According to Kelsey, most of the groups that participate are businesses or organizations who want to do a team-building event and give back to their community. Typically, organizations and businesses choose to contribute $5,000. "I think people are intimidated by fundraising," says Kelsey.

But she has an easy solution for that: break it down and have a go at it. "If 12 people raise $125 then they're good." Ashlea's group is the third best fundraising team Habitat has had all year far exceeding the $1,500 target and raising over $2,500. Their group name is "Welcome Home."
"My network responded with open arms," says Ashlea about her fundraising experience. "Calgary's kind of like a small town with a big city feel. It's so connected, which is something I used to hate" she says with a smile.
Another ingredient to "Welcome Home's" success is a piece Ashlea wrote on their fundraising page. "5883 and 5881, are the house numbers of the homes where I laid down my roots as a child, and where I began to truly develop my understanding of the word home. I knew without a doubt that they would be right where I left them when I returned, and that within these walls I could find comfort, security, and warmth ..."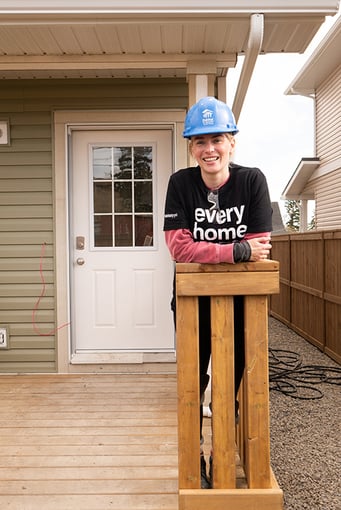 Ashlea goes on to describe how it wasn't always easy for her parents to provide a life of stability and it was only when Ashlea got older, she realized her parents efforts and that other children didn't have a stable home to invite their friends to.
Ashlea attributes the stability her home brought to transforming her neighbours into family and growing her confidence to allow her to leave and explore the world.
Rhonda Cook, Ashlea's mother, was part of the fundraising team. "Where I work there's a kindness committee and we fundraise within our networks to give back to the community." Rhonda sent out an email and many connected with Ashlea's story of stability, familiarity and independence.
Rhonda's neighbour responded, "we have the same feelings and want to contribute to another family to have those feelings as well."
The word "home" evokes all kinds of strong emotions; for some in southern Alberta it's struggle, stress and pain. With the help of individuals like Ashlea, hundreds of volunteers, the financial support of businesses and community organizations, Habitat sells affordable housing to working families. These homes don't require a down payment, monthly mortgage payments are capped at 25 per cent of household income and homeowners receive budgeting and home maintenance classes as additional support. Through these affordable homes families and children build strength, stability and independence.
Related content:
What is the cost of home? National Housing Day is Nov 22nd
What does home mean to you?
For Ashlea, volunteering with Habitat was a natural choice. She's always been a hands-on person, works as a nurse and has tried to build furniture before. "It is so neat to see a finished product and to help others put a stamp on a home."
The impact and bringing her friends and family together were a highlight for Ashlea. "I think people are looking for an opportunity to give back and are overwhelmed with volunteering and the many options out there."
"This was a way to provide an avenue and put some positivity in a discouraged city in a recession. It puts things into perspective," says Ashlea.
Habitat for Humanity Southern Alberta needs more people like Ashlea, where time is not an excuse. Ken Crockett runs a fundraising event for Habitat called Ride through the Rockies and for the last six years the event has raised over $700,000. He has some words for those that are thinking about volunteering. "What's holding you back? We get so caught up in our day-to-days, the fast pace of this world and we think we don't have time to do anything."
Habitat for Humanity Southern Alberta works best when the community comes together. And we've seen sometimes it just takes one person to do that.
"Ashlea is someone that brought her family and friends together and just did it," says Kelsey.