Hi everyone, my name is LeeAnne! I'm the Manager of Volunteer Services at Habitat. Whether you're a current volunteer or just wanna get to know us better - let me catch you up on what's been happening over the last six months.
At the beginning of April, we had to close down our sites and ReStores and cancel all our volunteer shifts due to COVID-19. Wow, thanks again to everyone who understood this difficult decision.

Over this period, we had to pause or adjust some of our operations to support families being directly affected by COVID-19. This included our mortgage relief program and a new communication program by our family services team.
I'll never forget it. In June, we were able to open up a few shifts at our ReStores to our future homeowners working on their 500 volunteer hours.
After months of uncertainty, this adorable family was able to complete their hours and move into their home in July. See the other families that moved in this summer here!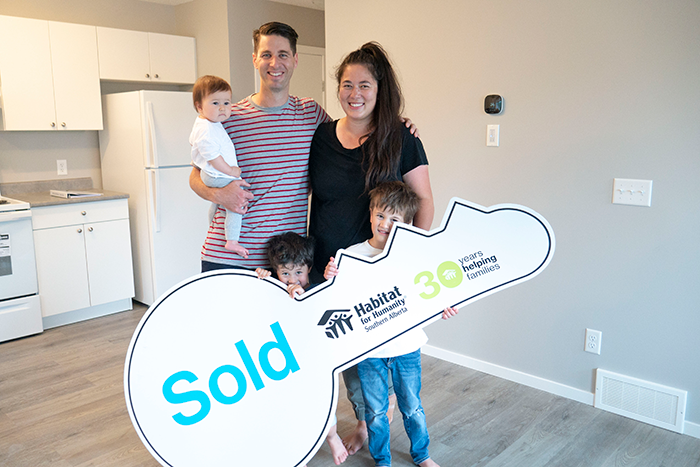 Sarah, Jesse and their three children moved into a five-plex in Bowness
Things were going really well so I worked with our Safety Advisor to develop even more extensive COVID-19 safety protocols. As things began to reopen in the province, we decided in late June to invite more volunteers back to the ReStore.

This was a big day for me and Lisa Dorian, the North ReStore Warehouse Manager.
"If ever you've doubted that one person could make a difference, you've never experienced the help of a volunteer. You are all appreciated more you know. Thank you so much for everything you do."
LISA DORIAN, NORTH RESTORE WAREHOUSE MANAGER
In early July, our construction site reopened to volunteers at limited numbers for our Crew Leaders and future homeowners. Due to the COVID shutdown, some of the units at Silvercreek had been delayed and our volunteers really jumped in there to get them done as soon as possible for the families. It was amazing to see!
"I can't think of a better place to work within Habitat than with the volunteers," says Dustin, Construction Site Supervisor. "Their dedication and kindness continue to amaze me even after all these years with Habitat."
Since then things have been going very smoothly with our new safety protocols. Our volunteers and staff are being safe and having so much fun. Starting mid-October, our construction volunteers will move over to Radisson to finish up one four-plex, and then start to frame the second one.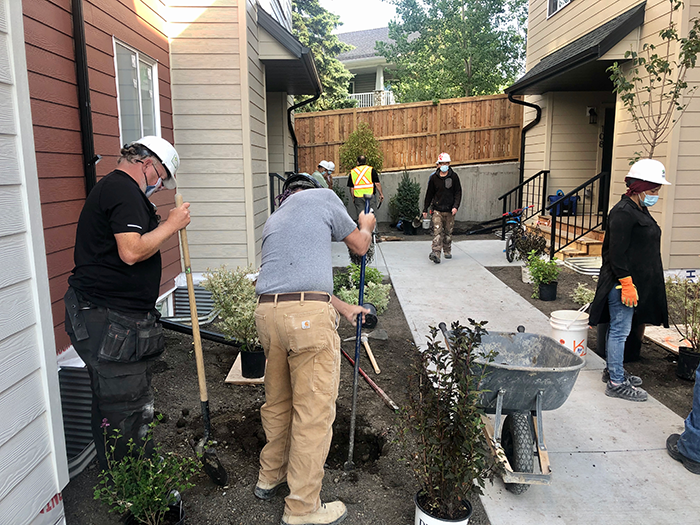 Volunteers planting trees donated ArborCare mid-August
Currently, we're working on a new volunteer program for the ReStore that will be launched in early October. There will be new specialized roles as well as a new scheduling system. Trust me, you will love it.

Around that time we'll send out an invite to those who have previously volunteered with us (did I mention I miss you?!). If you are new to volunteering and would like to be invited, please fill out your information here.
To keep everyone safe, we are currently not recruiting new volunteers for construction. If you are interested in being notified when our construction will open up to more volunteers please go to our website and fill out your information.
Well, that's all from me for now! I am happy to answer any other questions you may have regarding volunteering with us. Thanks again for your support, I miss you! Keep safe and we'll talk soon.