"Catch me! Catch me!" shouted Anna as she leaped. Her sparkly shoes nowhere in sight, she darted across the front lawn. Smiling mischievously, she looked over her shoulder at her brother Harry as the bottoms of her frilly white socks picked up the green hues of the fresh grass.
On September 11th families, donors, sponsors, community partners, volunteers and Habitat staff came together to celebrate the completion of 10 homes in Bowness. Over 100 people attended, including Alberta's Minister of Seniors and Housing Josephine Pon.
Watch what happened in this video
It takes a community to build a Habitat home
"Affordable housing is still a serious issue for Albertans," Pon said. "We will continue to strengthen our partnership to make every dollar go as far as possible. To the families today, welcome home."
For these homes, every dollar invested by the government was matched twice from sponsors, donors and community partners.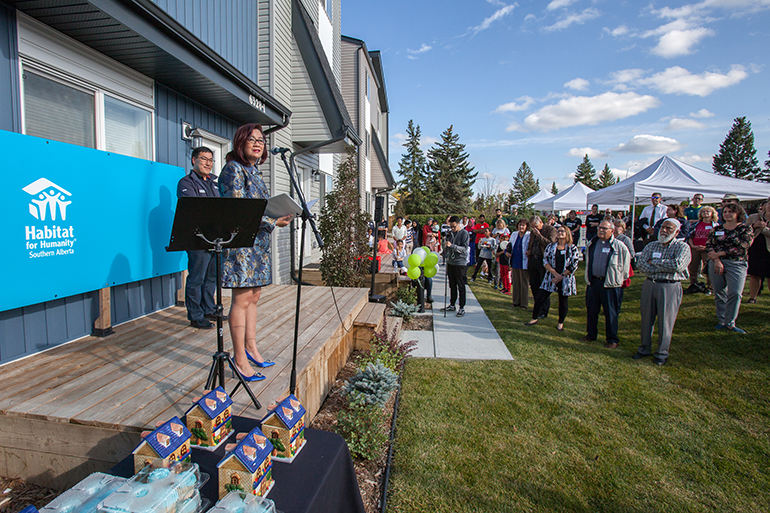 Minister Josephine Pon speaks to the group of 100
The City of Calgary also supported these homes by waiving development fees and offsite levies to reduce cost. City Councillor Ward Sutherland and the Director of Calgary Housing Sarah Woodgate were some of the city staff who attended the dedication.
Celebrating new beginnings, stability & independence! @PonJosephine@HFHSouthernAB https://t.co/hcIPAbppOG

— Sarah Woodgate (@sjwoodgate) September 12, 2019
It takes a large spectrum of donors, sponsors and volunteers to build Habitat homes. On this build alone, 28,780 hours were volunteered to construct the five-plexes.
"What I like about Habitat volunteers is that they're so different and everyone brings their own unique talent," said LeeAnne Alexander, Habitat's Manager of Volunteer Services.
"When we are approached by volunteers who want to get their hands dirty, but have never held a hammer, we welcome them and help them develop new skills." Through Habitat, seasoned builders and newbies team up to make a difference.
Some of the key donors include the Prosser Charitable Foundation, various faith groups that together raised $1-million, including the Anglican Diocese and Roman Catholic Diocese of Calgary, Bonavista Energy, ENMAX corporation and ATB Financial.
Last year two events contributed significantly to the Bowwood homes. The 2018 Women Build in which EXCEL Homes was the title sponsor, and the 2018 Ride Through The Rockies (founded in 2014 by Ken Crockett) where cyclists raised more than $142,000.
"We, as a community, saw the need and we came together to do something about it," said Habitat for Humanity Southern Alberta's CEO Gerrad Oishi.
The pinnacle of the event was when donors and families met for the first time.
"We have a tradition at Habitat of presenting families with cookie jars in the shape of a house – a reminder of the hard work it took by them to buy their first home, and a reminder of the community support behind them."
Families one by one were invited to the stage to shake hands and receive their cookie jar from each community and business partner.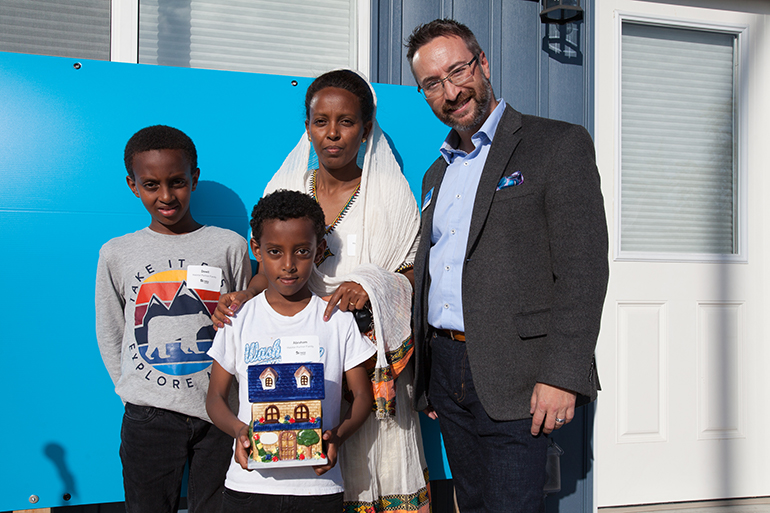 Shaun Ulmer from ATB with homeowner Elsa and her children
Why we join together to do this
Catherine, Tim, and their children Harry and Anna are one of those families. After receiving their cookie jar, Catherine shared her families story of hard work and overcoming obstacles of employment and personal challenges.
"Our dream was to own a home and it's taken us ten years to get to this point."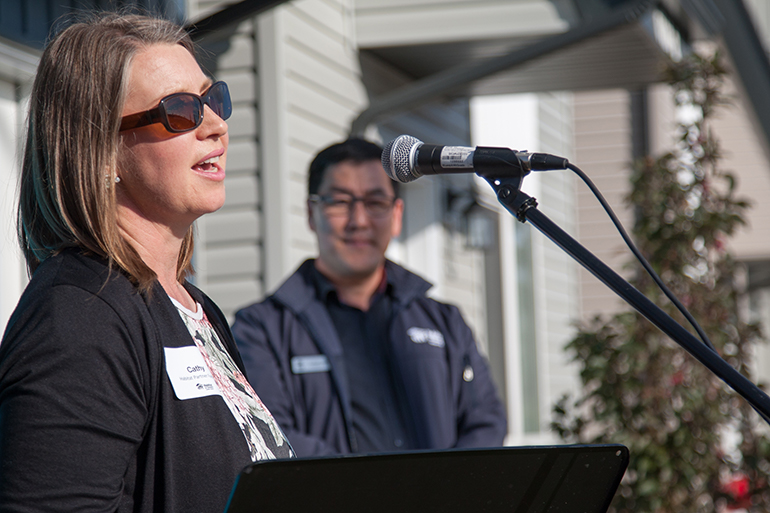 Catherine, a new homeowner, shares her family story
Although not scheduled to speak, another homeowner Mansur asked to share his Habitat experience. "After being married, having kids, I consider this my third biggest blessing," he smiled.
"It changed my mentality on how I want to give back. Now I always want to give something back."
For Catherine, Mansur and the eight other families, purchasing a home was a dream realized because of Habitat's mortgage program with no down-payment, no interest and monthly payments customized to their income.
After Mansur's speech Gerrad closed the ceremony and families, donors, sponsors, volunteers and staff mingled while eating cake and sandwiches, enjoying tours of the home and the fire truck across the street.
Children chased balloons, climbed into the firetruck and shyly became acquainted with their new neighbours and possible schoolmates.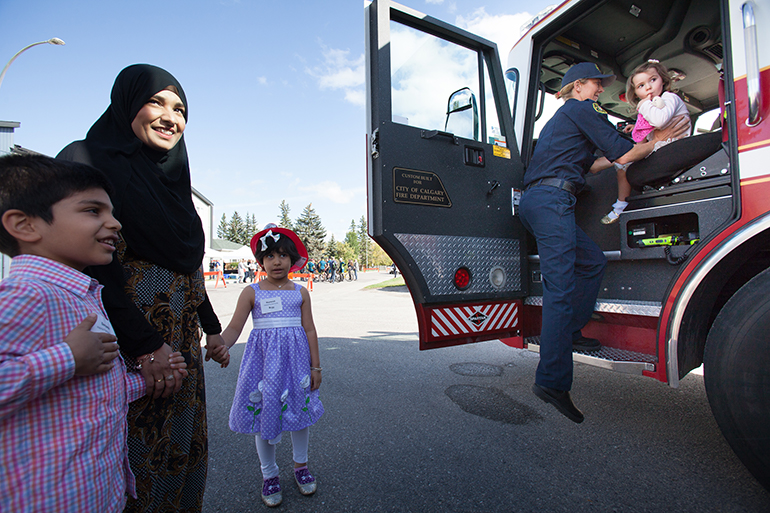 New homeowner, Samia and her children Benyamin and Maymunah enjoy the Firetruck with Anna
"With two fun energetic children we would love to have an outdoor area for them to run and play in," Catherine wrote to Habitat months before moving in.
"Watch me run!" Harry exclaimed as he jumped off the pavement and bolted down the street, waving his arms. That dream came true this year.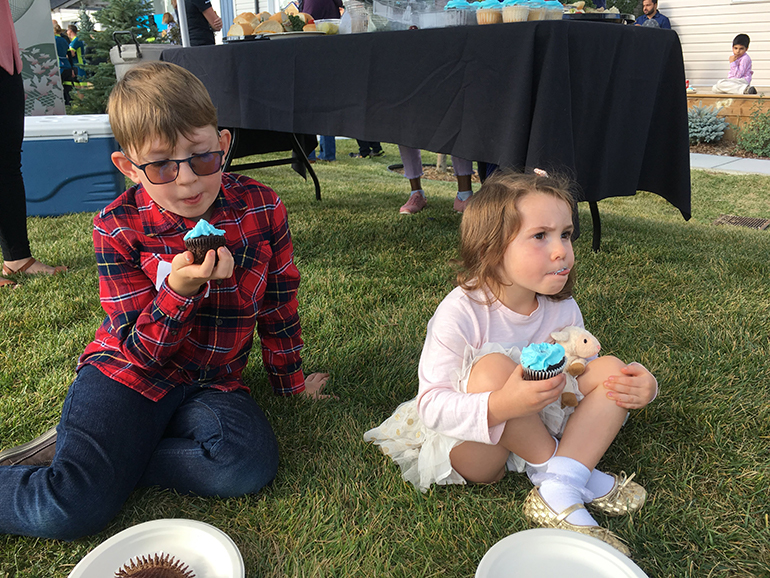 Harry and Anna enjoying a cupcake after the ceremony
But it doesn't end here. Construction on 36 homes in the Calgary communities of Radisson and Silver Springs are well underway and a build is in its finishing stages in Pincher Creek. Get a September update on all these sites here.