The Calgary Flames Alumni lived up to their namesake, "sparking" a flurry of activity on a Habitat construction site on August 22nd.
Like most of our Build Day groups, the Alumni have varying levels of building experience. "I'm not a real handy guy," Flames defensive forward Colin Patterson admitted. Colin smiled as he shared that any handiness he had can be credited to his brother-in-law.
What made a difference that day was the height of some of the ex-pros. "One gentleman must have been six foot five! When you're framing that's a helpful thing," said Brenda Fischer, Crew Leader on the site. Brenda has been volunteering on sites with Habitat for twelve years.
Despite being retired athletes, the Alumni showed they were still a physical group and weren't afraid to get their hands dirty. "They dug right in and framed with us. The gentleman I was working with framed two bedrooms," said Brenda, "that's a lot!"
Although there isn't a direct correlation between puck handling and construction, Colin saw "everybody working together" on the site that day.
Click below to watch the Calgary Flames in action!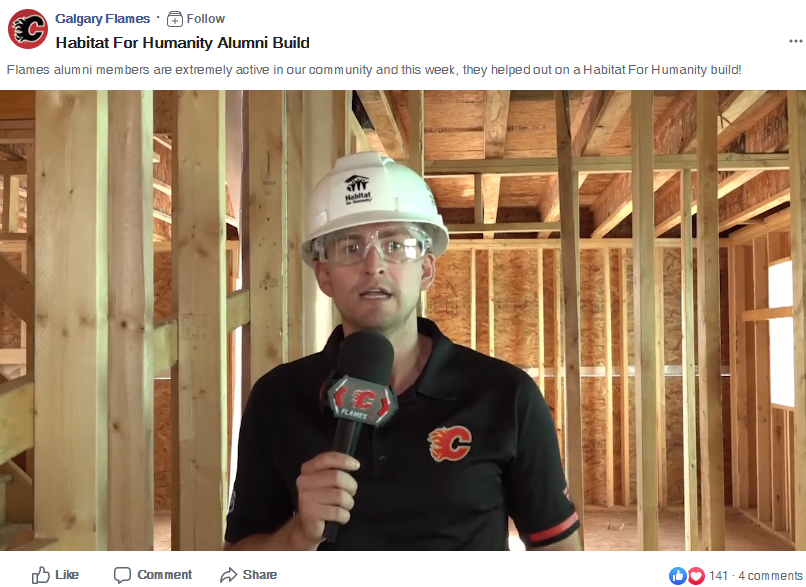 Fueled by coffee, and a catered lunch, Habitat Build Days are fun and mutually beneficial. They draw out diverse groups as a team building day and a way to stay connected in the city we call home.
"It was a great opportunity for our staff to give back to the community that has supported us in so many ways," said Steve Hamilton, Head Coach of the Calgary Hitmen.
Build Day groups are fundamental to Habitat's success. And we can't thank everyone enough for their hard work.
In addition to the Alumni and groups of families and friends—Nissan Canada, CREB® Charitable Foundation, Stanley Black Decker have all put on boots and a Habitat hard hat in the last few months.
We are proud to have seasoned builders and newbies all coming together for the same cause, and even familiar faces coming back!
The Flames Foundation are repeat offenders - this was not their first Habitat build and earlier this year the Flames foundation donated $150,000 to this project to help completion. Ongoing relationships are key to our success.
"They can build equity in their house and have somewhere to live, and they put in a lot of work to help to build the place."
- Micki DuPont, Flames Alumni
Many Build Days are needed to complete a project. The recently completed Bowness five-plexes had 83 groups work on site for the day and will house ten families. Mansur is one of those families moving in.
At the Home Dedication on Sept 11th, Mansur received the keys to his new house and said his experience with Habitat has "changed my mentality on how I want to give back. Now I always want to give something back."
This impact is what keeps us going.
"What I like about Habitat is that I can see money in action," said Brenda. "I get to see those families—who are hardworking, have children, want a better life­­—work alongside us. We can give them a hand up."
"They can build equity in their house and have somewhere to live, and they put in a lot of work to help to build the place," echoes Micki DuPont, born and raised in Calgary and a Flames defenseman Alumni.
When finished, 32 families will move into Silver Springs. Like the Flames Alumni, join us again to grow and utilize your construction skills, or get a group together for the first time to make a difference in our neighbours lives in Southern Alberta.