#IBuildBecause I want to give back to my community and have a chance to work alongside crew leaders, volunteers and homeowners to make a difference for families.
- Brenda Fischer
"It is important to me that I'm able to give back to my community because I have lots of blessings in my life and housing is a basic need that I don't think we pay enough attention to."
Meet Brenda Fischer, Habitat for Humanity Southern Alberta's Board Chair and a Crew Leader.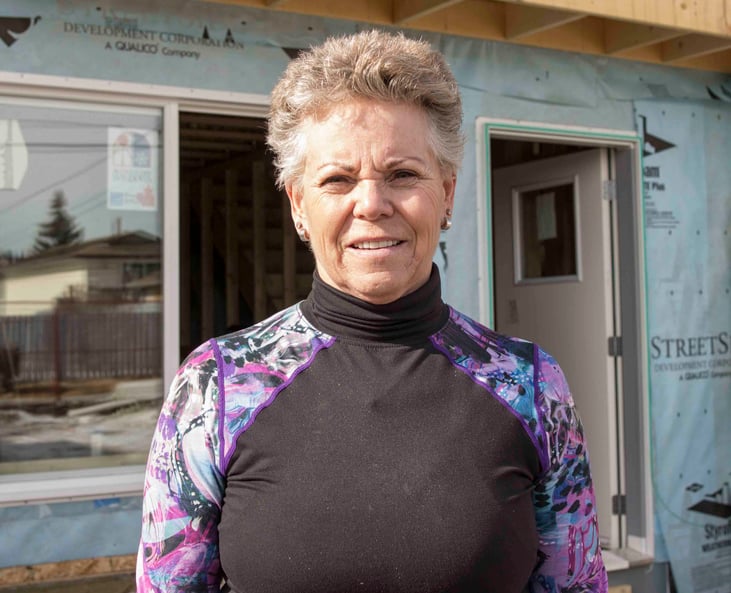 Brenda Fischer is one of the long standing volunteers with Habitat for Humanity Southern Alberta. She's always willing to step forward in support of her community, especially when it comes to Habitat.
She's been volunteering with us since 2007 when she retired as a Vice President for Children's, Women's and Community Health programs.
"I was responsible for the Alberta Children's Hospital but also for all Women's health programs in the city of Calgary and the 13 community health clinics."
However, her very first Habitat Build Day was five years earlier in 2002 at one of the first North American Women Build events.
"I saw an advertisement of the North American Women Build and thought 'I could do that' because they emphasized you didn't need to have any construction experience," remembers Brenda.
"I had some basic carpentry skills and I didn't know a lot about home building, but I decided to come out anyway."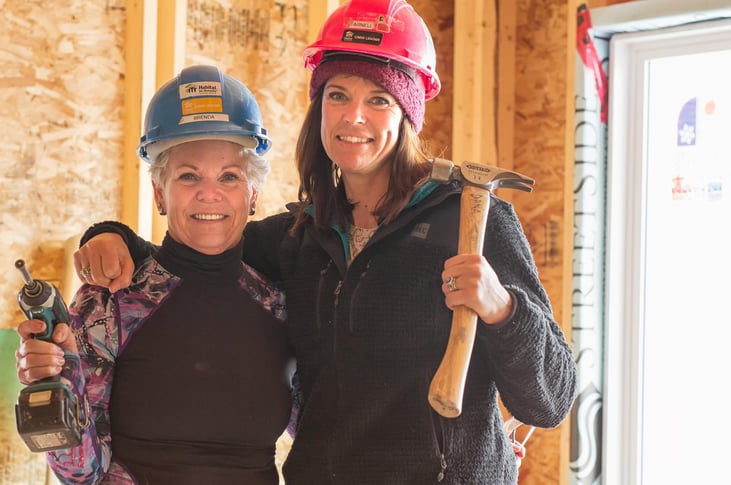 From left to right: Brenda Fischer, Dana Farnell.
Brenda took two weeks of her vacation and came out to her first Women Build while still working full time at the hospital. Her first day was full of excitement; however, she remembers the second day the most, because her work crew made a pretty big error.
"We put the wall in backwards," laughs Brenda.
"Then, I was given a job of cutting all the nails and turning the wall around," says Brenda.
When Brenda returned to the office, she was hooked. She decided that Habitat was what she wanted to do after her retirement.
"I retired the first time in 2007, and joined Habitat later that year. I remember being really welcomed at the job site. It was amazing."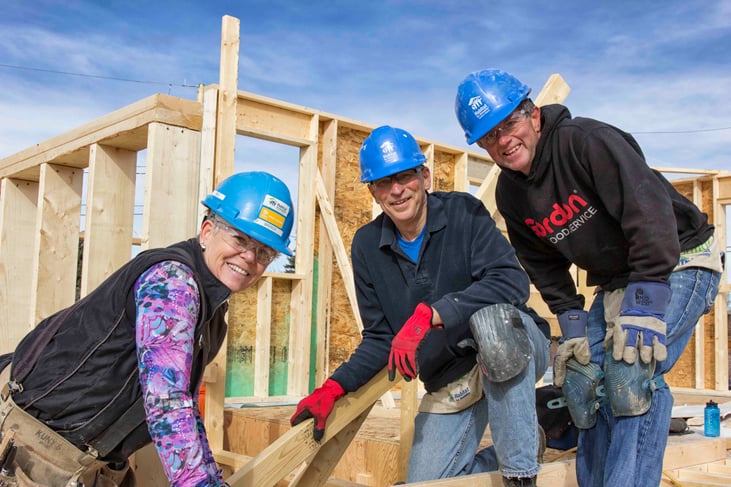 From left to right: Brenda Fischer, Brian Borich, David Barber.
Brenda has been involved with about 80 different Habitat construction projects.
Over the years Brenda helped to build more than 80 different Habitat homes impacting lives of many families and children locally and internationally.
Brenda thinks that families are always impressed that random people will give up a time to come out and help them build their house – for no money or for no other compensation – other than to give families a chance to build strength, stability and independence.
"Most of the families I've worked alongside are very very thankful for the work that we're doing each and every day," says Brenda.
In addition to her involvement with the Southern Alberta Habitat builds, she is also a big supporter of international Habitat projects.
She explains her international engagement as an opportunity to see a country from a different perspective that you never get as a tourist.
However, Brenda finds it hard to support international construction projects if she doesn't actively support local projects here in Calgary and Southern Alberta.
"We've got people around us all over Canada who need affordable housing, so in my mind, to do the international build, I should also contribute to my own country."
Brenda is about to go on her 9th International Build to Budapest, Hungary's capital. She says that international builds allow her to connect with people on a different level.
"I've met some amazing people around the world who are struggling to survive, but they are happy.
"They're not walking around with big frowns on their faces which made me think that sometimes we're too entitled, we have so many things that we forget.
"So, when I'm going to international builds I keep reminding myself exactly what I have here in Canada."
Family stories make a huge difference in her life.
"I have met and worked alongside about 50 families and there are a few families that I really got close to.
"I have always been impressed by their desire to make a better world for their kids, as you work alongside and learn their story of the challenges in their lives.
"You just want to cheer because life turns around for them, so I love watching them get their cookie jar house and the keys to their new place."
Every woman can build a house.
If you ask Brenda about one thing that she is really good at, she will probably tell you it's taking brand new scared women volunteers and showing them how to use construction tools.
"I love when women put up their first wall because there's no magic to it. All women can use the tools because it's just persistence and learning some basic skills."
"I'm grateful that we get an opportunity to show women what they can achieve with a little help."