When it comes time to make the move from renting to buying your first home, there are a lot of options to consider and ways to go about the buying process.
If you are a first time home buyer, there are two options that you should explore when purchasing your home:
This is how everyone is doing it already - save up a down payment, get approved for a mortgage (with interest payments), and go through a realtor & lawyer to finalize the deal.
If you can't qualify for a traditional bank mortgage, this could be a great option for you -- one with no down payment and no interest!
Below, we outline the difference between the two methods. If you are a parent to a child(ren) under 18, make a minimum employment income of $40,000 and one or more of the adults in your home has a full-time job, you may qualify to purchase a Habitat for Humanity home.
The Traditional Home-Buying Method
Let's take a peek into the traditional method of becoming a first-time homebuyer — finding a home that suits your needs and applying for a mortgage to pay for your new home.
This process may be best suited for you if you're restricted to living in certain neighbourhoods or you've already secured the minimum down payment needed to obtain a mortgage.
Consider What You Can Afford
Take a hard look at your monthly and yearly finances and decide what you can afford to spend on housing expenses.
When you apply for a mortgage, your lender will most often look at your ability to make these payments — they're looking to make sure your housing costs (mortgage, utilities, insurance etc…) on average stay below 30% of your gross monthly income.
They'll also look at any other debt you may have (credit cards, student loans, child support etc...) and ensure those coupled with your housing costs don't exceed 40% of your monthly income.
These are built-in stress tests to help keep you from going "house poor" by purchasing a home outside of your means. The lender may still offer you more than what makes a reasonable monthly payment for you — so do the math yourself upfront.
You'll need to save a 5-20% down payment on the desired price of your home. If you are below 20%, you will be required to take out mortgage insurance to protect the lender if you default on your loan. This is something you can pay upfront or add to your monthly mortgage payments.
To calculate the full cost of the home you're looking to purchase, multiply your yearly household income by 3-5 times and stay within that range.
For example:
If you make $60,000 a year, your total housing budget should stay within $180,000-300,000 maximum.
To purchase at $180,000, you'll need to save $9,000-36,000 for your down payment and at $300,000 you'll need to save $15,000-60,000.
When you're assessing your finances, don't forget the closings costs (lawyer, insurance etc…) that can account for 1.5 - 4% of your home's cost.
Sample Home Purchase Price

Sample Closing Costs
(1.5-4% of purchase price)

$180,000

$2,700-7,200

$300,000

$4,500-12,000
Pre-Qualification and Pre-Approval
With an idea of what you can and would like to afford in mind, request a mortgage pre-qualification and pre-approval.
You can meet with a lender directly (bank, credit union etc…) or with a mortgage broker who will look at a variety of options on your behalf and bring you the best rates of the bunch.
During pre-qualification, your lender will assess the amount that they can lend you in general terms. They'll give you a ballpark figure based loosely on your earnings to debt ratio. This is in no way a commitment to providing you with finances.
For the pre-approval, they are looking at your hard finances.
To assess their ability to loan to you, they'll request your:
Paycheck stubs
Bank account statements
ID and SIN
Employment verification (offer of employment)
Proof of assets (car, business ownership, etc...)
Debt (credit cards, student loans, line of credit, car payments, child support, etc…)
The number they will provide you with is the maximum amount you qualify for. Again, they are in no way committing to providing you with a loan but it will lock in an interest rate for you, while you shop for homes.
The main reason the lender wouldn't follow through with a mortgage after your pre-qualification would be if something happened to your credit after your pre-approval, like missing a payment or defaulting on a loan.
Hire a Real Estate Agent
Once you have an idea of the amount you could be loaned, most first time homebuyers find it useful to enlist the services of a real estate agent. Generally, they are paid by the seller of the home, so their services shouldn't cost you.
Real estate agents are licensed professionals in Canada and know their industry well. They can help you find the right neighbourhood and provide you with valuable information about the home buying process.
They will negotiate the price of the home on your behalf and help you achieve the best price possible.
Find a Home
Your real estate agent will show you homes within your price range that match as many of your needs and wants as possible.
You can do your own research on this beforehand and come prepared with a list of must-haves and nice-to-haves for your home and community.
This process can be overwhelming if there are a lot of choices in your price range. Take photos and videos of each property you see so you can compare them when you're ready to make a decision.
As you see homes in your price range, make sure you look beyond paint and fixtures to things like plumbing, electrical, windows, roofing, siding, etc… If these items are in need of replacement or repair, it may affect your offer or willingness to buy.
Consider the value of the neighbourhood as a whole. Are the surrounding homes in good condition, are they well-kept and what are they priced at? This can influence the price of the home and what your offer should come in at.
Other things to consider include:
How busy is the street? Is it somewhere your children can play outside?
Is there enough parking?
Does the neighbourhood have all of the amenities you need? Grocery stores, pharmacies etc…
Is it close to your work and your child's school?
Put in an Offer
Once you've evaluated the home and neighbourhood and selected the home for you, your real estate agent will advise you on a reasonable offer for the home you've chosen.
They will work with the seller and their real estate agent to negotiate the sale on your behalf.
The seller may counter offer, decline or accept your offer. If a counter offer is made, you can go into negotiations and make as many rounds as you like.
If the offer is accepted, the house will go into escrow, giving you time to put all of your paperwork in order.
Get a Home Inspection
A home inspection isn't mandatory but is suggested. This should be worked into the offer as a contingency of sale — in other words, if the inspection isn't favourable, you can renegotiate the offer or back out of it.
The home inspector will look for structural damage or issues with your plumbing, electrical, utility lines and more.
This could include lead pipes, asbestos insulation or an out-dated circuit breaker board, all of which would need to be updated.
Depending on what the inspection reveals, you may want to renegotiate your offer and this could be reflected in the price or require that some of the repairs and replacements be made before you take possession of the home.
The current homeowner may accept your renegotiation or choose to sell the house as is.
Get Approved for a Mortgage
There are a variety of mortgages available on the market and depending on your down payment you may have a choice in what you select.
Some of the options include:
Amortization period (the amount of years it takes to pay your home off)
Fixed-interest rate or one that can rise and fall
How often do you want to make payments - weekly, biweekly, semi-monthly or monthly
The term and how frequently it renews - your mortgage rate will be locked in for the term, and once the term is up, you will re-mortgage at a new rate. A five year term is most common.
An open or closed mortgage - an open mortgage allows you to pay your mortgage off at any time (say if you won the lotto), where as a closed mortgage only allows you to pay a fixed maximum amount per year
A portable mortgage - if you need to move within the first five years, can you port your mortgage to a new home? This can be complicated when it comes to moving provinces, so clarify up front if you think you may need to move.
Understand if there are penalties for breaking your mortgage early. Often times there are restrictions in place for first time homebuyers who have paid less than a 20% down payment if they choose to move within the first 5 years.
At the end of the day, you'll need to assess your options with your lender or broker and decide what is best for you and your family.
You should also consider mortgage insurance at this point, which can cover you if you lose your job, get a critical illness or go on disability, so your loan doesn't default.
Have the Home Appraised
Depending on your lender, they may require a home appraisal to confirm that the home is worth the sale price.
The third-party appraiser will visit the home and provide an independent estimate of the cost of the home to ensure it's a fair price.
To have this completed, it may cost in the range of $250 - 350 and would fall into the closing costs you set aside with your down payment.
Paperwork & Closing Costs
The closing costs can most often come as a surprise. Most first-time homebuyers are so focused on securing the down payment that these can come as an afterthought.
Overall, the closing costs could account for 1-4% of the home's purchase price.
Once the sale is confirmed, your lawyer will run through the paperwork, perform a title check to make sure the seller actually owns the home and they will review the statement of adjustment with you.
Consider these additional fees:
Legal fees due to your lawyer on the day your home closes ($1,000+)
Adjustment fees on the property tax or utilities already paid on the home by the current owner
Home Insurance ($80-90 per month)
Property survey, this can be deemed necessary by the lender but isn't always required ($1,000-2,000)
In Alberta, a land registration or land transfer tax isn't needed, but is required in most other provinces
5% GST on a newly built home
For a full list, visit Canada.ca
Close
Once you've reviewed all of the paperwork with your lawyer, you will sign to close the sale. The paperwork will be filed with the appropriate parties and can take a couple of days for the loan to go through. When the cheque is deposited to the seller, you are ready to move in.
The Habitat for Humanity Way
As an alternative for new home buyers who can't qualify for a traditional mortgage, Habitat for Humanity offers an opportunity to enter the housing market without the need of a deposit.
Overcrowded living situations, inflated rent or poor rental conditions may drive you to want to own your own home sooner. When you secure a stable and safe home, you can rest easy knowing your family is cared for.
But rent, car payments, student loans and child support can all affect your ability to stow away a down payment, and entering into a traditional mortgage may not be possible.
Keep your savings aside and instead purchase an affordable first home with no down payment and no interest rates.
Follow these steps to see if you are eligible and to learn more about our process.
Take the Eligibility Quiz
Take our short Eligibility Quiz to see if you meet the basic criteria to be approved for our affordable mortgage.
To qualify in Calgary you must:
Have children under the age of 18
Make a minimum of $40,000 employment income per year
Not exceed the maximum household income (dependent on family size)
Have at least one member of the household who works full-time (35 hours per week)
Have consistent full-time work for the past two years
Not currently own real estate
Have lived in Calgary for at least two years
Be Canadian Citizens or Permanent Residents (all family members)
Not have debt in collections - when significant payments have been missed on a loan and the company owed sends the debt to a collection agency
Minimum $2,000 in chequing, savings or RRSP accounts to demonstrate strong savings behaviour.
Consumer Proposal must be in final year. Considered on case-by-case basis.
Balance of debt and mandatory monthly payments on debt are taken into consideration.
Attend an Information Session
Once you've completed the eligibility quiz, you'll receive an email letting you know if you meet the basic criteria or not. If you do, you'll be provided a link to register for an upcoming information session.
At the session, you'll learn more about how our program works and if it would be a good fit for your family.
To qualify for a no interest, no down payment mortgage you'll complete the following:
Submit an application
If approved, attend an Orientation Session
Volunteer 500 hours to help build your home, support Habitat ReStores, attend home ownership classes* and make meaningful connections with other Habitat owners. Your family and friends can help contribute to these hours.
*Attend free home ownership classes that provide you with skills to maintain your home and help you structure your budget.
The majority of these classes are online, with a handful of in-class sessions in the evenings, and are run by industry experts.
Review the Available Homes
Take a look at the neighbourhoods currently available. Consider your employment, your child's schooling and any other amenities that may be a priority for you when narrowing down your list.
When you complete the application, note the neighbourhoods of interest, which will be taken into consideration.
Check out our latest build in Silver Springs that is still accepting applications.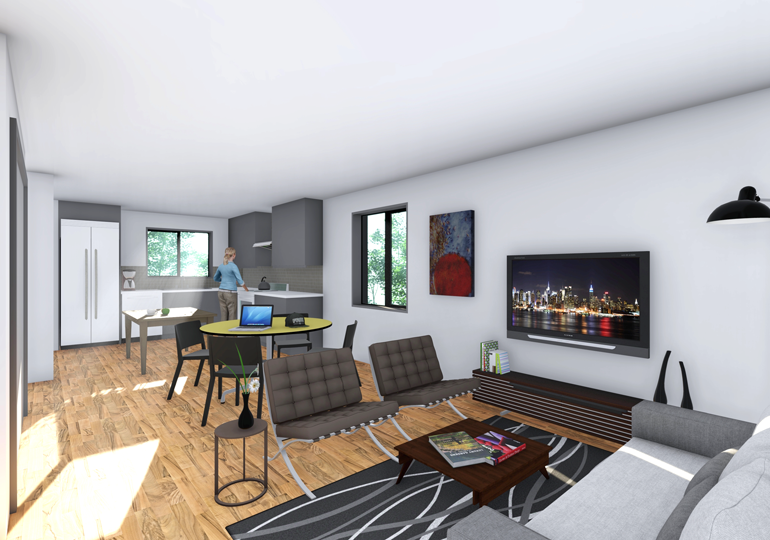 Submit an Application
Once you've learned all the ins-and-outs of the program, you'll be invited to begin the application process, which is broken into three stages. The average time from application to approval is three months.
To complete the first stage of application, you'll need to provide.
ID and SIN
Banking Statements
Proof of citizenship/permanent residency
Letter of employment
Pay Stubs
Notice of Assessment for the past two years
Canada Child Benefit
How the No Interest, No Down Payment Mortgage Works
Unlike a traditional mortgage you would secure through a lender or broker, Habitat holds each mortgage, meaning we're your lender.
Through the application process, we assess your ability to pay monthly housing costs that never exceed 25% of your monthly income.
For example:
If you make $60,000 a year, your monthly mortgage, property tax and a portion of your maintenance fees won't exceed $1,250 on a $280,000 purchase price.
Your payments are reassessed annually when you submit your Canada Revenue Agency Notices of Assessment (NOA).
These do not incur interest and require no down payment upfront, instead we share in the increase or decrease of equity of the home with you.
When it comes time to sell your home, Habitat will retain 5% of the home's value in lieu of realtor fees.
Years Owning a Habitat Home

Equity Terms

First 5 years

Equity built is the sum of the principal payments made by the homeowner.

Any increase or decrease in the Fair Market Value goes to Habitat, less 5% in lieu of real estate commission.

6-15 years

Equity built is the sum of the principal payments made by the homeowner.

For each year from 6-15 years, 1/10th of the increase or decrease in Fair Market Value goes to the homeowner.

(E.g. in year 6, the homeowner will share in 10% of the increase or decrease; in year 8 they share in 30%), less 5% in lieu of real estate commission.

The balance of the increase or decrease in Fair Market Value goes to Habitat.

After 15 years

All equity built through principal payments and any increase or decrease in Fair Market Value goes to the homeowner, less 5% in lieu of real estate commission.

Paying off your Habitat home

If you pay off your mortgage, Habitat will discharge the mortgages from your title and you can continue to live in your home mortgage free!
If you still have mortgage payments, Habitat has the first opportunity to buy the home back. If we choose to buy the home, it will return into our inventory of homes for sale to new homeowners.
If you choose to sell within the first five years of owning your Habitat home, you will retain the equity you've put in to date towards the principal. Habitat retains any increase or decrease in the Fair Market Value (FMV).
The homes sell at FMV meaning there are no discounts or preferred pricing. You purchase the home for what it's worth. The homes are built with certified trades and meet all building codes and requirements.
They are priced according to the neighbourhood and are built to be affordable, generally within $275,000-325,000.
Over a 25 year mortgage that would keep your monthly payments to $916-1,083. Whereas, an average three-bedroom rental in Calgary could cost you $1,500 monthly.
The mortgage term is flexible depending on your income, so your payments don't exceed 25% of your household's gross income.
On top of the monthly payments to Habitat, you would be responsible for and must budget for costs associated with home maintenance, insurance, and utilities.
It's generally recommended that Habitat owners set aside an additional $250 a month, depending on the property.
Benefits of a New Habitat Home
When you purchase a new Habitat home, everything is brand new. You will have no need for a home inspection and no need to replace or repair any of the home's structure or fixtures. The homes are built to meet or exceed code.
Similar to a traditional mortgage, you'll need to budget for closing costs and for your lawyer to review the paperwork. We help with this process by ensuring you have the minimum $2,000 in your chequing/savings account before purchasing the home.
Once the paperwork is complete, your home is move-in ready. Fresh paint, flooring and fixtures are all included and for new homes, may be personalized to your own tastes. On top of it all, all we install new energy efficient appliances that come with a warranty and can help lower your utility bills.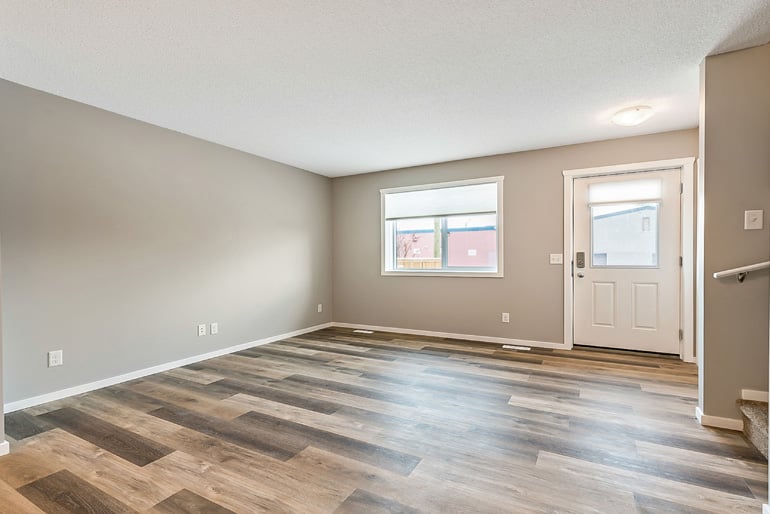 Traditional Mortgage vs. Habitat for Humanity
Traditional Mortgage

Habitat for Humanity

Down Payment

5-20%

0%

Monthly Payments

(percentage of your income)

30%

25%

Loan Insurance

(CMHC Insurance)

2.80-4% of the home's cost

None

Closing Costs

(Lawyer fees, home appraisal, home inspection…)

1-4% of the home's cost

$800-$1,000

Condo Fees

Average $350/month

Portion included in monthly payments

Estoppel Fee for Condos

$200-350

None

Property Taxes

$1,900-2,200/year on a $275,000-325,000 mortgage

Included in your monthly payment.

New Build Tax (GST)

5% of the home's cost

(partial rebates may be available)

Included in the purchase price

Home Insurance

$80-90/month

$80-90/month, depending on the type of home (e.g. duplex vs. condo)

Utilities

Average $250/month

Average $250/month

Maintenance

Budget 1% of the home's value per year

Budget 1% of the home's value per year
In comparing the two options, you'll have a better understanding of what will best suit you and your family.
For more flexibility in location, home type and style, a traditional mortgage may be your best option if you can secure the 5-20% down payment.
If the money you'd need to save for a down payment and would spend on 25 years of interest could be better used in supporting your family, take the eligibility quiz to see if you qualify for a Habitat for Humanity mortgage.