Waking up to rainwater dripping into buckets. Making friends as the new kid and hoping it's the last time. Keeping items in boxes because you know you'll have to move again. For this family of three, that all ended when they picked up the keys to their home in Silver Springs, February 4th, 2020.
Now, little eyes open to yellow bedroom walls and a tree house bed. "It's a happy sunflower yellow," says Lilli.
"From the beginning I thought, it's not going to seem real until the keys are in my hand. So for over 21 months I repeated that, then all of a sudden the keys were in my hand. I was like, oh my goodness, here we go," reflects Robert.
The page has turned, and this family's nine-year chapter of housing instability, health and safety risks ends. Their first of many worry-free dinners together is a sushi picnic on the floor, surrounded by boxes.
Four days later, Robert sits on his couch with his nine-year-old daughter, Lilli, in his freshly painted olive-green living room. Potted plants rest by the window, soaking in the sun.
"It's just really cool. I like un-boxing stuff," smiles Lilli. "It's like a bunch of presents."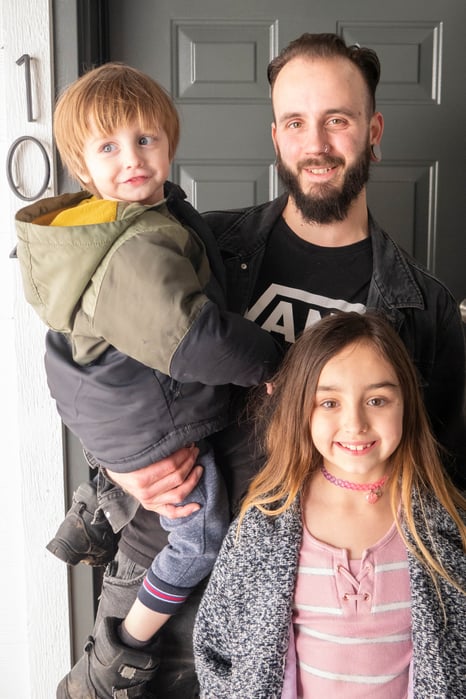 Robert, Elliot (3) and Lilli (9) outside of their new Silver Springs home
Three-year-old Elliot is expressing his joy the only way he knows how. "Last couple of days he's been bolting around the house. Doesn't even know what to do with himself really," Robert chuckles.
And he feels the same. "You walk up the steps and it's still overwhelming. So it feels good. Feels a little surreal though to be quite honest with you."
The Silver Springs home is a stark contrast to the five that were before it. Not too long ago they were walking up front steps that rocked back and forth off the concrete pad. Paint was peeling off the walls to reveal black mold. There was always a police presence. Someone even broke into a home three doors down. And, most disturbingly, a gun was fired right outside Lilli's school.
"That's the last thing I want to have to worry about. Just opening up my front door, you know?" says Robert.
No parent should have to worry about that.
What's more, in one home, for a year, every month there was a serious illness like bronchitis. School and work was missed and everyone was feeling run down.
Children should grow up in a safe home.
"Coming to a place like this where it's the complete opposite is pretty wild. I'm used to a certain thing, you know?" says Robert.
Unfortunately, this was the reality for this family. But now, a new colourful story begins because of Robert's determination as a parent. And you, our donors, sponsors and volunteers.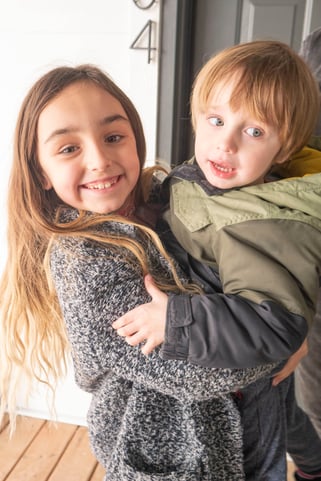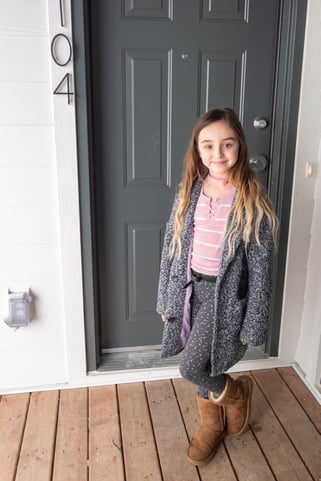 It's only been four days, but Lilli and Elliot are feeling right at home.
"I know people understand what they're doing it for and I know they understand the organization, but when it's someone in my shoes and this all of a sudden becomes attainable ... the donations, time, supplies, I don't know if they really understand how much it helps out and what it means to a family like ours," says Robert.
"Because it's really, really phenomenal. You know, the smallest thing helps out and it shows," he pauses.
"So, thank you, I mean, that's not enough. I couldn't even say it enough, but it's just great."
Robert, silver springs homeowner
A Habitat home is not like a regular home. It takes a resilient family and whole community to make one. For example, on our Silver Springs project alone, over 18,000 hours have been volunteered so far. This accounts for eight completed homes and eight currently in the process of siding and insulation.
Volunteers have touched everything from the frames to the drywall. It's a home built with generosity and kindness. And Robert is fully aware of this.
"When someone's willing to donate those hours to help somebody else, not themselves, I mean, you can't ask for something that's more precious," says Robert.
Another precious opportunity presented itself not too long ago. After partnering with Habitat in 2018, Robert spent many weekends on sites volunteering. One day he had the opportunity to see his suite and help build it.

So he took a moment to write some love notes to Lilli and Elliot on their studs. "Knowing it's something you worked hard for, you can take a lot of pride in walking through the front door."
Families purchase these homes through Habitat's affordable mortgage program. No down payment is needed and monthly payments never exceed 25% of their income. Over time, Robert will build equity in his home and could sell it back to Habitat.
The future holds promise and options.
Something Robert's looking forward to in this next season is stability. "The kids don't have to worry about where they're going to be next year and they know there's always going to be a home base. They are able to feel safe like no matter what happens they can come back and everything here is waiting for them."
Lilli is looking forward to "slamming the cupboard door without it even making a sound!" Thank you for joining us on this journey and truly changing the lives of this little family of three.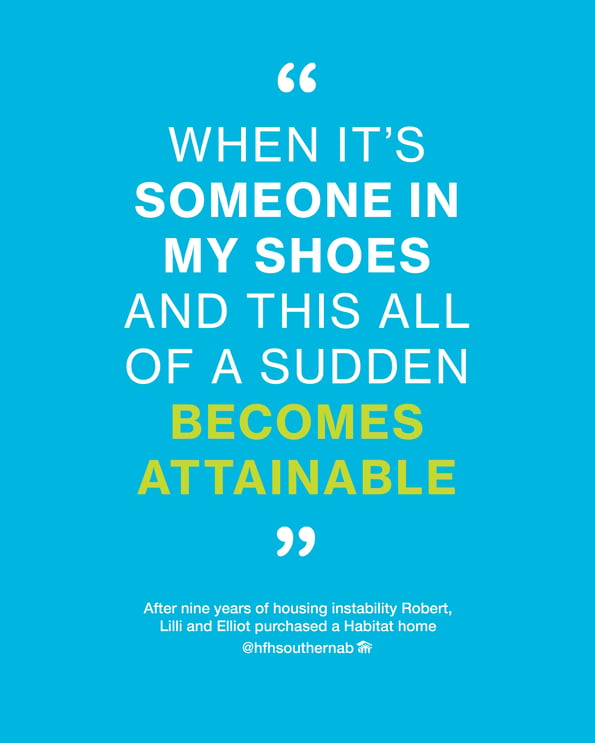 Click the image to share on your Facebook. 🌟 There is so much to celebrate.