Hi everyone! If you don't know, I'm LeeAnne and I am the Manager of Volunteer Services here at Habitat. A LOT has happened since our last update in October – but don't worry, I've got you covered. 😉
Keep reading for how our volunteer program going and construction sites are progressing. Oh, and I asked our South Calgary ReStore Manager and Construction Site Supervisor to write a quick message too.
It's all here in LeeAnne's Corner.
Volunteer program
The response to our call for ReStore volunteers has been inspiring. Wow. Since October, 43 new ReStore volunteers have stepped up to join our team. Even in tough times, these generous Albertans are keeping Habitat homeowners in their hearts and minds by giving their time.
This shows me that helping others is one of the best ways to fight through hard times.
You guys honestly continue to amaze us.
A quick holiday greeting from me!
The feedback I received from volunteers is that they are loving being busy and are feeling at home in the stores – which we are grateful for. Their weekly shifts are crucial to our ReStore operations. From assisting donors dropping off product to talking with customers directly on the sales floor, they add priceless customer service.
"It's been awesome," says Bob, the South Calgary ReStore Manager. "We rely very heavily on them now. We've been very fortunate."
Because volunteers giving their time, more ReStore sales can go towards building homes. Habitat's affordable home ownership program would not be possible without our volunteers. Truly.
Construction
Our construction team moved from Silver Springs to Radisson Heights in October. They've been working on two fourplexes and just finished the first set. You can see those finished homes below.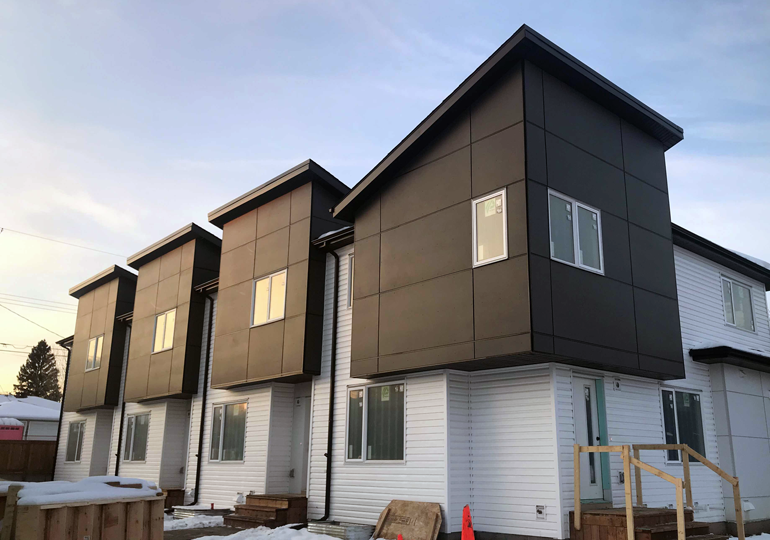 We are now accepting applications to purchase one of these homes with no interest and no down payment.
These three bedroom homes in Radisson were made with the love of our community. Thank you for supporting us through this tumultuous year. Actually, read more about how your donations helps families in a pandemic.
Things are progressing on the second set of fourplexes in Radisson Heights. The team has been busy framing and are almost ready to move onto the next stage.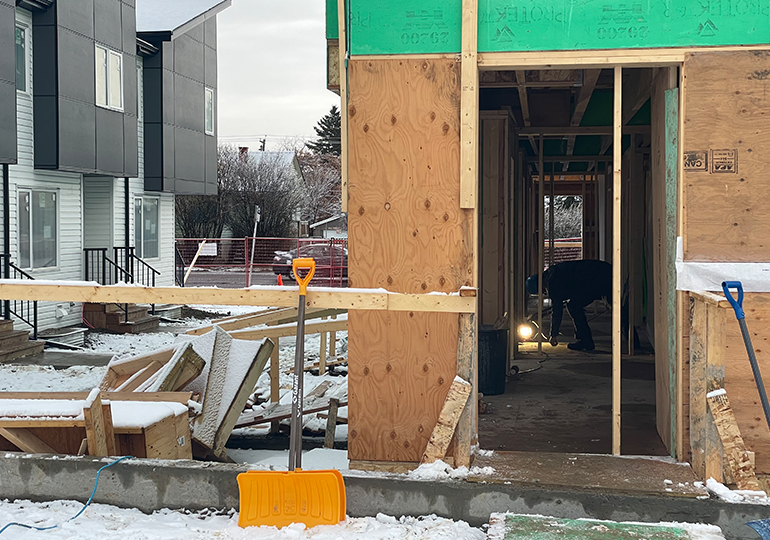 Volunteers framing and keeping their distance on site December 9th.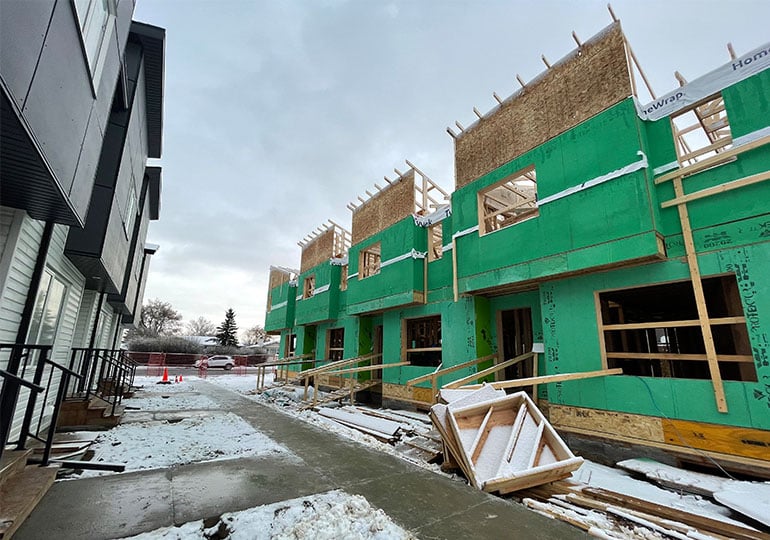 These homes will be completed in early 2021.
Dustin, our Construction Site Supervisor, says, "I wish we could say we are recruiting for more construction volunteers, but at this time the safest thing to do is keep the numbers on the site as low as possible."
Dustin has really been missing you though. "The people who come out are here because they want to help. They could be doing anything else," he says. "They are really good people."
"I miss meeting new people and learning people's stories."
Dustin keeping warm on December 9th.
Dustin built his first house when he was 15 years old and has a wealth of construction experience. He has been with Habitat for eight years. The cause and volunteers are what keep him here.
"I miss hugging people. I just wanna give a hug."
Ways to give back this season
At this time we are not accepting any new volunteers in our Calgary and Medicine Hat ReStores. If you would like to be signed up on our wait list you can get in touch here!
One way you can give back in this holiday season is Seniors Secret Service, a charity that brings cheer to isolated seniors.
With some gifts and phone calls you can help brighten a lonely senior's life. It looks like their program is full at the moment, but you can still sign up for the wait list or purchase some stocking stuffers.

How fun is that? Let us know what you get up to this season by tagging @hfhsouthernab on Facebook, Instagram or Twitter.
We hope you have a very happy holiday season. Talk to you in the next newsletter!