In a year where nothing went as planned, 41 children are now celebrating their first holiday season in their new Habitat home. Their dreams of home came true this year -- we hope you find deep joy and peace in that.
Continue reading for how our community is decorating and celebrating. Their traditions will definitely get you in the festive spirit.
Vanessa and Noah

Vanessa's mom and aunt gifted decorations for the tree.
Vanessa and Noah moved into their Habitat home in Silver Springs in June. December is full of celebrations for this family: it's Noah's birthday, Vanessa's birthday, as well as Vanessa's mom's birthday. And that's not all.
In January, Vanessa and Noah celebrate Ukrainian Christmas with her family. "It's funny because that Santa Claus is very different from the North American Santa Claus," says Vanessa.
"The Ukrainian Santa looks like a blue Pope."
"One of our traditions is to get together with family and the newest member of our family has to dress and act as the Pope Santa," laughs Vanessa. "It's the unofficial welcome to our family."
For the last three years, Vanessa and her sister have been making wreaths together.
This dynamic duo loves to be outdoors together. They have a sledding move called the "Double-Decker-Head-First" in which Vanessa lies down on her stomach with Noah on top of her. It's as scary and hilarious as it sounds. "I highly recommend it," smiles Vanessa.
They also love to watch Christmas movies every Friday, make Christmas cookies, and read beautifully illustrated Norwegian books by the author Jan Brett. Having their own home has really made this year special.

Special vessels for holiday treats and hot drinks.
"I'm able to buy things because I know I will be able to stay in this house in the future and I won't have to keep moving," says Vanessa. "I feel more able now than I ever have before to buy things of my own for my family and future generations."
"Growing up we had these very special Christmas things that I loved unpacking with my mother every year and finding special places for them, like Christmas villages.
"This year we are going to create our own Christmas village and every year I hope to buy a new ornament so that my son and I can have those memories as well."
"Decorating always reminds me of when I was a kid and how excited I was."
Meakle, Analem, Brkita, Lawnan and Natanal
This family's first day in their Habitat home in June.
Meakle, Analem and their three children bought their Habitat home in Dover. "Since moving in July, people are always asking about Habitat. I tell them Habitat is number one," says Meakle enthusiastically.
They are an affectionate family of five. Lawnan's birthday was on November 10th and Brkita's on the 24th. They are 10 and 8 years old now. Their balloons and ribbons all add to the end of year celebrations.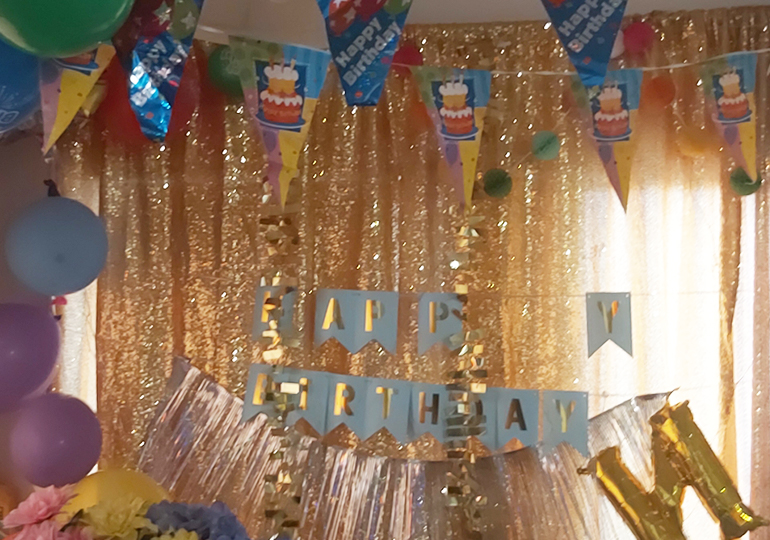 The ribbons start the festivities that will go until the end of December.
This holiday season is going to be a special one because it is the first in their forever home.
"Christmas is a big holiday for us. My wife has been working hard at decorating the home. At the beginning of the month we bought our tree and some decorations from Dollarama," says Meakle.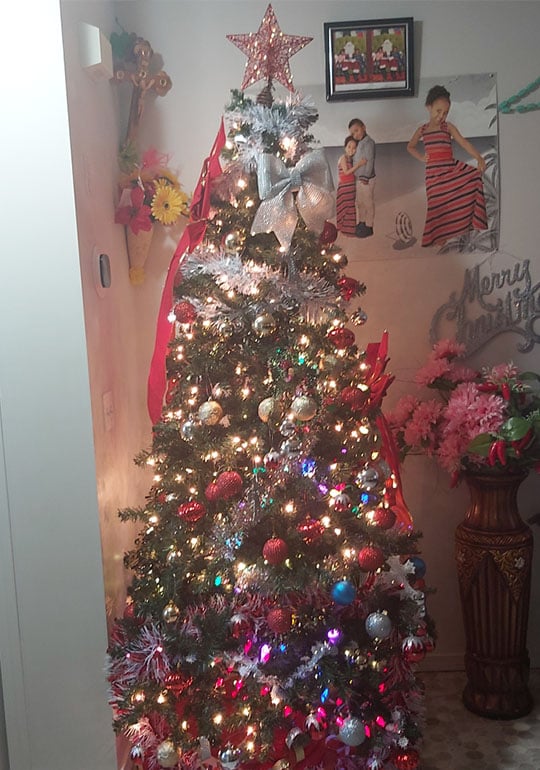 A lot of joy was put into decorating this tree.
This year they plan to celebrate Christmas by having a big feast. Meakle loves to use his BBQ so there will be lots of meat and games played together as a family.
Nicole and Grace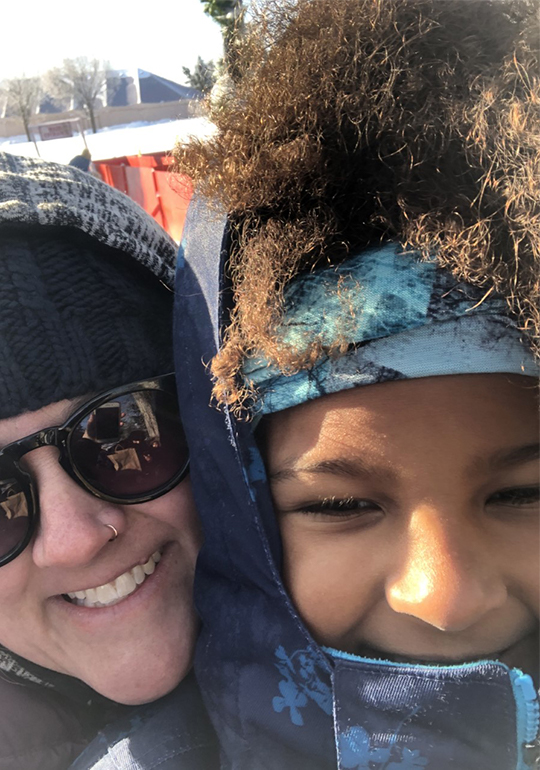 Nicole and Grace love to spend time outside together.
Nicole and Grace put up their tree November 12th. "I made sure to do my solemn duty to remember and watch the live stream on Remembrance day," says Nicole sincerely. "But the next day I was like, 'It's 2020, we're going to decorate!'"
In previous years they would use a tree that would sit on a table. This year Grace wanted a white Christmas tree. "We found one with multi-coloured lights and white lights," says Nicole. "You can change it depending on your mood." Grace loves it.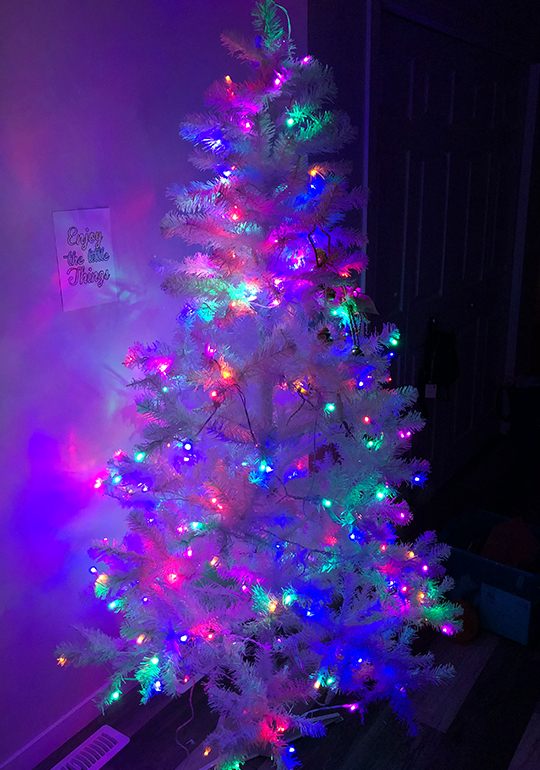 Their new tree with it's multi-coloured lights on.
Nicole and Grace live in Silver Springs. They've been enjoying going for walks together in the neighbourhood to check out all the lights. "It makes us happy and is bringing us so much joy."
Nicole would like to put some lights in their windows so that people can see. She's also thinking about a wreath on the door. "We have lots of plans," laughs Nicole.
December is a big month for this family of two. They love celebrating Christmas and Nicole's birthday is also on the 27th. Together, they like to make hot chocolate with candy canes and marshmallows, Grace loves to listen to Pentatonix and Nicole likes to listen to the Christmas music she grew up with.
Turn your volume up to hear the bells chiming!
Something unique that they do is set up their Norwegian Christmas decoration. "My grandmother had one like it growing up." It is a treasure found and gifted by Nicole's sister. It has angels on it and when the candles are lit the angels move and bells chime.
"Grace is so taken with it. She will say, 'Mom, let's turn all the lights off and light the candles,'" says Nicole. "I can tell that for her it's a meaningful experience. So I love that."
These three Habitat homeowners, plus more than 300 across Southern Alberta, have the opportunity to create new holiday memories because of your support. Every donation, volunteer hour, or purchase at our ReStores has contributed to this success. Thank you.
May your spirits be bright this special season. Thank you for being part of this special community and we hope you have a joyous holiday season.