It's hard to believe, but we're already in December and the holidays are quickly approaching!

This time of year tends to bring a desire to give back and make someone else's season bright. But we're all busy (especially at Christmas), and it can be hard to find something that fits our skills, interest and availability.
So we've put together three unique places where you can give your time in Calgary this holiday season.
Become an "Elf of Cookie Kitchen" at Southcentre Mall
If you're a foodie who loves working with kids and spreading the holiday spirit, then this is the one for you!
Help celebrate the festive season by volunteering at Southcentre Mall and decorating cookies with kiddos. The deck'd cookies are purchased by donation, and the proceeds support Calgary Meals on Wheels.

Meals on Wheels is dedicated to promoting health and independence through quality, nutritious and affordable meals, because everyone deserves to be well-fed.

By volunteering for Cookie Kitchen, you're making sure the kitchen stays open for business over the Christmas season, and that Calgarians have access to affordable, nutritious meals all year-round.
You can learn more and sign up online.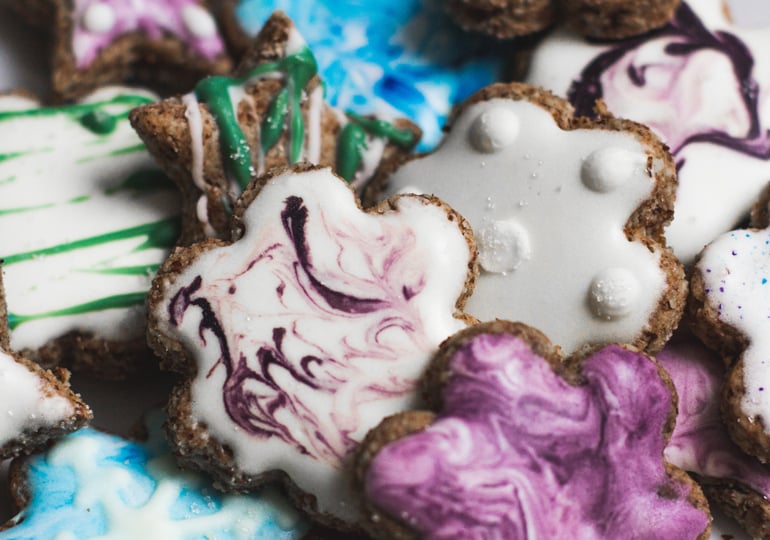 Give the gift of a healthy lunch
Brown Bagging for Calgary's Kids does incredible work to ensure kids are fed every school day, because they know that good nutrition is vital to a child's health, education and future.
Make spirits bright by choosing from a number of positions, including delivery, kitchen prep, packing, clean-up and more. And, with morning and afternoon options from Monday to Friday, you're sure to find a day and time that works for you.
Any option you choose is helping to meet the nutritional needs of growing kids. 'Tis the season to be feasting.
Help customers deck their halls at the Habitat for Humanity ReStores
When you think of Habitat for Humanity, you probably think about swinging a hammer. And that's true! But there are also a number of other ways you can support families through Habitat for the less handy – but still helpful! – of us out there.

The Habitat for Humanity ReStores are a bargain-hunter and DIYer's dream. They carry all kinds of furniture, appliances, home décor, building materials and much (much, much) more, at super low prices.

All of the product you find in the stores is donated by people in the community – it could be brand new tile from a company's overstock, or an antique gem from a family down-sizing.

The proceeds from the sale of these items help to cover Habitat's administrative costs so donations can go directly to building homes. It's win-win for everyone!

Because these stores are Habitat's social enterprise, they rely on volunteers to help organize donations, stock shelves and be friendly, helpful faces around the store.

Kelly Macdonald is a local REALTOR® and was introduced to the ReStores through the Calgary Real Estate Board and their investment in Habitat's Silvercreek Legacy Build.
"I wanted to give back to the community and help others," Kelly says about her experience at the ReStore. "I enjoyed working alongside other volunteers and interacting with the customers. It's a fun day, with all sorts of things to do, so it makes the work interesting."
It's the most wonderful time to help families feel the safety and security of home by volunteering at a ReStore this holiday season.
These are just three of the fun (and festive) ways we've found to volunteer this December.
No matter who you are or what your interests are, there's a way for you to spread the cheer and bring peace on earth this holiday season!