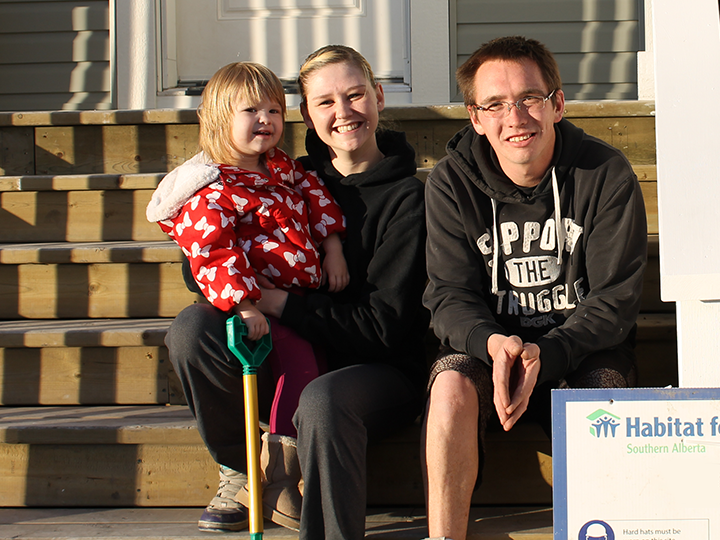 After the 2013 Alberta Floods swamped Kyle and Danielle Gordon's rental basement suite in High River, destroying most of their belongings, they ended up living in a trailer with their newborn daughter Aveleen for more than three months.
But now, thanks in part to TransCanada's $30,000 sponsorship of Habitat for Humanity Southern Alberta's High River duplex build, the Gordons are aiming to move into their brand new home before the end of the year.
"High River is our home," says Kyle. "That's partly why we're really excited to have the chance to own a house in this town. We didn't want to leave High River – it's a great place. We loved growing up here and we really want Aveleen (who is now 21/2 years old) to have the same opportunity."
The Gordons are one of two families partnering with Habitat for Humanity on the new High River duplex build, which broke ground earlier this spring.
Habitat for Humanity builds affordable houses alongside partner families through volunteer labour and donations of money and materials. The homes are then sold to the families with no down-payment, no-interest mortgages.
"As a young family on a lower income, to be able to save a down payment to own our own home seemed out of reach. This is such a huge opportunity for us," says Kyle.
Building a future together
Kyle and Danielle, who are both in their mid-twenties, say that their main motivation for partnering with Habitat for Humanity is their daughter.
"Right now we pay about half of our income to rental housing – that's a big deal," says Kyle. "But Habitat for Humanity structures your mortgage so it's only 25 per cent of your net household income, which means we can work towards saving for Aveleen's future and have a more stable life for her."
Future schooling – for the entire family – is also on their minds.
"I never received any post-secondary education and neither did Danielle," says Kyle. "So now we have this opportunity to be able to save for Aveleen's future education and maybe even go back to school ourselves."
As part of the partnership, Kyle and Danielle are required to complete 500 volunteer hours each – called sweat equity – towards the building of their new home.
Supportive community
This past September, through the Get Empowered campaign, 32 TransCanada employees and contractors had a chance to be part of the supportive Habitat for Humanity community as volunteers headed out to High River on three separate build days to work on Kyle and Danielle's new home.
Kaitlyn Fulton, a co-op student, volunteered on two of those days. On the first day, she installed windows, helping with framing the second time around.
"I've never been on a construction site before in my life. But I got to learn a new skill that would help another family, which was fantastic," she says.
"I witnessed firsthand how much they depend on volunteers to get the work done," Kaitlyn adds. "I think it's a great area for TransCanada to lend a hand. It's important that everyone has affordable housing; it is incredibly valuable to a family to be able to live in their own home."
Heidi Lambie, Habitat for Humanity's regional development manager – who has spent time on many different build sites alongside partner families – agrees.
"The funding is an investment into a family," says Heidi. "And these families end up having stability and out of that they become a healthy family – whether it's physically or emotionally. So when our companies and donors donate to us, it's truly an investment in helping a family to succeed, be stable and be happy."
In addition to TransCanada's multiple build days this fall, the company's $30,000 donation goes specifically towards the cost of building the Gordon family's new kitchen – such as building supplies and materials.
Kyle says, "It's just amazing to see this community come together and do something huge for people they've never met before."
His new home is scheduled to be completed in December.
"That would be really awesome," says Kyle. "It would be the best Christmas present ever – a brand new house."