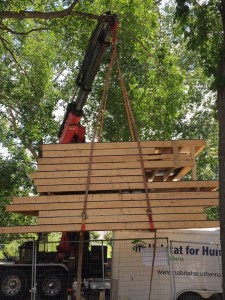 Habitat for Humanity Southern Alberta has initiated a new partnership with the Drumheller Institution that allows offenders to acquire practical skills, while contributing to the construction of two Habitat homes for families in High River.
The Drumheller Institution is a medium and minimum security facility that offers rehabilitation programs to help offenders build employable skills. One of these programs is a NAIT certified Pre-Employment Carpentry course, so this partnership was a natural fit.
"Habitat's model relies heavily on volunteer labour and this opportunity allows us to establish a partnership with a new community of volunteers," said Graham McKerrell, Director of Construction for Habitat for Humanity Southern Alberta.
During carpentry class at the institution, ten offenders worked to build the exterior walls for the Habitat homes. While the walls were being constructed, the foundations for the houses were being poured at the build site. The walls will be transported from the institution to the build site and will accelerate the build progress dramatically, as these two tasks typically do not occur simultaneously
For the offenders, the practical skills they learn are just the start. This project allows them to build confidence and self-worth and feel that they are productive members of the community, according to Josh Bhikoo, Work Release Coordinator at the Drumheller Institution.
"When they took the first wall off the framing table, you couldn't take the smiles off their faces for what they had done," Bhikoo said. "They knew a family in need was going to get a home from their hands."
The project began on June 6, and the walls arrived in High River near the end of the month. Habitat for Humanity Southern Alberta is excited about this partnership and the potential to develop similar programs across Southern Alberta.