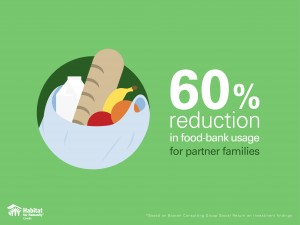 Every $1 invested into Habitat for Humanity Canada's domestic homeownership program initiates $4 worth of benefit to society, which equated to $39 million in 2014, according to a new social return on investment study released today by The Boston Consulting Group (BCG).
"We are constantly hearing from the families we serve about the significant impact that Habitat homeownership has had on their lives and we wanted to quantify this in terms of its benefit to broader society," said Mark Rodgers, President and CEO, Habitat for Humanity Canada. "This study proves that Habitat for Humanity is a leader in creating transformational change for families and that our program is a wise investment of donor dollars."
The study found that Habitat homeownership generates a societal return of $175,000 per family served. The total benefit of $175,000 per family is calculated over two generations and is based on incremental government revenue from federal and provincial income tax, as well as sales tax. Financial benefits are also calculated from reduced use of social services, such as social housing and local food banks by Habitat families.
"It's clear Habitat for Humanity's work creates long-term benefits for society, as well as substantially improving the lives of families in Habitat homes," said Kilian Berz, a Toronto-based senior partner at BCG. "We believe it's important to support Canadian non-profit organizations in the assessment of their program's impact on society, and we're very happy to see how much of an impact Habitat for Humanity's work has had on numerous Canadian families."
To come to these results, BCG assessed well-being before and after moving into a Habitat home and compared that with families from similar backgrounds who had not received a Habitat home. Over 500 Canadian families completed an extensive questionnaire for this study.
The study concluded that the benefits to society resulting from building a Habitat home are significant. The social return is contrasted with the relatively low cost of $45,000 for Habitat to serve one Canadian family. Habitat keeps costs low by leveraging donations and funds generated by Habitat for Humanity ReStores and by working with community partners and families who invest 500 hours of "sweat equity" into the construction of their own home.
Other Key Findings from the Report
Improved access to homeownership
37% of Habitat families were in social housing before moving into a home
Only 20% non-Habitat families studied become homeowners
Greater employment stability
Quality of employment increased after moving into Habitat home
Families work fewer jobs and report greater stability
Improved health behaviours
50% of families physically active vs. 15% average for Canadian population
Reduction in smoking among Habitat partner families
Engagement in community and society
Habitat families show higher participation in elections
70% of Habitat families donate time and money to charity
Better education outcome for children
More children from Habitat homes achieve a bachelor or higher degree
A full copy of the report is available here.