January 21, 2016, Airdrie, AB – Today, Habitat for Humanity, together with Airdrie Mayor Peter Brown and Banff-Airdrie MP Blake Richards, officially broke ground on six new homes that will provide affordable home ownership for local families in the community of Ravenswood. The two triplexes are located at 2716 King's Heights Gate in Airdrie and the project has already received tremendous local support.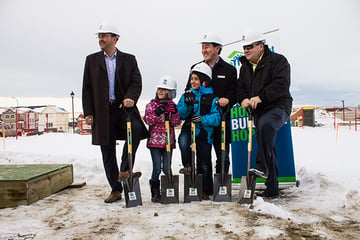 "I'm thrilled to see that six families are going to enjoy what Airdrie has to offer," Mayor Brown said. "It's a great place to raise your children and you're all going to see the local volunteers and business communities come together to support you."
"We're excited to be building back in Airdrie," said Gerrad Oishi, President and CEO for Habitat for Humanity Southern Alberta. "We're grateful for the support we received for our last build and again for this project, and are looking forward to working with the community to make home ownership a reality for six incredible families."
Each of these families will work to help build their homes and support Habitat, and then take on an affordable Habitat mortgage to achieve their goal of home ownership. Nichole and her three children Robert, Mykayla and Michael are one of the families who will become home owners when this development is complete.
"It takes a village to raise a child," Nichole said. "In my case, the village has been helping me raise my family for many years and that's why our partnership with Habitat means so much to us. We're so blessed and grateful to be part of the Habitat family."
This build will be a collaborative, community-based project. It has been aided by contributions from Qualico Communities, Genworth Canada and Cabinet Solutions, as well as local donations of materials and labour. Habitat will continue to seek the support of additional donors and sponsors as the project progresses, and will rely on a dedicated network of volunteers to complete this build. The construction site will be open for individual and group participation in the first weeks of February.
---