Today, Habitat for Humanity has officially opened registration for Women Build 2016. Habitat has set aside six days in May exclusively for women to fundraise and build homes at our construction project in Pineridge, where they'll be outfitted with pink hardhats and power tools and experience a day of fun on a construction site.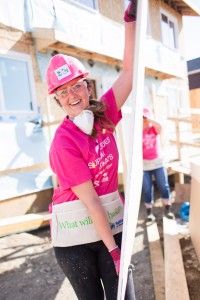 This is an opportunity for the women of southern Alberta to come together and show their strength for an incredible cause. Housing security is a challenge that affects many families in southern Alberta, and more than 200 women are expected to register for this year's event to help address that challenge.
Each participant is asked to raise at least $250, with the collective goal of raising $50,000 to put toward the cost of building affordable Habitat homes, and the work done by participants in May will help to complete these homes. Corporate sponsorship will also contribute to the success of this event and increase its impact.
Habitat has identified six women who are this year's Women Build superheroes and ambassadors. They include CTV News Anchor Tara Nelson, CTV Community and Entertainment Calendar Host Saba Hailemariam, Mrs. Canada 2014 Angie Shilliday, as well as three Habitat mothers who can speak toward the impact of affordable home ownership and the stability it provides for their children.
"Having the security of owning my own home has allowed me to focus on so many other things in life," Vanisha, Habitat home owner and Women Build ambassador said. "To be involved in Women Build, you are literally changing someone's life. I think it's a gift to be able to do that and an honour to be part of someone's life in such a huge, instrumental way."
Women who participate can expect a tough, but exhilarating day, building alongside like-minded women who care about the social well-being of their city. They'll be provided with all of the tools, safety training and instruction that they'll need to take tangible action to address the challenge of affordable housing facing thousands of families right here in southern Alberta.
Learn more about Women Build and register to fundraise.