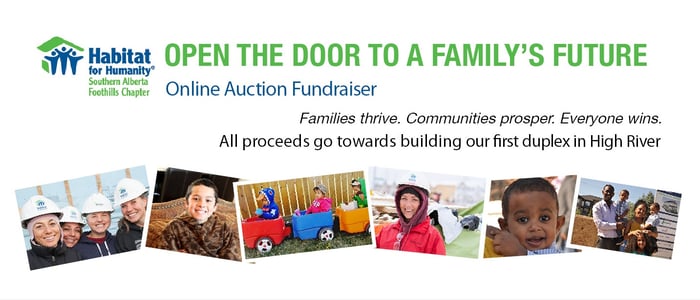 Open the door to a family's future by participating in the Habitat for Humanity Foothills Chapter's second annual Online Auction Fundraiser.
There has been tremendous donor support and there are 85 unique items up for bid, including dog sled tours, VIA Rail trips, outdoor excursions and more.
All the funds raised from this auction will be used to build a duplex for two families in High River, beginning in April. Last year, $8,000 was raised from the auction and the Chapter hopes to meet their goal of $10,000 this year.
"The funding we receive from events like these ensures that we can build the duplex in a timely manner and allow two deserving families to achieve their dream of homeownership," said Marilyn Boake, Chapter Chairperson.
The auction opened on February 23 and will run until March 12, 2015. Visit https://elevateauctions.com/habitatforhumanityfoothills2015 and make your bids today.