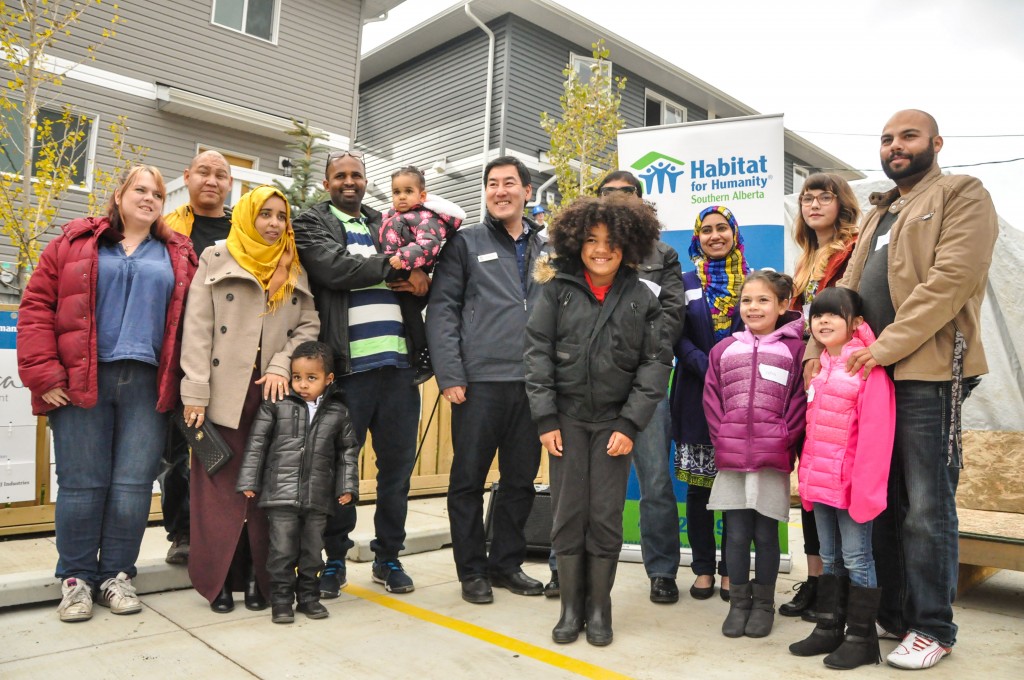 Habitat for Humanity welcomed eight families into home ownership at a ceremony in the community of Pineridge, along with the sponsors, suppliers, trades, and volunteers who have contributed to making these homes possible.
"Many families struggle with housing affordability in our city," said Gerrad Oishi, President & CEO for Habitat for Humanity Southern Alberta. "But we know that the struggles of these families don't need to define their futures. With the stability of a home they can truly afford, they can thrive at work, their kids can thrive in school, and they can make confident plans for their future."
These eight families, 14 parents and 24 children, will all be in their new Habitat homes by the end of October. For parents, this means a new life of financial stability and independence. For children, it means their first holiday season in a permanent home they can call their own.
"I don't think I've ever been more excited about anything in my life," said Victoria, who is 16 years old and will be moving into a Habitat home with her father, Brendan, and two sisters, Sophia and Aliyah. "For my family, this means stability; it means not having to move again; it means that my sisters can now build meaningful friendships and not have to move schools; it means that we will belong to a community. It's a little hard to find the words to tell you how much we all appreciate your efforts."
These homes represent a culmination of community support. Construction has been aided by financial contributions from a number of generous sponsors, including Gordon Food Services, CREB Charitable Foundation, CHBA-UDI, RBC Foundation, Co-op Community Foundation, Rotary Club of Calgary West and Genworth Canada.
"It's been an honour to see how much Habitat has become part of the culture at GFS," said Jeff Lawrick, Director of Marketing and Procurement at Gordon Food Services. "This is a great step for the families and we're looking forward to the ways we can work together in the future."
Along with this financial support, more than 2,600 volunteers have worked with Habitat to help build the homes, and many local trades and suppliers have made significant contributions of building materials and labour to make home ownership possible for these eight families.
Affordable home ownership builds long-term stability and self-reliance, empowering families to invest in their futures and creating lasting benefits for their children. Each family has worked to build their homes, and will purchase them with affordable mortgage of no down-payment, no interest, with monthly payments set to their income level. This will give them the financial stability to make other important investments in their families' futures.
These eight homes are part of Habitat's development of 24 affordable homes in the community of Pineridge. The development began in the fall of 2015 and is expected to be complete in late 2017.
Check out photos from the Home Dedication here.