A warrior is a confident, powerful change-maker. A warrior doesn't shy away from a challenge. A warrior accepts the challenge and conquers the challenge. Do you have what it takes to be a true warrior?
Just because the snow starts falling doesn't mean we stop building! Our build season is every season and we need you to carry us through the cold months ahead. Join the ranks of Habitat for Humanity's Winter Warriors and help us build warm futures for local families.
THE CHALLENGE: Complete 5 build days between December 1, 2015 and March 31, 2016.
Perks of the challenge include hot coffee and cocoa on site, exclusive Winter Warrior apparel, entry into a grand prize draw and, of course, plenty of warm fuzzies from doing good.
The challenge runs from December 1, 2015 to March 31, 2016 for individual volunteers only. Show the world that you've got what it takes. Become a Winter Warrior today.
---
After your 1st shift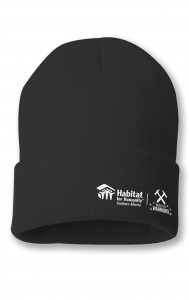 After your 5th shift