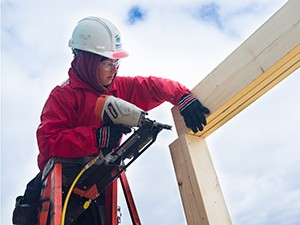 Volunteers are the foundation that Habitat for Humanity builds on and their selfless donations of time and energy help bring our vision to life. In fact, almost every non-profit organization, from the Calgary Drop-In Centre to the Red Cross, relies on volunteers to further their cause in some way or another. The value that non-profit organizations realize from volunteers is clear, but what do the volunteers get out of the relationship?
To find out, we asked a team of core volunteers from our Chapters. Along with volunteering with Habitat for Humanity, they donate their time towards causes such as Inn from the Cold, The Mustard Seed, and their local school division. For these incredible people, volunteering is about three things:
First, it's about giving back to the community. It feels good to do good, especially when you can see the value you are creating. To use the words of Mountain View Chapter member Michelle, "It is personally rewarding to be able to do something for someone else; to make another's life a little bit brighter or easier for them."
Second, volunteering is a social activity. It brings you out of the house and connects you with like-minded people you would never have met otherwise. Anyone who has worked with a good team can testify to the incredible bonds that can form between volunteers.
Finally, volunteering inspires others. Volunteers motivate their friends, their families, and the people they help to pass their goodwill on to others. This effect amplifies the social good created through a small act into something greater. Look no further than the 2013 Alberta Floods, when thousands of Albertans came together to help complete strangers and created an incredible atmosphere of hope within the affected regions.
Giving back to the community, socializing, and inspiring others are just three of the reasons people choose to volunteer their time for a cause. At Habitat for Humanity we've heard dozens of others and we're sure there are hundreds more out there.
Have you thought about why you volunteer? Let us know by posting it on our Facebook wall!