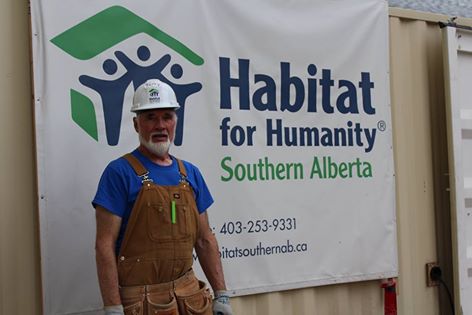 Habitat for Humanity Foothills salutes another amazing High River volunteer, Terry, who signed up after attending the Ground-Breaking Ceremony and answered the call for local volunteers.
"An appeal for volunteers was issued and I thought that that was one way I could help out. I was not long on house construction experience, but I was experienced with handyman tools and working with wood, so I thought, why not," Terry said.
After learning that the Chapter was short on Crew Leaders, he once again jumped at the chance to step in. He completed three training days on an East Calgary project site and took a Red Cross First Aid course before he was ready to go.
"I started at the High River project when the cement foundations were in. Bill, site Project Manager and Malcolm, his Assistant, were great guys to work with and we became friends. I made a commitment to be on site every Thursday starting in May 2015 and continued every Thursday until Christmas 2015," Terry said.
"It was the commitment to Bill and Malcolm that kept me coming back as well as the camaraderie of the volunteers that had me looking forward to each Thursday. Some days were cold, some wet, some hot (I well remember helping unload a truck load of pre-hung windows and doors on a 32C day in July), but I stuck with it. Every week when I showed up it was gratifying to see the progress from the previous week," Terry said.
"I met the family of one of the recipients of the Habitat project. He was a great guy to work with, his enthusiasm was gratifying since he knew he was working on the project himself and his wife and four kids were going to get to move into. Move in was January 2016. I still drive by the site occasionally and get a feeling of pride with the knowledge that I was a small part of making the 5th Ave. Habitat for Humanity project a reality."
Thank you Terry for your tremendous support!