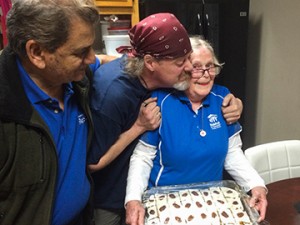 Everyone loves Docia, and it's not just because she brings baking into the Habitat for Humanity ReStore every Thursday. Docia's energy fills any room she's in, inspiring smiles, laughter and spontaneous hugging. When she isn't at the ReStore, she applies her passion for helping others to her church and local political campaigns.
Docia moved to Calgary from Edmonton in September 2012. After shopping and volunteering casually at the ReStore a few times, she decided in February 2013 to commit every Thursday to volunteering there.
On a typical day, she arrives early and deposits her baking in the volunteer room. Although she's not required to, she cleans up around the store and the parking lot. For the rest of the day she helps the team to receive donations and organize the inventory on the shelves.
To anyone thinking of volunteering at the Habitat for Humanity ReStore Docia says, "Go for it! Particularly if you're someone my age. There are many different things you can do to help out."
For Docia there are two reasons she continues to spend her time at the ReStore: the people and the exercise. The exercise she gets from volunteering helps contribute to her endless reserves of energy and if you've ever volunteered at the ReStore you know why she likes the people. They are a friendly, relaxed group whose laughter can be heard echoing across the store throughout the week (particularly on Thursdays)!
Thanks so much for your time and energy, Docia! We love having you with us!