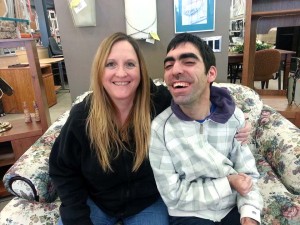 Craig Gleisner is one of the most faithful and long-standing volunteers at Medicine Hat ReStore. He has selflessly given his time to the store for two days every week over the past three years.
Craig is most often accompanied by his support worker Denise, and together they make an incredible team. Whether they're sorting, organizing or pricing merchandise, the smiles and the laughter never cease. Craig has even earned the nickname "Speedy" thanks to his diligence and incredible efficiency.
So how could you describe Craig? He's fun and energetic with a cheery disposition. He's ambitious, inquisitive and attentive and always brings joy to ReStore staff and patrons. Craig is non-verbal, but that doesn't deter him from communicating through his expressions and, on occasion, through his tablet.
Aside from giving back to his community, Craig has many other interests, including travelling, skiing, horseback riding and spending time with his family. It's evident to all that Craig enjoys his time volunteering at the Medicine Hat ReStore and the staff and patrons are immensely thankful and blessed by his contributions!