We're all about families here at Habitat, so thank you to everyone at Carey Management for adopting us into your family for another year as a beneficiary of the Larry Carey Charity Golf Tournament.
The live band played mainly pop country tunes as the dew settled into the grass and sleepy golfers arrived for the pre-tournament breakfast being dished out under the big circus tent.
We were over at the practice putting green where we'd be stationed for the day. In addition to being a recipient charity at the Larry Carey Charity Golf Tournament for a second year running, we would also be hosting folks for the putting challenge. Five dollars buys you three chances to sink the putt and be entered to win.
Longtime friend of the family, Nick deHaan, was our co-host for the day and had to bring us up to speed on the intricacies of hosting such a challenge. While selecting the line golfers would putt from (a critical task not to be taken lightly), the key, Nick said, was to make it hard, but not too hard.
With a $250 cash prize and a Yeti Cooler on the line for the winner, we wanted (some, but not too many) people to actually make the putt and be entered in the draw.
Hot coffees in hand and well-fed (thanks for breakfast!), we set to work finding the perfect line. We must have moved it ten times but eventually settled on something that the three of us (Josh and Kelsey from Habitat, Nick from Carey Management) could confidently sink once in three or four tries, or so.
Perfect.
Remembering Frank
This was my second year on the putting green at the Larry Carey classic, and the weather was making for a beautiful day to raise some money and have some fun. But through the optimism, you could sense the mood was a little different this year.
Frank Carey, the second-generation Carey in Carey Management, had passed earlier this year, leaving his son Pat to run the company and keep the legacy of the Larry Carey tournament (named after Frank's father and founder of the company) alive.
You could tell that Frank was on everyone's mind and things weren't quite the same without his energy around.
I met Frank last year at this tournament, half a cigar dangling from his lips, as he would swing by the putting green throughout the day to laugh and joke with these people, who seemed more like friends to Frank than business colleagues.
This year, I met his wife, Anita, who came by to wish us well and thank us for being part of the tournament again. Thanks to you, Anita, for having us back.
The tournament will be renamed next year as the "Carey Classic" to honour Frank.
"I have come to know the Carey family over the last six years and am awe struck at their sense of family, commitment to one another, to their Carey Management team and their community. It is an honour to be in their company and witness their generosity and caring."
Louise Gagne, habitat for humanity's director of regional development, and friend of the Carey family, who was on hand to accept the money raised at the end of the day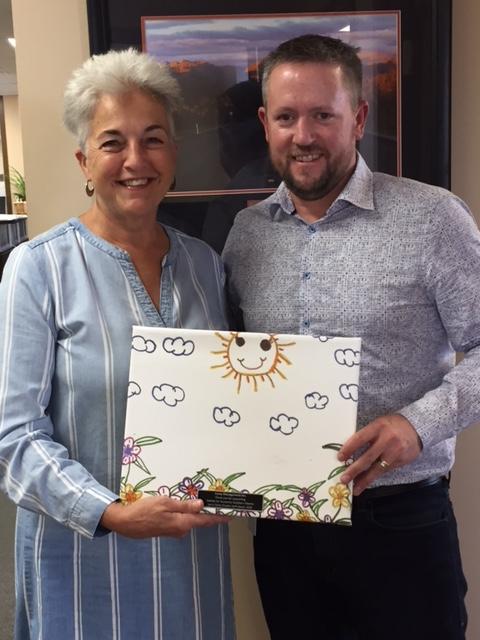 Canadian Legacy Project
Of the $40,000 raised at the tournament, half was given to Habitat, and half to the Canadian Legacy Project, which is a charity that provides programs and support for Canadian Veterans.
The Canadian Legacy Project "was created because many of our Canadian veterans are living in poverty and do not have the basic necessities in food, clothing and shelter."
"The Canadian Legacy Project was developed to be an organization that advocates for our veterans and supports them by creating programs and events to help improve their everyday lives."
Host your own event for Habitat
Thank you to everyone who put some cash on the line to take part in the putting challenge and congrats to the winner of the cooler and cash prize!
Thank you especially to Carey Management for bringing us into the family.
We are grateful for the support of every group that chooses to support Habitat for Humanity Southern Alberta with a third-party event.
We rely on your support to achieve our mission of providing strength, stability and independence for local families, right here in Calgary and southern Alberta.
If your group would like to support us through your own event, you can learn more here.