Thanks to you, Habitat supporters, the new decade is off to a great start. Five families moved into their new home in Silvercreek, in Radisson Heights Bill has never seen volunteers frame so fast and we've sold two homes in Medicine Hat. Continue reading for your spring build update.
Southlands Drive, Medicine Hat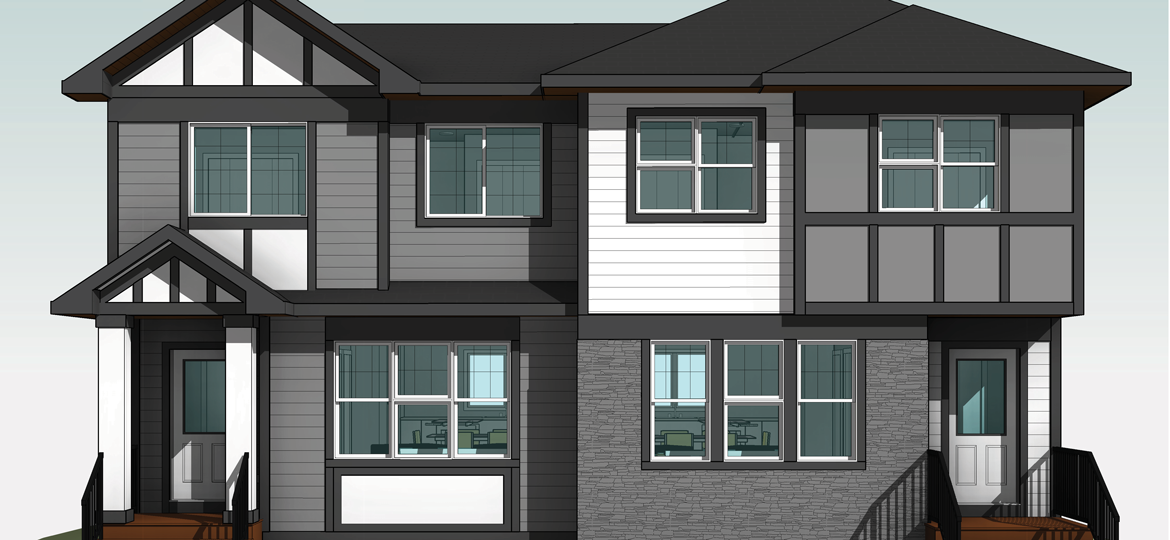 This duplex will have three bedrooms, 1.5 baths and a private yard
We are pleased to announce that both units in the duplex have been purchased through our affordable mortgage program and construction is expected to begin this Spring. The volunteer team is busy planning fundraising opportunities.
The next event is a steak dinner on April 2, with a silent auction and the draw for WestJet tickets. Thank you so much to all our Medicine Hat volunteers for your efforts and supporters for your time and gifts. You can join this amazing group of volunteers here.
See more about this build here.
---
Silvercreek Crescent NW, Calgary
Construction all over Calgary slows a little in the colder months yet in we had seven organizations brave unpredictable weather to build at our site.
The first of four buildings is complete. Five families received their keys on February 4th, two units will have later occupancy dates and one unit will remain empty as a showroom. One of these families volunteered an additional 12 hours for two other families so they can move in faster. Their names are David and Myriam. Even their kids, Tathiana and Santhiago, are volunteering hours to help.
On the second building, framing, siding and insulation have begun. The foundations for the last two buildings have been poured.
The two foundations on the third and fourth building closest to Nose Hill Drive were placed. Activity will resume on these two buildings come spring.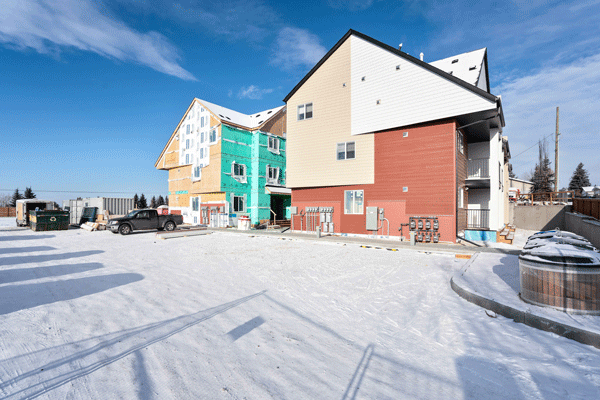 The majority of the perimeter fence is up. Later in spring we'll finish the concrete work and landscaping.
---
Radisson Heights NE, Calgary
In early 2018, Habitat for Humanity Southern Alberta received approval from The City of Calgary to purchase two plots of land in the Albert Park / Radisson Heights community of Southeast Calgary. The first plot has two newly finished duplexes. Watch two families see their home for the first time here.
In January, two fourplexes were started on the second plot. Each home will be 1150 sq. ft. with three bedrooms, 1.5 baths and be an energy efficient two stories plus basement.
Site supervisor, Bill McLaren says they're off to a "brilliant start" all thanks to Dana, Ian and other volunteer Crew Leaders. "They are incredibly skilled at what they do."
And relentless. Bill recalls days in January when there were extreme cold warnings and Ian, Dayle and Sue still came out to volunteer. Big thank you to these three for braving the deep freeze.
All the groundwork and framing has been done: main floor, the second floor, decks. Currently the roof is going on and in less than a week the doors and windows will be fitted.
From all of us at Habitat, thank you for all you gifts of time and donations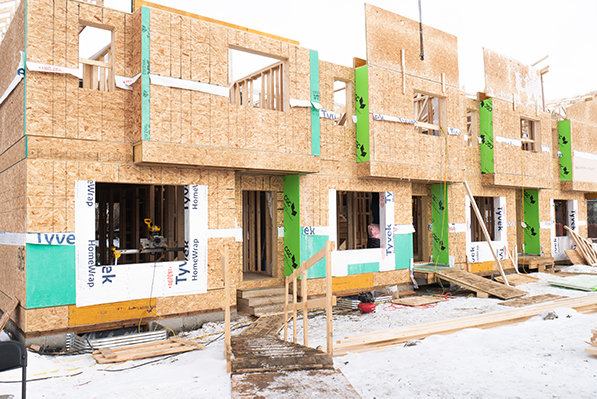 Once completed, these fourplexes will house eight families in Radisson Heights