Speaking to families about the transformational impact of home ownership is one of the best parts of my job.
I meet Sabahat in a cafeteria and I'm excited to hear her story. We dive right in.
Sabahat, her husband Wasim and their four kids, Vardah, Ziad, Hiba, and Neha, moved to Calgary from Pakistan in 2003. Shortly thereafter, they all became permanent residents.
They were hopeful about their potential, as Wasim had a Ph.D. in Geophysics from a Swedish university. Upon arrival, he immediately began searching for work in the oil and gas industry. Despite his ambitions, he faced many challenges getting hired in his field.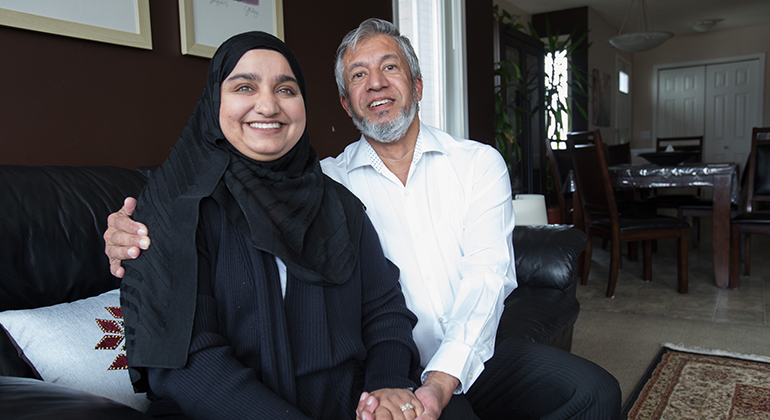 A story of unwavering faith
With no job prospects on the horizon, Wasim began working at two gas stations to support his family. The income did not go very far, so Sabahat started babysitting the neighbour's children, while caring for her own.
Sabahat recalls that their focus was on survival, so they were not fully present with their children. Her husband worked the night shift and often had to help care for their young kids during the day while entirely sleep deprived.
They were living in an area they considered unsafe. Their rent was increased by 44 per cent, absorbing well over half of her husband's earnings. Her oldest daughter was bullied at school for wearing the same clothes frequently.
They did their best to hide their struggles from their children. Walking to the store to purchase groceries with the kids in tow became the routine, as they didn't own a car and could not afford public transit.
One particularly stressful event occurred when one daughter was very ill with a fever. Sabahat expresses disbelief as she recalls that she actually pushed her daughter – who was too ill to walk – in a shopping cart to the nearest medical clinic.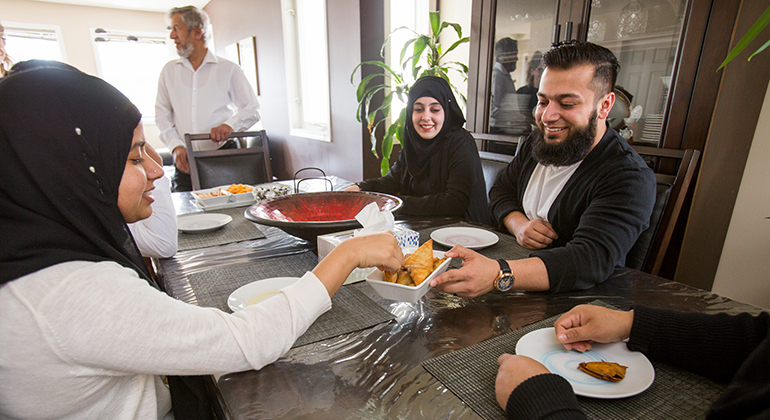 The family spent over two years struggling with housing instability. Things were slowly improving as Wasim began getting short-term contracts in his field.
In addition, Sabahat was expecting and in 2005, they welcomed their fifth child, Ebad. They applied for subsidized housing through the Calgary Housing Company and were accepted.
Concurrently, a neighbour suggested they check out Habitat for Humanity. Sabahat set the application on the kitchen table for 10 long days.
She was unsure if they met the requirements, and compounding family worries made it hard for her to focus. Eventually, she found the resolve to complete it and work through the application process.
Light at the end of the tunnel
They were accepted into partnership that year and Wasim tackled 300 of the 500 required volunteer hours all by himself! The kids even got to contribute hours by making playhouses. They purchased their Habitat home in October of 2008.
Sabahat describes feeling a massive sense of relief when they moved into their home. Mortgage payments geared towards their income meant they could provide basic needs, including healthy food and new clothes for the kids.
"It was an upside-down change," beams Sabahat. And yet, we can imagine, it was also the right-side up.
Free from the stresses, the parents put a renewed emphasis on their kids, coaching them in their studies and encouraging them to express their gratitude through volunteering.
"We grew in a positive way – from stressed to blessed," Sabahat says. Sabahat and Wasim put money aside each month for their children's post-secondary education.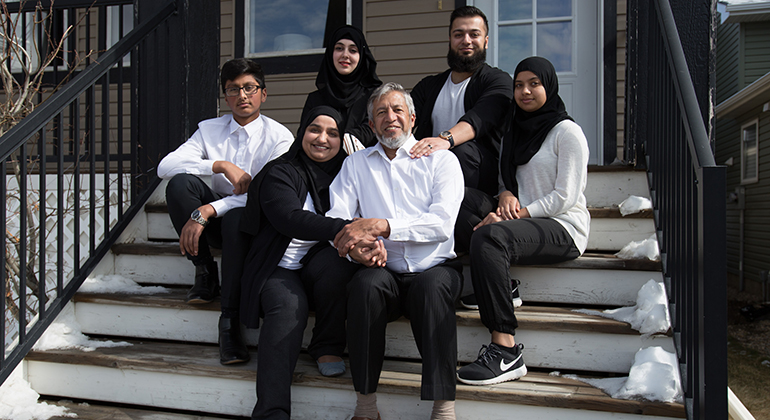 Stability at last
The neighbourhood is safe and the family enjoys a sense of belonging. Sabahat drops off her famous chicken dishes for her neighbours to enjoy. They take great pride in their home and continue to decorate and renovate it. This is their "first" and their "forever" home.
Wasim now works steadily as an interpreter. Today, their kids are excelling – the three oldest are all university-educated and married with children. Her youngest daughter is pursuing her B.Ed. at Mount Royal University.
Ebad is now 13, and he's shining at school academically and in sports. He has been largely free from the housing instability that his siblings endured.
It's with a strange mix of pride and a whisper of guilt that Sabahat admits, "His siblings wore clothes from Value Village, and he wears Banana Republic!"
Sabahat is now a grandmother – albeit a young one, as she had her first child at 17. In 2017, Sabahat enrolled in the education program at Mount Royal University. "Now, it's my turn," she grins.
It was a dream long put on hold, and now a welcome "first" for this resilient and determined woman.
As the conversation concludes, she flashes me a big smile, "Off to class!"
It's amazing to see how affordable home ownership has brought her to this moment.