The 2020 Ride Through The Rockies couldn't have been more emblematic of the last six months. Many twists and turns, challenging ups and downs and riders going farther than they ever had before.

Since 2014, this event, sponsored by Star Building Materials, has brought the cycling community together and fundraised over $700,000 for Habitat for Humanity.
This year, with many events cancelled or postponed, a group of passionate cyclists chose instead to go virtual. With no registration fees and no fundraising minimums, the Aug 22nd online event was open to anyone with a bike in the garage and a desire to help.
Meet the 2020 Virtual Riders
"This year, COVID-19 stopped the riders from cycling together, but it didn't stop their commitment to helping local families," said Ken Crockett, vice-president of Star Building Materials and founder of Ride Through The Rockies.
The Ride community was reinvented online. Through STRAVA, each rider's distance and time was tracked and through Facebook they shared photos and video.
It exceeded expectations.
"We had 43 participants ride more than 5,000 kilometres in Winnipeg, Edmonton, Calgary, Canmore, Lake Louise, Invermere, the Okanagan and even one rider from Missouri, and they collectively raised more than $42,000, surpassing the original fundraising goal of $20,000," says Kelsey Murdoch, program specialist, community fundraising, Habitat for Humanity Southern Alberta.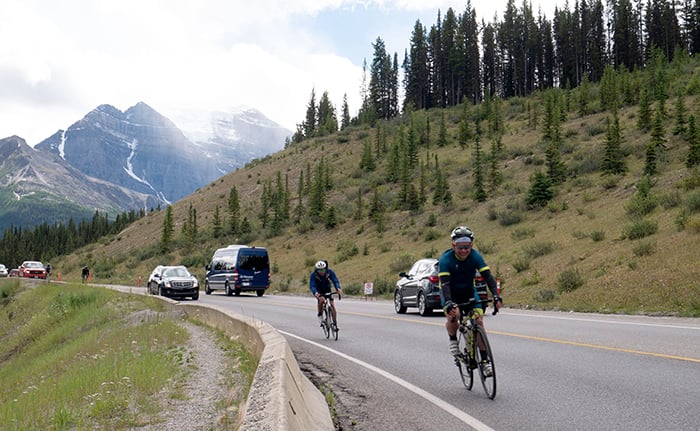 Marty Smith riding down Lake Louise Drive Aug 22nd, 2020
Marty Smith has been with Ride Through The Rockies since its start in 2014. "It was kind of surprising that a few of us said, we're going to do this together virtually, and then people started adding on and wanting to join."
"One of my coworkers from Missouri, USA, rode and raised almost $1,000," says Marty.
How it all started
Ken has loved cycling for a long time. In 2013, he was invited by riding buddies, to a Habitat fundraiser in Winnipeg. That week something changed for Ken and he thought to himself, "I've got to put a ride together." So in 2014, Ken and 12 other riders fundraised and cycled in the Rocky Mountains. One of them was Marty.
"Ken talked me into participating. I said 'I'm not really the guy you'd want on your cycling team. I'm more the guy you'd want on your beer drinking, chicken wing eating team.'"
So Marty started cycling again only six weeks before the event. His first day of training was 13 km. Six weeks later, over four days he would ride 375 km over four days in the mountains. Together, the riders raised $65,000 in their first year.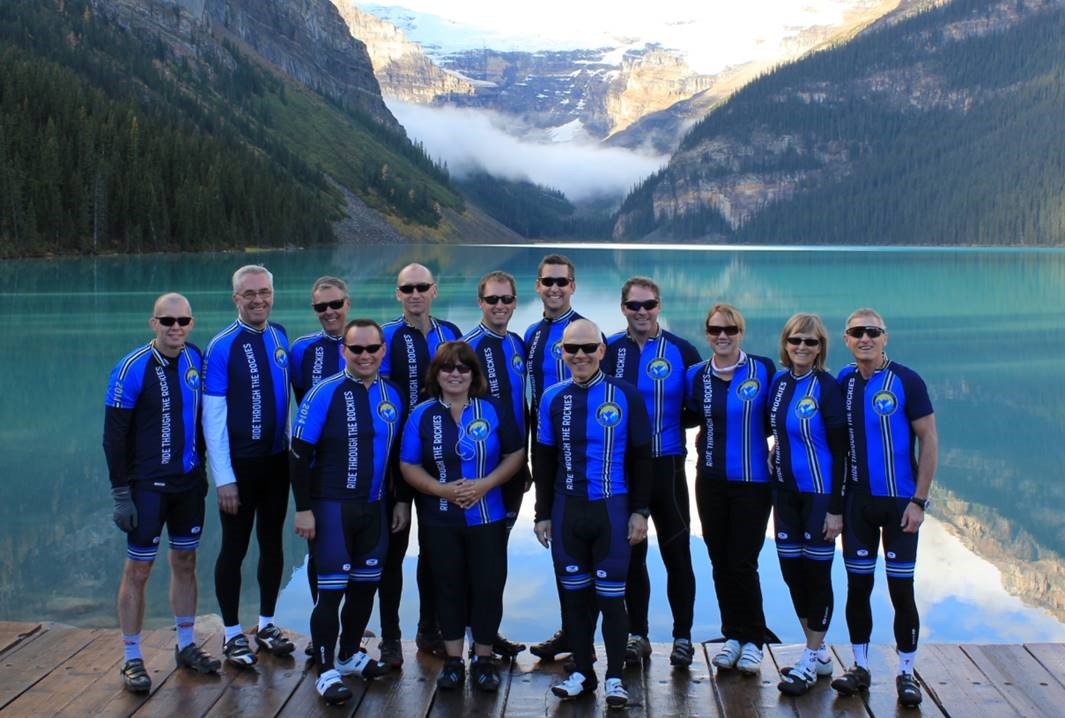 2014 Riders
"It was really big and inspiring. It felt good to help others. You're doing something good for your community, it's good for your health, and the friends that you make out of doing something like this is just so worth it," says Marty.
The next year Marty came back and lost a total of 40 pounds and then over the years, health challenges like sleep apnea, high cholesterol and high blood pressure disappeared.
"This ride has done more for me than I've done for it. That's for sure." Since 2014, Marty has raised over $50,000 for Habitat.
An opportunity for next year
This year, Marty joined Ken and together they completed their longest ride in one day: 206 km from Canmore to Lake Louise and back. "The open roads of the Bow Valley parkway were amazing. The views at Lake Moraine were absolutely breathtaking despite the 12 kilometre climb to get there," says Ken.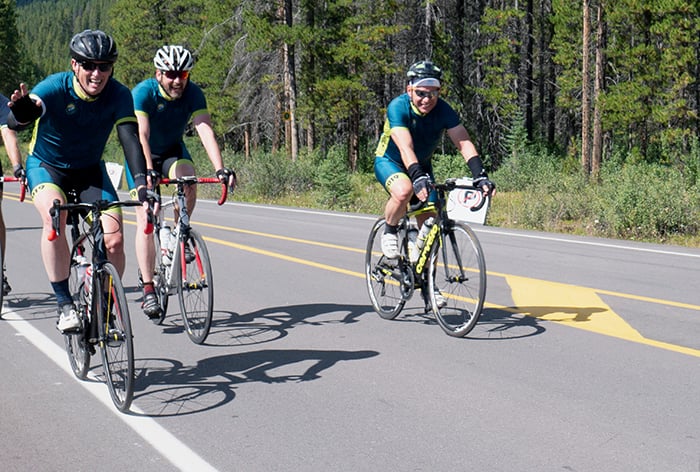 Pictured from left, Ken Crockett, Michael Delaney and Marty Smith riding 206 km's on Aug 22nd, 2020
Although they missed getting together with the rest of the riders, the virtual community was a special development.

"I enjoyed that it could involve more people and hope to incorporate it for next year," says Ken.
Marty was this year's top fundraiser raising $7,800. He was blown away by his network's generosity. "COVID caused a lot of financial challenges for people this year and yet I got such strong support."

"Some people were very generous and when I thanked them they said, 'You know, we're very fortunate to be working and not financially impacted. We just want to do our part.'"
All proceeds of the Ride will go towards Habitat for Humanity Southern Alberta's home ownership program. Habitat builds home for families who wouldn't qualify for a traditional mortgage. Families purchase these homes with no down payment, will pay no interest and their monthly payments are geared to their income. Join the riders and partner with these families by making a financial gift here.