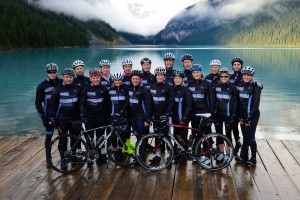 On Thursday, September 24, 26 cyclists embarked on the first leg of a four day journey through the Rocky Mountains as participants of the second annual Ride Through the Rockies, sponsored by Star Building Materials. The ride began in Cochrane and over the next four days, the cyclists travelled to Canmore, Lake Louise, Kananaskis, and back to Cochrane – a 375 kilometre round-trip journey.
But these cyclists were riding for more than the sheer thrill and the stunning scenery; they're were riding to break the cycle of poverty right here in Southern Alberta.
Each participant pledged to raise a minimum of $5,000 for Habitat for Humanity Southern Alberta, with many reaching far above their fundraising goal. Together, they aimed to raise $125,000 to direct toward the organization's next affordable housing project of 24 homes in the community of Pineridge.
"Ride Through the Rockies is both a physically and mentally challenging ride for every cycling enthusiast," said Ken Crockett, President of Star Building Materials. "It brings together a group of people who not only have a passion for cycling, but love the camaraderie that this event offers and share in the purpose that Habitat for Humanity exemplifies."
Habitat for Humanity is proud to partner with Star Building Materials on this event and is thankful for the energy and generosity of each of the participants and the impact they are making right here in our community.
"These cyclists have a challenging – but very exciting – four days ahead of them," said Gerrad Oishi, President and CEO, Habitat for Humanity Southern Alberta. "Their efforts are playing a significant role in our ability to provide affordable housing for families here in Calgary and we're grateful for the opportunity to be involved."