Ramanpreet and Balbir moved to Calgary eight years ago and have been transitioning from house to house since then. Buying a home of their own was impossible with high housing prices and anything that was within their range was unsuitable for Arvin and Gurshaan, their two young sons.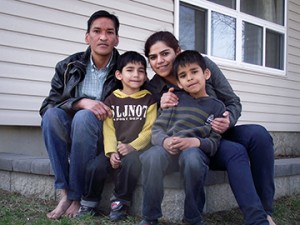 They applied for Habitat's homeownership program in January 2013, and when they were accepted, Ramanpreet describes it as "a dream come true – something that looked distant was approaching towards us."
Their kids are so excited to have a home of their own that they're already planning the design of their rooms. "We've shown them the place and they jump with joy every time we pass by and call that 'our place,'" Ramanpreet said.
The most memorable part of the experience for the family so far has been volunteering with fellow homeowners who will soon become their neighbours, but the most rewarding aspect has come from the work they've been able to do on their own home. "It's a feeling that cannot be described in words," Ramanpreet said.
To everyone who has been involved in their family's journey, Ramanpreet, Balbir and their children offer their heartfelt thanks. "What these volunteers and sponsors are building is not a house with walls and wood, but they are building hopes, fulfilling dreams and making a better future for those who otherwise think it's impossible to achieve."
We're proud to help people like Ramanpreet, Balbir, and their sons. You can help too, by volunteering with the construction team at Redstone!