Are you looking for a hands-on way to get actively involved in your community?
Habitat for Humanity Mountain View is currently accepting applications for new members to join our Chapter Committee. This is an exciting opportunity to be part of one of the most widely-recognized non-profits in the world and bring strength, stability and self-reliance to families in Mountain View through affordable home ownership.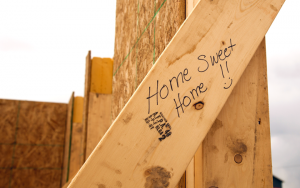 Habitat for Humanity has been active in Mountain View since 2002, building our first home in Cremona in 2005. We've acquired land to build two duplexes in Olds for four local families and we're actively fundraising and gaining the community support needed to break ground by the spring of 2017.
What roles are available?
Vice Chair: in this leadership role, you'll work with the Chapter Chair and committee members to plan and manage the build project. You're a motivator who loves working with a team toward a common goal.
Fund Development Chair: in this role, you'll get to produce engaging and creative events to gain local support for Habitat for Humanity. You'll work with Chapter committee members to plan and manage the fundraising activities that are key to each build project's success.
Fund Development Committee members: this role is perfect for anyone with a creative mind and a love of meeting new people and building relationships. You'll work with the Fund Development Chair and fellow committee members to plan fundraising initiatives and gain local support for Habitat.
Volunteer Coordinator: this role is perfect for a people-person who loves bringing people together under a common goal. You'll get to engage people in the inspirational and rewarding experiences Habitat has to offer, while functionally supporting the build project and other local Habitat activities.
What is the commitment?
Habitat Mountain View Committee members currently meet once per month, on the second Thursday of each month at the Olds United Church at 7 p.m. Frequency of meetings and commitment levels may vary as the build project progresses.
We're on a mission to help more families than ever. If you connect with this cause and believe that you have the skills and experience to help us bring this vision to life, we want to hear from you.