Spring is in the air!
For most, this means the arrival of April showers and May flowers.
For us here at Habitat for Humanity, it means the arrival of our annual Women Build!
Women Build is the flagship fundraiser on the Habitat calendar, bringing together hundreds of women over the course of two weekends to help build homes for families right here in Calgary.
This year, Habitat set an ambitious goal and the brigade of 150 women were up to the task, braving the elements over two weekends in May.
It all started on Thursday, May 2nd where volunteers laid the foundation – literally and figuratively - for what was about to be a highly fulfilling two weekends.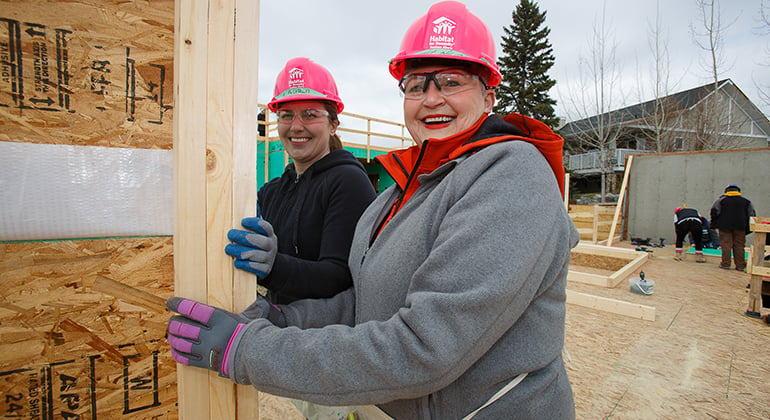 What is Women Build?
In a city that is as expensive to live in as Calgary, one of the major barriers to entering the housing market is the down payment. A large portion of the people affected by this barrier are women and their children.
For over a decade, Women Build has offered ladies an opportunity to raise funds and help build affordable homes for families to buy with no down payment or interest. This event attracts strong, motivated women from all walks of life, eager to give back to the community.
Fundraising is a big part of Women Build
One major contributor to the 2019 Women Build was Johnson Controls who - in addition to their fantastic fundraising efforts – donated gift bags, and much needed safety gear including work gloves, safety glasses, hearing protection, and hard hats for all the volunteers in attendance.
Kathryn Fioritti of Johnson Controls was quick to point to the female empowerment aspect of the Women Build. It aligns nicely with the values of Johnson Control, specifically it's Women's Resource Network (WRN). The WRN is an organization consisting of Johnson Controls' female employees who seek to foster professional development and mentoring to women within their industry.
"Women Build checked all our boxes!" exclaimed Kathryn. "It gave (us) a warm and fuzzy feeling to be involved in such a worthwhile cause."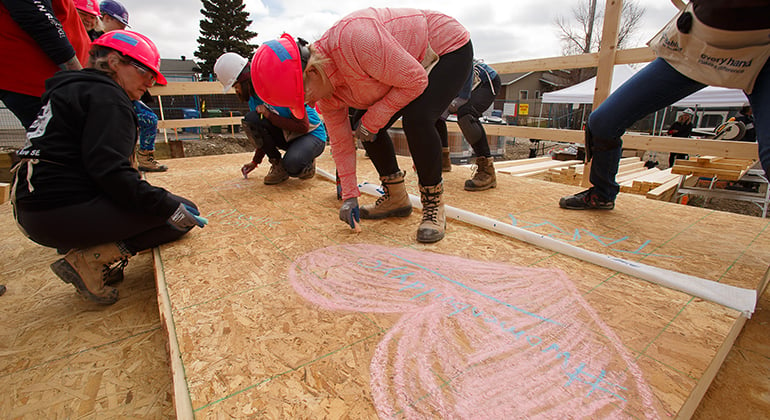 Girl power
"The day was incredibly fulfilling, and I walked away feeling accomplished," expressed Jenna Gaetz, a volunteer, and 2019 Women Build Ambassador, who brought her colleagues from TC Energy out for the day as part of their workforce giving and volunteering program - Empower. She went on to express the joy she received in sharing the day with other ladies as committed to community involvement as herself. "My favourite part of attending Women Build was primarily spending time with other like-minded women who were passionate about making a difference."
And make a difference they did, raising over $90,000 to give local families the opportunity to buy an affordable home through Habitat and put down roots.
And the fundraising efforts don't stop there!
As a participating charity in the 2019 Shaw Charity Classic, every donation to Women Build was matched up to 50% through Shaw Birdies for Kids, presented by AltaLink, making fundraising efforts go even further!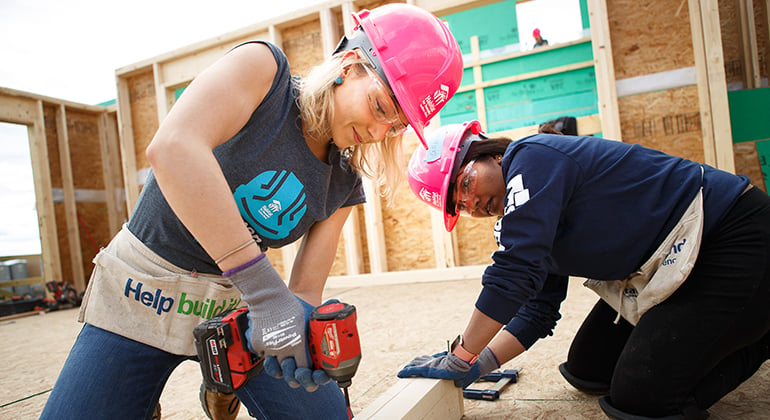 ---
Roll up your sleeves
It's never too early to start thinking about getting involved with next year's Women Build. Visit the Habitat blog for more information on Women Build and how you and your company can participate in 2020.