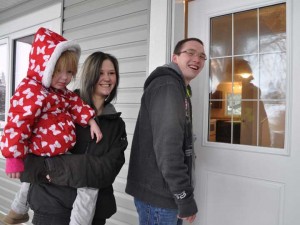 Approximately 50 people braved the cold with Macleod MP John Barlow today to celebrate the hand-over of new Habitat homes to two High River families. The duplex, located on 5th Avenue SE in High River, represents the culmination of years of work by the Foothills Chapter of Habitat for Humanity and contributions from across the community.
"Affordable home ownership is a dream for many families," said Marilyn Boake, Chair of Habitat's Foothills Chapter. "The two families we are helping today will now have a stable and secure foundation for their future and for their children," she said.
"This has opened up so many opportunities for us," Kyle, new Habitat homeowner said. "We have so many things that we're already looking forward to in our new home."
The project was aided by contributions from the Calgary Foundation, the Town of High River's Disaster Relief Fund, Cargill, and TransCanada Corporation, along with numerous local donations of building materials and labour.
"This is about healing for our community," John Barlow said. "It's a wonderful thing to see as part of the renewal of High River."
Habitat families are not given their homes. They invest 500 volunteer hours of "sweat equity" into building their own homes and pay monthly affordable mortgage payments that are reinvested into Habitat's home ownership program to help more families into more homes.