When we had to remove one of the Elm trees from our High River Habitat build site one of our committee volunteers contacted her wood turner neighbour, Allan Palmer. Allan is a retired Vancouver police officer who moved to Okotoks ten years ago and was looking for a new hobby.
After taking a few woodturning courses he was hooked. Now he expertly creates stunning functional objects, such as, bowls, bottle stoppers and travel mugs. Allan sells much of his work at the Millarville Farmers' Market and he also has select items available in the Okotoks Art Gallery gift shop.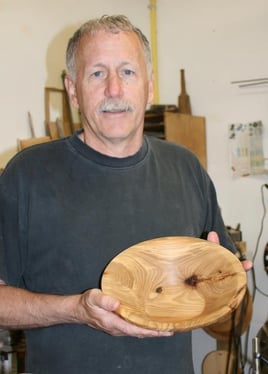 On the day that the Elm tree was cut down Allan 'rescued' many pieces, particularly those where branches joined the main trunk since they provide the most interesting grain when making his creations. Traditionally wood turners will give back a turned object that is made from wood that has been provided to them without charge.
Generously, Allan has donated two bowls he has created from the Elm to the Foothills Chapter. One of the bowls will be given to the previous landowners as a thank you for their support throughout the build. The second bowl will be put up for auction in our Annual On-line Auction in 2017.
Drop by Allan's booth at the Millarville Farmers' Market to check out more wood bowls he has created from the High River Elm. He is there the first two Saturdays (June) and the last two Saturdays (October) of the market and a few other dates in August and September.
Thank you Allan for your generous donation!