Nichole believes that where there is a will – there is a way! Her oldest children Robert (15) and Mykalya (14) were born just eleven months apart and Micheal (12) followed three years later. The family fled domestic violence in 2005 and Nichole has raised her children on her own for the past ten years.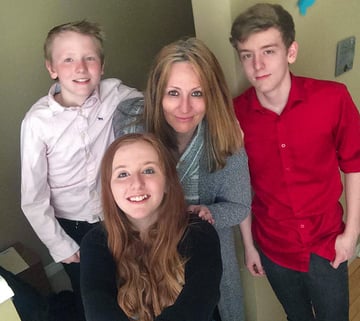 Things haven't been easy for the family. In 2013 their landlord sold his townhouse during a time when the rental market was booming and prices were high. "I was looking as far north as Didsbury and as far south as Chestemere for places to move the children and I into. As a last, desperate attempt I contacted a management company to apply for a townhouse that came up here in Airdrie. I felt completely powerless and helpless to provide my family a home."
It's still not easy for Nichole to make their rent payments, but they get by. Robert has type 1 diabetes but still manages to work when he isn't in school. Mykayla is a passionate humanitarian with a love for volleyball. This year she was asked to play on an international volleyball team in the United Kingdom. As for Micheal, "He is one of the most thoughtful young men you'll ever meet. He has an uncanny ability to be incredibly empathetic!"
"It takes a village"
"I believe in the saying, 'It takes a village to raise a child,'" Nichole said. "In my case, the village has been helping me raise my family for many years and that's why our partnership with Habitat means so much to us."
"It literally encompasses the symbolic representation of home – defining unity and community – empowering strong and confident children and validating this mom beyond words. Hard work, faith in myself and faith in others, is literally the girth of what keeps my children and I going. It's how we've been able to overcome our obstacles and exactly the reason we are beating all the odds!
"We are so humbly blessed and grateful to be part of the Habitat family – it's really hard to put just how much into words."