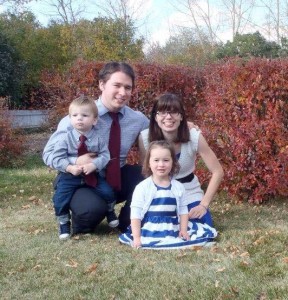 Darcy and Tiffany are young parents who were trying to find their footing in life. They have two small children, Leah and Raiden, and even with their busy lives, make time to stay actively involved with their community and local church. Darcy's career is in telecommunications and Tiffany is a stay-at-home mom.
Before their partnership with Habitat, the family struggled to find a suitable place to live. At one point, this family of four was living in a one bedroom basement suite, with Leah's crib mattress on the floor. During the winter, the pipes froze and the family faced two weeks without running water.
All family members suffered from health problems due to mold and insect infestations, and coughs and allergies were a common problem. It was a constant struggle for this young family to find suitable accommodations they could afford and given their financial circumstances, and they didn't believe they would ever be able to own their own home.
Darcy and Tiffany's partnership with Habitat for Humanity in Carstairs has given them hope that they can build a better life for their children and give them safety, stability and security. They moved into their house last October, and "home" has become a place that they can go to and feel love and support for each other and their young children.
"We have learned patience, trust and to lean on each other through the process. God has given us such an amazing gift with Habitat for Humanity that words can't begin to describe how much this is changing our lives and giving us opportunities that we never thought we would have."