The idea of buying your own home can be overwhelming.
When it comes to securing a down payment on top of paying your rent and supplying the necessities for your family, it can be hard to pull together the extra cash.
However, buying your own home can provide you with stability, offer you better living conditions and allow you to build equity.
Here, we look at one instance where you could save up to 30% on your mortgage with a no interest Habitat mortgage compared to a traditional lender.
How do you enter the housing marketing without a down payment?
If you can't qualify for a traditional mortgage, consider buying an affordable home through Habitat for Humanity.
We offer a step above low-income housing and provide affordable mortgages for middle-income families who don't qualify for a traditional bank mortgage and are looking to buy their first home.
Case Study: How To Save 30% of Your Mortgage
A Traditional Mortgage
Traditional lenders (banks, credit unions etc…) will lend you money to purchase your home based on your income to debt ratio.
They'll perform a credit check, look at your ability to pay off a mortgage payment and calculate a sum they're willing to loan you.
Lenders determine the amount that you can qualify for by considering your income. Your monthly home expenses should not exceed 30% of your monthly gross income.
They will also consider any other debts (car payment, child support etc…) you may have – when these are included, your total monthly payments should not exceed 40% of your income.
You will need to secure a down payment of 5-20% of the sale price and secure insurance on your loan if your deposit is under 20%.
Lenders will allow you certain options as to how long you want to take to pay off the loan, how your interest will accumulate and how often you make your payments.
If you can't qualify for a bank mortgage and want to save on interest, consider buying a Habitat for Humanity home instead.
Interest Paid Based on Sample Bank Mortgage
The chart below is an example of the interest paid to a regular bank over the life of a traditional mortgage.
Mortgage principal = $275,000
Interest rate = 3.0%
Mortgage term = 25 Years
Monthly principal payment =$1,301
Interest paid over life of mortgage =$115,427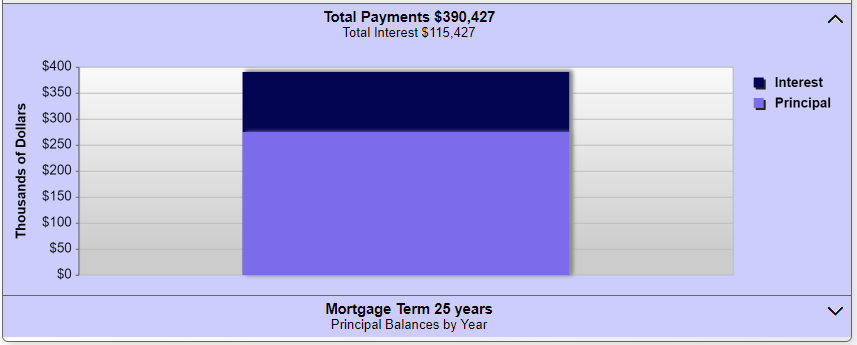 On average, a $275,000 mortgage with a 3% interest rate over 25 years accumulates $115,427 in interest.
At the end of the 25 years, you'll have paid $390,427 in total. With Habitat for Humanity, you pay $275,000 and that's it!
Sample mortgage calculated via Mortgage Intelligence.
The Habitat Difference
Habitat for Humanity mortgages work a little differently.
We provide mortgages with:
No interest rates - so you won't pay more than the original fair market value of the home.
No down payments - so you don't need to pull together 5-20% of the home's value to secure a mortgage.
No More than 25% of your income - unlike a traditional lender, we ensure you don't exceed 25% of your gross monthly household income on your housing expenses including your mortgage, property taxes and a portion of monthly maintenance fees.
We hold the loan so you qualify through us, not a bank or credit union. You purchase your home at fair market value and make your monthly payments to us.
This allows you to build equity in your home and, as the mortgage is paid down, you will own more and more of the home's value.
Learn more about the Habitat for Humanity Difference.
The New Side Hustle
Life gets busy when you're working, raising children and trying to maintain family time.
Instead of working extra hours at a second job to earn a down payment or to pay off interest, see if you qualify for a Habitat mortgage.
To qualify for a no interest, no down payment mortgage you'll complete the following:
Take the Eligibility Quiz
Attend an information session
Submit an application
If approved, attend an orientation session
Volunteer 500 hours to help build your home, support Habitat ReStores, attend home ownership classes* and make meaningful connections with other Habitat owners. Your family and friends can help contribute to these hours.
*Free home ownership classes provide you with skills to maintain your home and help you structure your budget. The majority of these classes are online, with a handful of in-class sessions in the evenings, and are run by industry experts.
How to Qualify
A common myth about Habitat for Humanity is that we give away homes for free. In reality, families qualify for a no down payment, no interest mortgage and then buy a home from us at fair market value.
To find out if you qualify, fill out the Eligibility Quiz.
To qualify in Calgary you must:
Have children under the age of 18
Make a minimum of $40,000 employment income per year
Not exceed the maximum household income (dependent on family size)
Have at least one member of the household who works full-time (35 hours per week)
Have consistent full-time work for the past two years
Not currently own real estate
Have lived in Calgary for at least two years
Be Canadian Citizens or Permanent Residents (all family members)
Not have debt in collections - when significant payments have been missed on a loan and the company owed sends the debt to a collection agency.
Minimum $2,000 in chequing, savings or RRSP accounts to demonstrate strong savings behaviour.
Consumer Proposal must be in final year. Considered on case-by-case basis.
Balance of debt and mandatory monthly payments on debt are taken into consideration.
What We Build: Quality Homes that Last
We build quality starter homes that meet and exceed industry standards. Our team of quality trades and architects ensure that your home is safe and built to last.
We adhere to community design specifications, which means our homes blend seamlessly with the surrounding properties.
Our standard home size is approximately 1,000 sq. ft. with 3 bedrooms, 1.5 baths and include an outdoor parking pad for one vehicle.
We build our homes to be energy efficient, helping to reduce your monthly utility costs. This includes brand new energy efficient appliances installed in each home.
Because they're built to such a high quality, they retain fair market value and are priced similarly to other homes in the neighbourhood.
Start the Home-Buying Process with Habitat
Forget about renewing a lease or changing school districts to align with your new rental unit -- own your home and make lasting memories as a family.
Build relationships with your neighbours and their children in a safe, community-focused area and take your first step towards home ownership so you can feel secure and stable in your living situations.
If you don't quality for a bank mortgage and are looking for an alternative that will save you thousands of dollars in interest, plus the countless hours of work it would take to save up your down payment, start the process with Habitat to see if you qualify.