Friday, October 23, 2020 was a special day for the community of Medicine Hat. A day eight years in the making. A day that for Renee, a local resident, was "life-changing."
Renee is a future Habitat homeowner in Medicine Hat.
Her dream has always been to own her own home with her daughters, Kaytlynn, Ashlynn and Taylor. "All I've ever wanted for them was to be happy, healthy and safe," Renee says.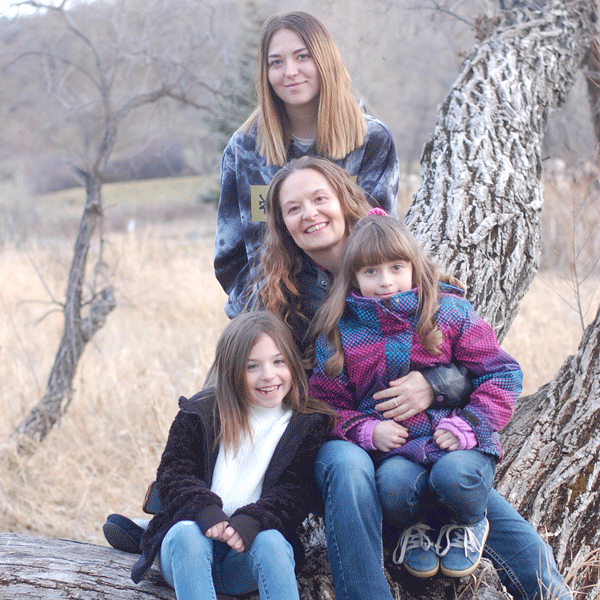 But, due to rent increases and unsafe neighbourhoods, this family of four has moved several times over the past few years. They've never felt "truly home" anywhere.
Then Renee found out about Habitat.
"I began to get really excited and – for the first time – hopeful," she says. "Hopeful that I could finally become a homeowner and have a place that is safe."
So, October 23 marked the beginning of a new journey into strength, stability and independence for Renee and her kids, as the community gathered to break ground on a new affordable duplex in Medicine Hat.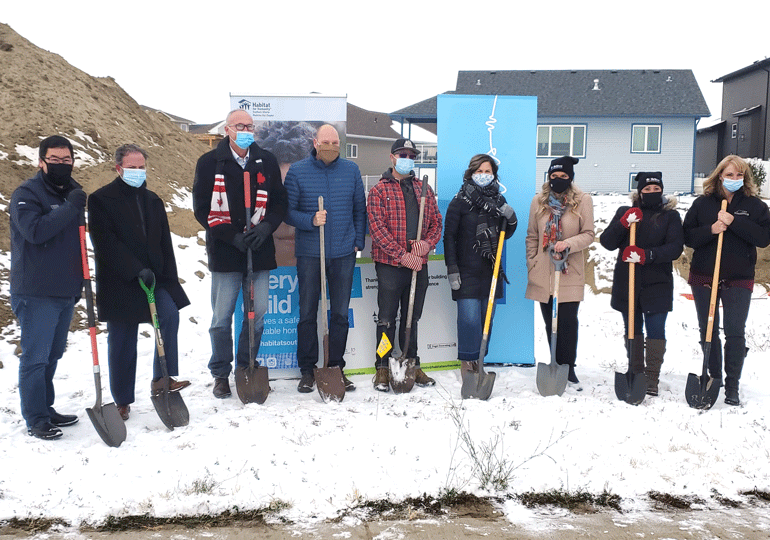 The sentiments of this day are perhaps best captured in the words of Millard Fuller, the founder of Habitat for Humanity: "For a community to be whole and healthy, it must be based on people's love and concern for each other."
Years in the making
Over the past two decades, Habitat has been active in Medicine Hat in various ways.
A Habitat ReStore has thrived in the community for nearly 10 years. A volunteer committee has worked hard to raise awareness, funds and engage with potential future homeowners.
The last new home build was in 2012, so part of what makes this year exciting is breaking ground on a brand new project.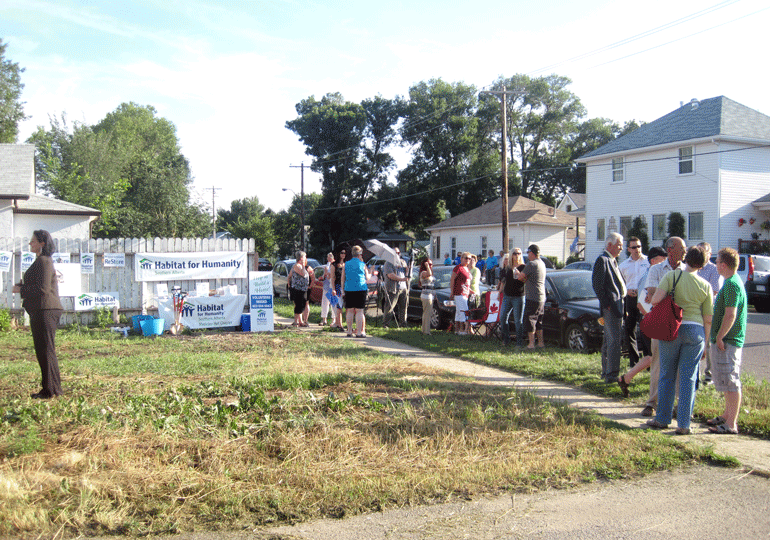 The last new home build in Medicine Hat was in 2012 on Washington Avenue.
There was much preparation leading up to this moment, including finding land that was both family-friendly and affordable.
Over the past two years, Habitat worked with closely The City of Medicine Hat to purchase affordable land in Southlands. With its close proximity to schools and shopping, it's ideal for Habitat homeowners and their kids.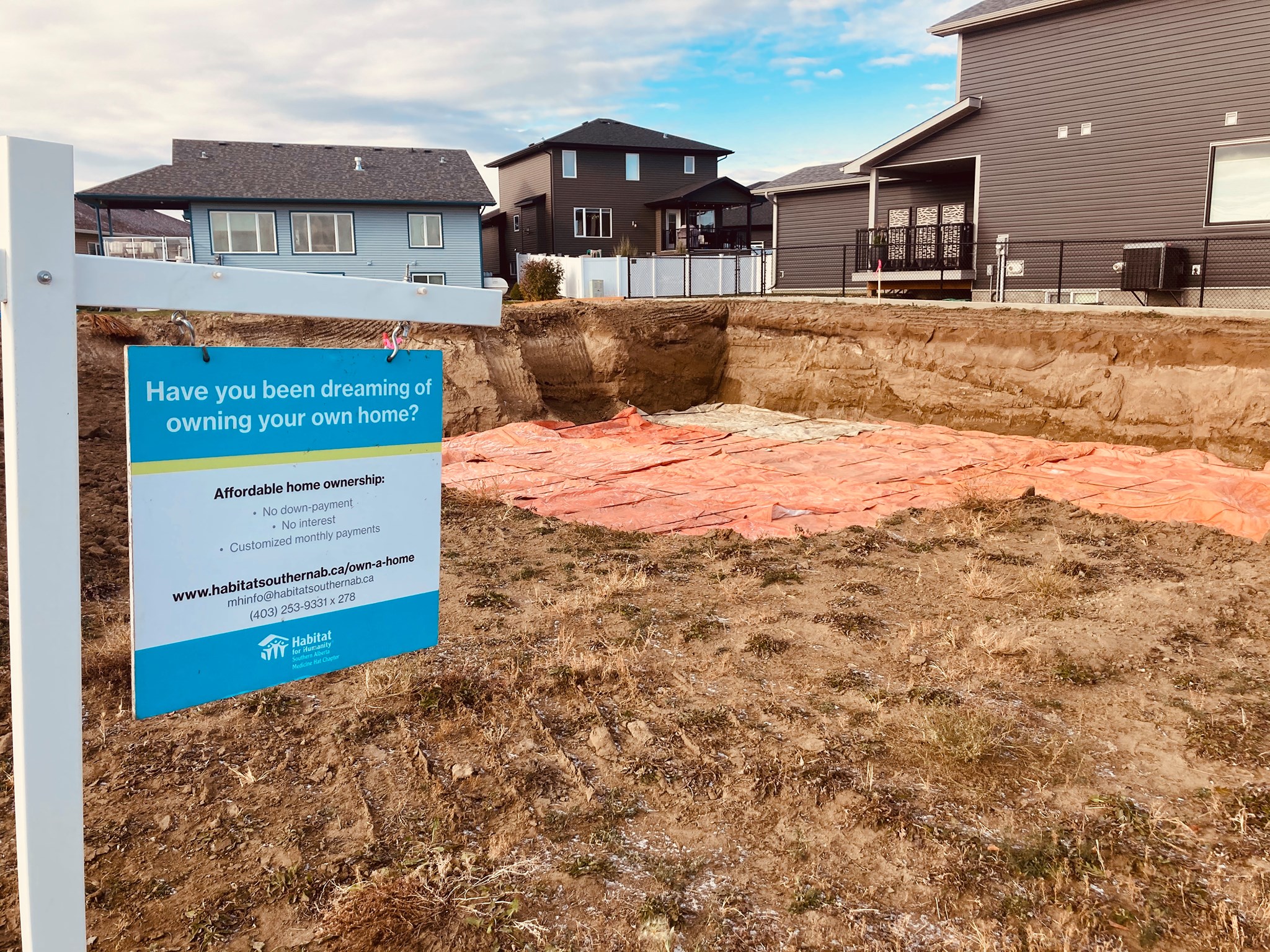 The land for this new duplex was generously discounted by The City of Medicine Hat to help make home ownership affordable.
The City offered the land to Habitat with a 50 per cent discount, which is something that Ted Clugston, Mayor of Medicine Hat, is proud of.
"Affordable home ownership helps families discover their strength and independence, while offering stability in a place they can make their home," he says. "I am proud to support Habitat for Humanity on their latest build in our community."
Drew Barner, who is the MLA for Cypress-Medicine Hat echoes the same sentiment.
"Habitat for Humanity is a great organization and creates an opportunity for both homeowners and the community to work together and build for each other."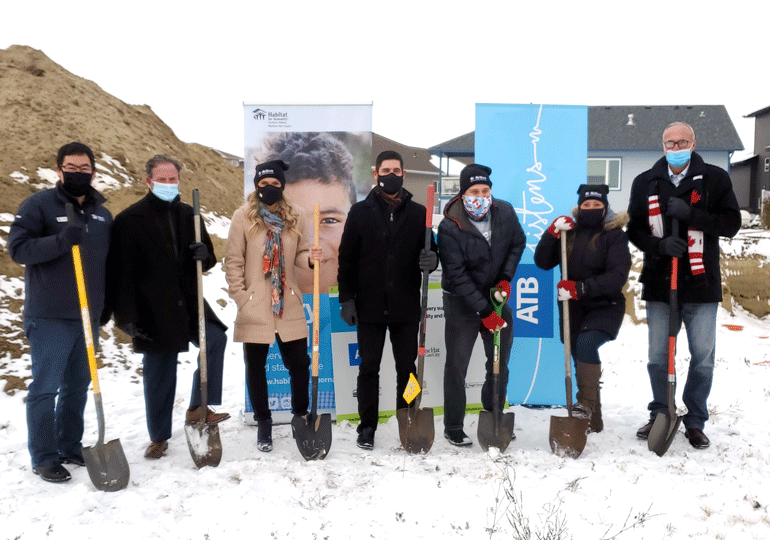 Mayor Ted Clugston (second from left) says he is proud to support Habitat for Humanity in Medicine Hat. Glen Motz (far right), was also at the ground breaking as the MP for Medicine Hat-Cardston-Warner.
A community connection
The community of Medicine Hat has truly been the driving force behind this build.
Each Habitat Chapter, like this one in Medicine Hat, is made up of local volunteers who are dedicated to raising the awareness and funds that are needed to build Habitat homes in the community.
Annette Fahselt-Andreas is one of those volunteers. She is the Construction Chair for Habitat for Humanity in Medicine Hat and has lived in the community for nearly 20 years.
Annette sat down with Shaw TV in Medicine Hat to talk about the new build, how people can get involved, and addresses some common misconceptions about Habitat.
"Our committee in Medicine Hat is so excited to finally announce this build. Our community has a need for affordable housing. With this build we are able to fill a gap as well as make someone's dream of owning a home come true!" Annette says.
"We are excited to see what the future has in store for our families."
Annette was on-site during the digging of the basement by D.L. Nagel Excavating.
Amber Hanson also volunteers on the local committee as Chapter Chair. She has lived in Medicine Hat for the last six years and says she is proud and "so very blessed" to have joined Habitat.
She understands the challenges many families face in achieving home ownership, and just how the community has come together to make this new duplex possible.
"For many families, home ownership can be an unattainable dream no matter how hard they work," she says. "We don't just build homes; we empower full communities."
Some members of the community who have joined together with Habitat include ATB Financial, Medicine Hat REALTORS Charitable Foundation and D.L. Nagel Excavating.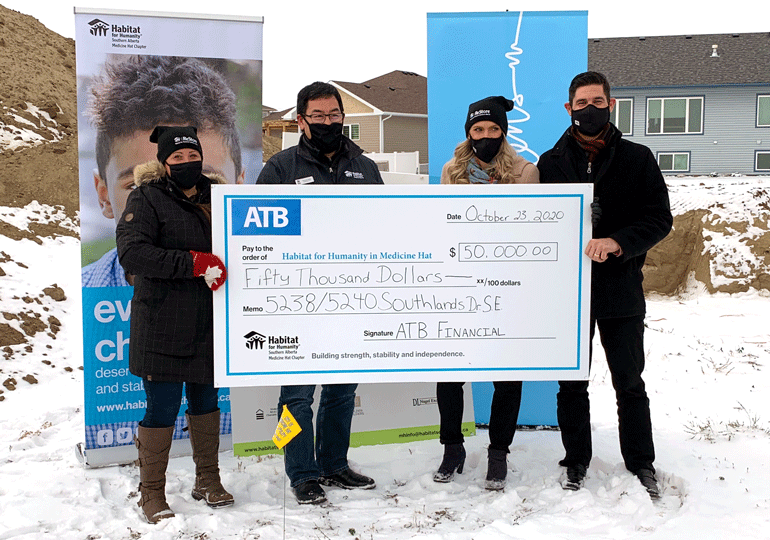 ATB Financial generously donated $50,000 towards this project to help make affordable home ownership possible for two local families.

The Medicine Hat REALTORS Charitable Foundation donated $10,000 to Habitat in Medicine Hat to help make this new duplex possible.
A place to finally call home
Dave Mulder is the general contractor for the project, and while "Mother Nature is pressing forward," he's confident that the homes will be complete next spring.
In the meantime, Renee and her kids are focused on volunteering in the community. Each homeowner contributes 500 volunteer hours before purchasing their home.
"Me and all my family and friends are excited for the volunteer work we will be doing," she says. "I personally am looking forward to giving back and getting out there."
Renee has volunteered at the ReStore in Medicine Hat and has plans to give her time at the SPCA and St. Vincent Massey School.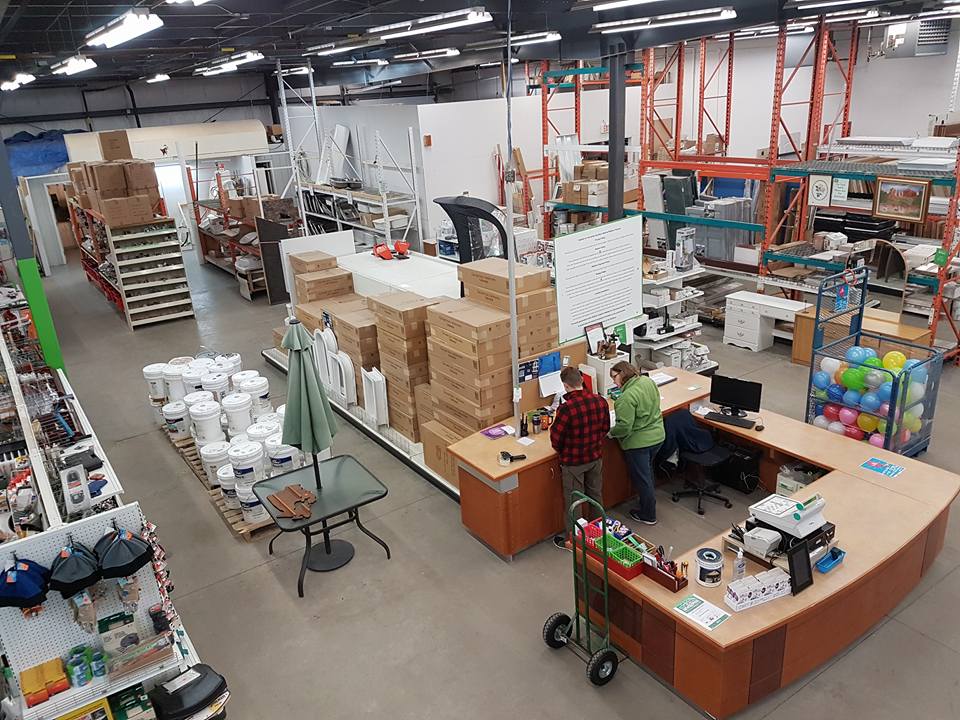 Renee has started volunteering at the Medicine Hat ReStore and looks forward to continuing to give back to the community in the months to come.
Once her volunteer hours are complete and the homes are finished, Renee will take possession, just in time for the summer.
"I'm thankful that I will be able to provide a safe home for my family, a place to finally call home! Being a homeowner allows me to invest in a future for myself and my girls," she says.
"It's exciting to know that we won't have to move anymore. We can put down roots in our community and make memories together."