Some people never give up - no matter what. David and Myriam are those kind of people. Tragic events in Colombia forced them to lose everything, twice. Myriam lived alone in Canada for five years to get her family Permanent Residency. Then, once reunited in Canada, the family lived in the basement of Myriam's sister's home for four years.
All these hope-filled years made the purchase of their Habitat home in Silver Springs a long-awaited dream come true. After 18 years of living with family, David and Myriam now have a home with just their children.
"At this point of our lives, we can say that we are the happiest family in the world," says David. "It's like we are on vacation."
"It is not about a door or a wall or a window. It's about family," says David. "If our kids want to come back in 10, 15, 20 years, we want this to still be here - their house."
"I think that joy and happiness is to have something for your children and their future," says Myriam. "I think that is how we describe it."
A hopeful and resilient family
For David and Myriam, it's always been about their children, Santhiago and Thathiana. Before their first child, Santhiago, was born, they started a family business with the goal of spending more time with their children and having a better income.
Unfortunately, because of the economic climate in Colombia, the business did not work out, and instead David and Myriam lost everything; their car, their savings, their work and most importantly, their first family home. They moved in with Myriam's parents.
When their second business, which was initially so promising, failed because new competition emerged from overseas and they couldn't compete, David and Myriam began looking for a better future for their children abroad. Myriam moved to Canada, and David and the children stayed behind.
For five years they lived separately with one goal in mind: building a better life for their children. For Santiago, moving into Silver Springs was like arriving in Canada to reunite with his mom - hard to put into words.
"Thank you to all the donors and supporters and everyone who helped out. You may think it's not a big deal, but it is - it literally changed our lives," Santhiago
"You gave us something to strive for and look forward to for the rest of our lives. Thank you."
Watch this video of David telling Thathiana and Myriam that they will be homeowners
"Thank you; like it's not like a big enough word," says Thathiana. "It's not enough. It's not enough to actually show how happy and thankful we are."
Now begins a life of freedom and independence
For Santhiago and Thathiana, life in their previous homes with extended family was crowded. With a shared bedroom they were always balancing homework, privacy and whether their door should be open or closed.
They often woke up when their baby cousins woke up and had to speak with hushed voices when their cousins went to sleep.

Their life was full of family and love, but something was missing.
Now, in their new home, they both have their own rooms and along with that, comes privacy and freedom.
"Here it's like, you can do whatever you want. If you want to paint your room pink, paint it. If we want to watch a movie at 3AM, we can. If we want to wake up at 11 AM, we can," says Thathiana.
"So it was just really amazing to know that we can actually do whatever we want with our time."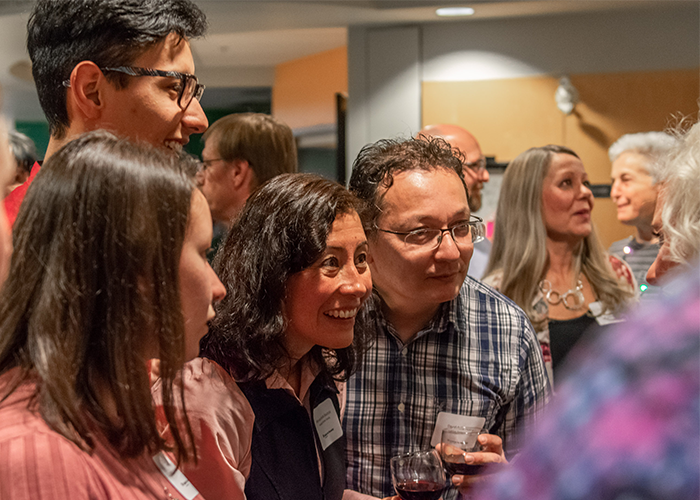 December 2018, at the Silver Springs Launch event with Habitat supporters
Lumber, from the Silver Springs launch event, were used in the build.

From left, Thathiana, Myriam, David and Santhiago picking up their keys in February 2020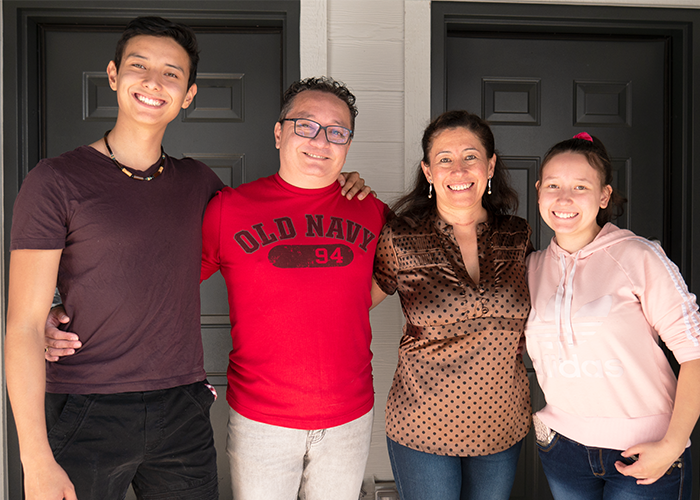 Thathiana (far right), says she can't wait to bring her children to see her home in 15+ years time
Life in a townhome also comes with some very practical, and somewhat humorous perks, especially when winter rolls around.
"What was I most excited about moving here? Not shovelling," smiles Santhiago.
Like Thathiana, he is easy-going, quick to laugh and always speaking positively of the life his parents worked hard to give him.
"Just having this space here," Santhiago says more seriously. "Cause we always lived with someone else, which was great. But it's something to get home and be like, okay, 'I'm home with my family.'"
A home to quarantine in
David and Myriam, along with five other families, moved into their Silver Springs home in February. Two weeks later The City of Calgary declared a state of emergency due to COVID-19 and shut down.
March and April would have looked very different if it had not been for this home.
"I don't know where I would have done school," says Thathiana. "Cause like we had a really small room with only two beds. I didn't have a desk. Here I could wake up, sit on my desk and turn on the computer."
Like so many of us, Habitat homeowners were very vulnerable to the economic downturn earlier in the year. Because of your donations, Habitat could provide mortgage relief to families and extra support like loaning laptops and providing school supplies.
As soon as COVID hit, Habitat reached out to homeowners to let them know about this support.
"I think it was in March when we got that email. It was really fast. They said, we don't know how long this is all going to be, but if you are struggling, we can help," says Myriam.
"You just feel so good."

Unlike many of us who may have felt cooped up or stir-crazy, for this family, staying at home was a gift. "Sometimes I feel bad. I know it was a hard time for everybody, but it was an enjoyable time for me because I was working from home in my own house," says Myriam.
Myriam works at a school with students with special needs. To support students learning from home she made educational videos. Of course, the whole family joined in.
Click to watch the whole family help Myriam make videos for children learning from home
"Thank you everybody. You are doing so much for every Habitat family and we want to do the same," says David.
Those aren't empty words for this family. In addition to the 500 volunteer hours they did as part of their partnership with Habitat, this family has volunteered an extra 22 hours and are eager to do give more hours and one day give financially to help other future homeowners move into a life of stability, security and independence.
Will you give today to help more families like David, Myriam, Santhiago and Thathiana?