New opportunities to volunteer with Habitat for Humanity in Mountain View County
There is a growing need for affordable home ownership solutions for families.
Parents are working hard to provide for their children, but for many, saving for a down-payment is out of reach. Habitat for Humanity helps families enter the housing market by purchasing homes through our affordable mortgage – no down payment, no interest, and customized monthly payments.
Habitat has been active in communities across Mountain View County since 2003, and 13 local families have had the chance to purchase an affordable home in the communities of Carstairs, Cremona, Didsbury, Olds and Sundre.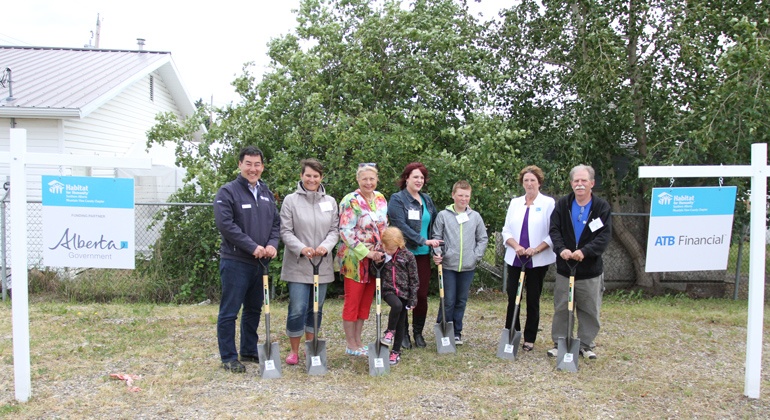 Current volunteer opportunities
We are currently looking for volunteers who want to use their skills to help families build strength, stability and independence through Habitat for Humanity's home ownership program. If you have experience in one of these areas and want to help families in your community, we encourage you to put you apply for one of the regional committee volunteer positions listed below.
Marketing and Communications Lead
Support regional activities with marketing plans, including managing local media relationships and social media accounts. Use multiple avenues and networks to bring awareness to local Habitat events and families in partnership.
Fundraising and Event Planning Lead
Lead the fundraising activities and the Regional Committee in developing and implementing fundraising goals and outcomes.
Secretary/Treasurer Lead
Support the committee with accurate minutes from each meeting. Responsible for reporting and submitting financial information and documents to Habitat for Humanity's head office in Calgary, as well as reporting quarterly centrally produced financial statements to the committee in Mountain View.
Family Services Lead
Provide leadership in partnering with future homeowners in our affordable homeownership program. Work closely with Affiliate Family Services and local community partners to be aware of local need for Habitat model, and steward the program locally.
To learn more about these opportunities, please fill out the form on this page and one of our team members will be in touch!