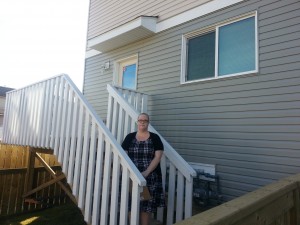 Habitat for Humanity Southern Alberta officially welcomed four families into their new Habitat homes at a dedication ceremony in the community of Radisson Heights. This is the first time these families have had their own house to call home for the holidays, so it's a special time to celebrate this milestone with the government supporters, sponsors, volunteers and community partners who have made this project possible.
Habitat for Humanity broke ground on this project in November 2014 and has worked with numerous community partners and volunteers over the past year to move the project along. More than 500 volunteers have contributed nearly 10,000 hours toward this project.
"We're celebrating the end of a build, but just the beginning of a new journey for each of these families," said Gerrad Oishi, President and CEO, Habitat for Humanity Southern Alberta. "This is the first time they'll be celebrating the holidays in a home of their very own, and it's just one of many exciting milestones for them to discover in the years ahead."
The Habitat homeownership model is truly a hand-up, not a hand-out, as each of these families has contributed 500 volunteer hours of "sweat equity" to the construction of their own home or to other Habitat projects. Their monthly mortgage payments will be reinvested into Habitat's homeownership program, helping more families into more homes and creating a lasting legacy in the community.
Debbie is a single mother to two young boys, Cole, 8, and Myles, 5. They moved into their Habitat home earlier this month and the impact is already apparent. Debbie recalls spending past winters in rentals in the dead of winter with no heat, huddled in blankets, knowing that something needed to change.
"My dream is finally coming true," Debbie said. "Homeownership, to me, represents security and stability. Homeownership to my boys means not having to move for a very long time and having a place to call home, where they can do anything they want with their bedrooms. I can't wait to celebrate holidays and my family's milestones in our own home."
Habitat for Humanity Southern Alberta is proud to welcome these four hard-working families into their new homes for the holidays, and thanks all of the members of the community who have made it all possible.