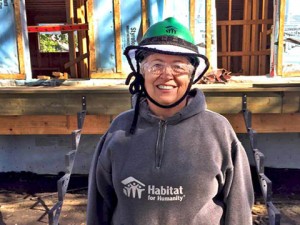 The Habitat for Humanity RV Care-A-Vanners are kicking off their first day of building with the Foothills Chapter today in High River. They will spend a total of three weeks working alongside the Chapter on this build, while camping at George Lane Memorial Park in the heart of High River.
The Care-A-Vanners program is coordinated through Habitat for Humanity International and matches volunteers who travel in recreational vehicles with Habitat affiliates in need of volunteer support. This team is made up of 15 volunteers, who have driven to High River from all across North America – Washington, New Mexico, Illinois, Texas, Oregon, Alberta and British Columbia.
The majority of participants are at or near retirement age, with construction skills that range from professional to first-time builder. They're drawn together by their sense of adventure and the opportunity to travel with purpose.
Dan and Carolyn Banks are leading this team of Care-A-Vanners in High River. They have been active volunteers with Habitat for Humanity in the United States for 22 years and joined the Care-A-Vanners when they reached retirement. They've worked with numerous Habitat affiliates over the years and love building, but the most rewarding part for them is seeing the impact their work has on the families.
"We love working with partner families," Dan said. "You can see in their eyes and their demeanor the changes that are occurring in their lives because of these homes."
The Habitat for Humanity Foothills Chapter is grateful for the opportunity to host the Care-A-Vanners and looks forward to working alongside this team for the next three weeks.
"We're still working to develop a strong volunteer base locally, so this opportunity comes at the perfect time," said Marilyn Boake, Foothills Chapter Chairperson. "The collective Habitat for Humanity build experience this group brings is phenomenal and their skills will be a huge benefit to keeping this project on track."