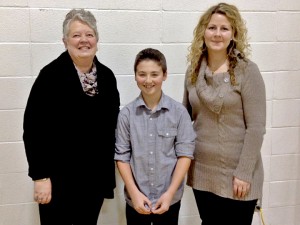 "There are days to be shared, and memories made; the love found in a home will never, ever fade." With these words, 11-year-old Tyler Smith from Airdrie, AB has helped provide affordable housing for Calgary families through Genworth's Meaning of Home contest.
The Meaning of Home contest is an annual nation-wide writing challenge designed for students in grade 4, 5 and 6 to share what home means to them and make a positive difference in their communities.
Tyler's essay was selected among more than 7,000 entries from students across Canada, and he has chosen Habitat for Humanity Southern Alberta as the recipient of the $60,000 prize grant from Genworth Canada that will be directed toward a local build project.
"There are children in Calgary, probably around his age, who will be able to have a table home with their families and a stable community to grow up in because of his essay," said Heidi Lambie, regional development manager for Habitat Southern Alberta. "He has given a beautiful privilege to these families."
---
What home means to me poem
By Tyler Smith
Home is a place…
Where you always feel safe
This place we call home you'll never feel alone
Homes where you could have learned to run
And where you've had lots of fun
Home is where the family meets
Home is a place for restful retreats
Home is the place where you know you'll be heard
Home is place where nothing blurs
We all deserve a home
So we can bundle up on a cold night
We all deserve a home
So smiles can shine bright
Home is unique
Homes where you go whether you're feeling strong or weak
Home is a place where you're with your friends
Home is a journey that never ends
Days filled with emotions,
With laughter and tears
And even on days when it's all little fears
There are days to be shared
And memories made
The love found in a home
Will never, ever fade
See more at www.meaningofhome.ca.