These days, companies are expected to contribute to the community through social good initiatives. For most businesses, something like planting trees in the rainforest is well out of reach.
However, getting involved with ReStore - Habitat for Humanity's furniture donation destination is an easy way to get your business involved in the community.
Here are three ways that the ReStore can help you improve your company's social stature while boosting your bottom line!
1. Environmental conservation
Out with the old and in with the new! When you hear the term spring cleaning you probably think of home maintenance, but businesses can benefit from spring cleaning as well.
By purging storage units of materials and resources and cleaning your warehouse you can boost efficiency and safety. Instead of hiring a waste management service to get rid of all your excess building materials or furniture, consider arranging a complimentary donation pick-up with ReStore.
A donation to ReStore is an inexpensive way to declutter your warehouse while keeping excess material out of our landfills. You can contribute to a sustainable environment for future generations while cutting costs and saving time. Win-win-win!
For more information on donating to Habitat for Humanity - Restore, check out our donation guidelines.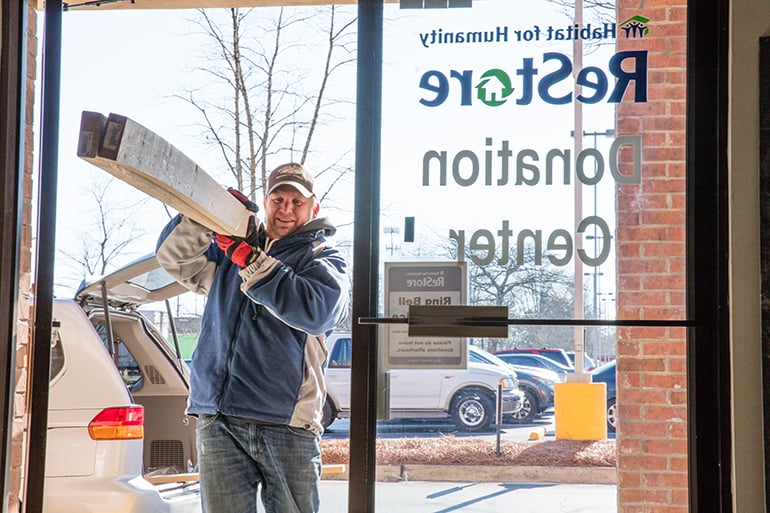 2. Investing in your workers
In our article, 3 Ways You & Your Team Can Give Back this Summer we talk about the positive impact that building a strong team has on productivity and employee engagement. One of the ways a company can do this is through team-building exercises.
The words 'team building exercises', might not get you excited. Unfortunately, they've gotten the reputation of being boring or a waste of time.
However, an afternoon volunteering at ReStore is anything but! Group volunteering opportunities at ReStore are varied, engaging, and will help foster selflessness and camaraderie among your employees.
By creating a corporate culture that employees enjoy being in, business owners can greatly reduce the likelihood of worker disengagement and turnover, which, as you know, can be very costly to business owners.
3. Helping the community
Now more than ever, consumers are favouring businesses that are involved in their community. Supporting your community is painless, and there are many benefits.
One way to show consumers that you're invested in your community is by donating your time or resources to ReStore. It's a simple way you can positively impact your business's reputation, which can lead to increased volume and profits.
When you donate to ReStore, you are directly contributing to the operating budget for Habitat for Humanity, a non-profit home builder dedicated to providing families with simple, decent and affordable housing.
Your donation of building materials and furniture is then sold at ReStore and the proceeds have the potential to drastically change someone's life.
It has been said that a cluttered home is a cluttered mind. Head to our donation FAQ to learn about the many goods that are eligible to be donated.
Don't forget to schedule a pick-up and start reaping the many benefits that a donation to ReStore can bring your business!