There's something bitter-sweet about the year coming to an end.
On the bitter side, there's the weather (obviously), but on the sweet side, there's the chance to look back and reflect on some pretty remarkable moments over the year.
"Thank you for building this home and making it safe."
- Houda, 10, MOVED INTO HER HABITAT HOME IN BOWNESS IN OCTOBER
From cycling through the Rockies to taking on a "Golden Hammer Challenge," the dedicated people behind Habitat are the ones who really make our mission come alive. It's because of you that parents are able to enter the housing market with Habitat and build long-term stability for their kids.
That's why we've rounded up seven of our favourite moments from the year to remind YOU of how awesome you are and the good you have done in our community.
1. 48 kids have a Habitat home of their very own!
Yes, we're starting here, because why save the best for last? Thanks to outstanding community support, 16 parents have (or will) purchase their Habitat homes before the holiday season kicks off. How incredible is that. It gives the phrase "home for the holidays" a whole added meaning.
So many families tell us that buying their own home is something they have always dreamed of, but they never thought it would be possible.
It's truly amazing how, when the community comes together, we can make this dream a reality and change the course of so many lives – lives like Houda and her brother and sisters, Yasser, Asiya and Jannah. Watch the video to see what home means to them.
2. The Carter Work Project came to Canada and we celebrated right here in Calgary!
President and Mrs. Carter are known across the globe for their dedication to Habitat to Humanity. Every year, for 30 years, they've chosen a new country as the destination of the Carter Work Project (CWP) and set out for a week of building homes.
For 2017, the Carters chose Canada, and the CWP helped to build 150 homes across Canada in celebration of our country's 150 birthday. We took part here in Calgary by celebrating eight families who purchased their homes to become Habitat homeowners in Pineridge in July.
More than 200 of the project's supporters came out and enjoyed a Stampede-style pancake breakfast, country music, face painting, speakers, presentations and more.
Claude, a Habitat homeowner in Pineridge, said a few words of thanks, and after the formal program was over, Haris, Sumayyah and Haroon, three of the kids who would soon be calling Pineridge home, announced that they had something they wanted to share with everyone.
They had hand-crafted a poster to thank everyone who had been a part of making their dreams come true, and it said:
Thank you Habitat for

Giving us this house which we can call as our sweet home.

Bringing smiles to us.

Bringing Habitat community together.

Providing us a safe home.

Thank you for all the sponsors who made this work possible.
*cue tears*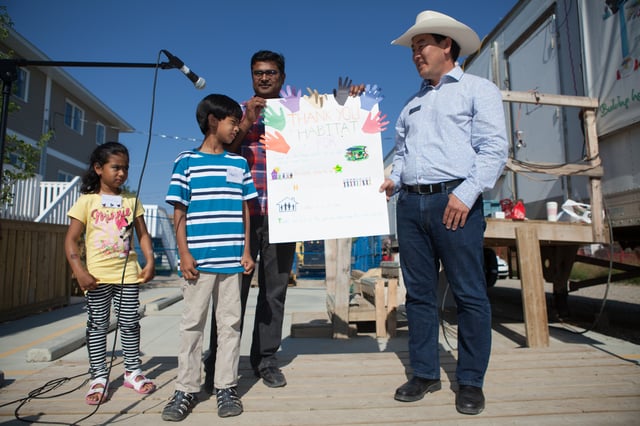 Kids present their poster to thank all the
supporters of the Pineridge build
3. Women Build was a rockin' success (again)
During the month of May, more than 200 women came together to take part Women Build, presented by Excel Homes.
Together, participants raised more than $140,000 and volunteered more than 1,000 hours to help build homes in Pineridge, giving more families the chance build long-term stability through home ownership with Habitat.
We also had some incredible Women Build Ambassadors on board to help us spread the word about this event and the impact it has on our community, including:
Meet all the Women Build Ambassadors.
4. The Interfaith Build Project is well on its way to reaching its goal of raising $1M
The Interfaith Build Project began in 2013 as a unique opportunity for people from all faith communities to come together and put their faith into united action. The initiative is led by Bishop Greg Kerr-Wilson and Rabbi Shaul Osadchey.
Since then, members from congregations and faith groups across the city have supported families through Habitat by fundraising, participating in Build Days, and hosting events, like Building Sacred Bridges, two concerts that bring together musicians from different faith communities across the city in support of Habitat for Humanity.
The Interfaith goal is to raise $1M to help 10 families become Habitat homeowners, and together, they have raised more than $750,000 in donations and pledges. Their efforts have even been recognized internationally and they took first prize during UN World Interfaith Harmony Week.
Members of the Interfaith Build Project participate
in a Habitat Build Day in Redstone, Calgary.
5. 22 cyclists rode 400KM through the Rockies and raised more than $85,000
From September 7 to 9, 22 cyclists took on the challenge of riding 410 kilometres through the Rockies, as participants of the fourth annual Ride through the Rockies, presented by Star Building Materials. Each cyclist committed to raising at least $5,000 for Habitat for Humanity, and this year, they collectively raised more than $85,000.
Since 2013, this Ride has raised more than $375,000 for Habitat for Humanity in Calgary. This event was initiated by Ken Crockett, Vice President of Star Building Materials, and he says:
"I'm inspired to work for and with these people who exemplify what it takes to succeed on so many levels, and who contribute to helping others through charitable organizations such as Habitat for Humanity."
- Ken Crockett, vice president, star building materials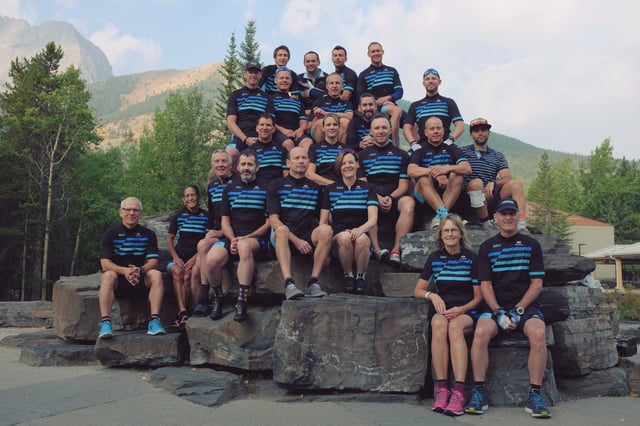 Ride through the Rockies participants raised
more than $85,000 for Habitat for Humanity in 2017
6. 24 local REALTORS took on the "Golden Hammer Challenge"
In September, 24 REALTORS® gathered in Bowness to take part in a Habitat Build Day. Not only did they experience a day of building homes and camaraderie, but they also competed in the "Golden Hammer Challenge."
This challenge had two Realtor teams testing their skills during a friendly construction-themed relay race. As they hurried to drive the nails and set the screws, these REALTORS® proved to be a competitive and capable bunch
These REALTORS® were building on behalf of the the CREB® Charitable Foundation, which had donated $50,000 toward these Habitat homes in Bowness, and the Alberta Real Estate Foundation (AREF), which provided a $50,000 matching grant.
Watch the video to see how it all went down.
7. Nigel Build Days
Nigel Teucher, a long-time volunteer Crew Leader, passed away earlier this spring. To honour and remember his commitment to Habitat for Humanity, his former employer, Chinook Financial alongside his wife Sue Teucher, organized special Build Days, dedicated as "Nigel Builds."
Sue says that the best part of having family partipate in these Build Days was seeing their kids enjoy being on site and knowing they understand their relationship with Habitat. The family also enjoyed hearing about Sue and Nigel's past times on site from other Crew Leaders.
"It was very meaningful that Habitat welcomed my kids and their spouses to work alongside Chinook Financial's build in memory of Nigel. Our youngest daughter first volunteered for Habitat in High River after the [2013] flood. Our children have kept up our renovation tendencies and so we felt confident they would be useful on the site."
Sue began volunteering with Habitat in 2007 and Nigel in 2012. Together they have amassed nearly 2,000 combined volunteer hours assisting at the Calgary ReStore and helping to build 13 Habitat homes in southern Alberta, and their dedication is both heartwarming and inspiring.
"Habitat's model of giving a hand-up was very important. We'd always been keen renovators and felt we would be useful. Having a home to call one's own is fundamental to family stability and helping families achieve that was gratifying."
- Sue Teucher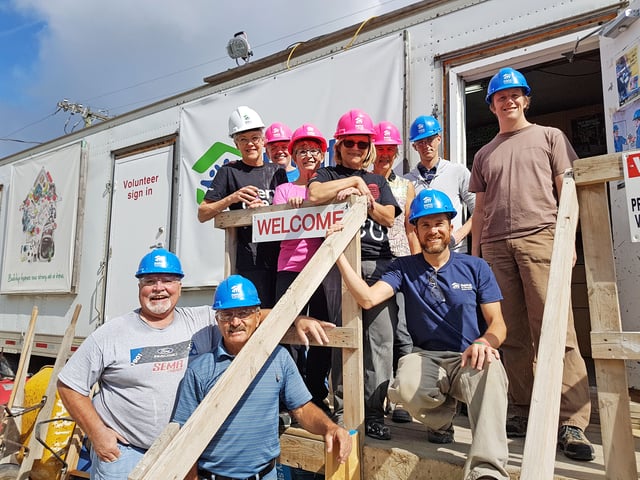 Sue Teucher, along with her family and members of Chinook Financial, during a special Nigel Build Day in the calgary community of Pineridge.
What are your favourite memories from the year? Tell us by commenting below!