Whether you are searching for the new products, technologies, companies or ideas, the Calgary Home + Garden Show is the event to attend this weekend. It runs through March 2-5 at the BMO Centre and provides direct access to more than 650 of Calgary's top home improvement, gardening and renovation companies.
In addition to that, the Show offers a variety of interactive workshops, contests and design competitions.
The Ultimate Upcycle Challenge is one of the top things to see at the Show.
The Challenge is back with a fresh new theme – eat your veggies. This year, five of Calgary's most creative bloggers and design experts upcycled rescued items from Calgary ReStore to create five one-of-a-kind containers for herb and vegetable gardens using only Rust-Oleum paints and stain, and a $50 design budget.
All items will be exhibited and sold in a silent auction, with all proceeds directly benefiting Habitat for Humanity Southern Alberta to help families build strength, stability and independence through affordable homeownership.
Who are the participants?
This year five local bloggers and designers have taken part in the Ultimate Upcycle Challenge, including:
Read on for their stories about their unique DIY pieces.
Meet Zandra and her repurposed lamp post.
Zandra has been trying to find her inspiration on Pinterest, but she couldn't see anything of her interest because most of the pieces were the same and she wanted her piece to be different.
With an open mind and, in the hope that something would spark her creativity, she went to the Calgary ReStore. It took her about three strolls around the store to find something she loved a lot.
"It took me about four hours to complete my project because I had to wait for things to dry. The drying process was the most difficult thing because I couldn't move on and complete my next steps until something had dried," says Zandra.
Initially, her piece was a light post for the outside of your home. However, after some cosmetic changes and removal of unnecessary parts, the lamp post turned into a beautiful planter.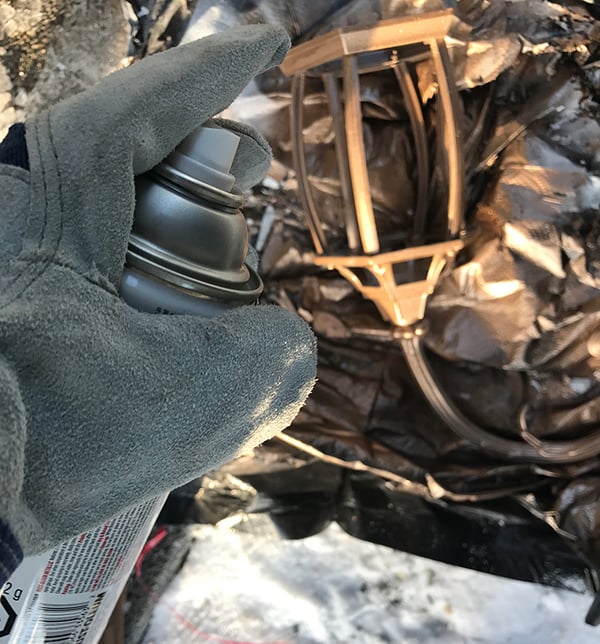 "When you first see my project you think ,'"wow that's a cool lamp post,' but then you see it is actually a planter. It adds a different meaning and perspective to the piece," says Zandra.
Zandra's project shows how something can be repurposed and most of the times things should not be used the way they were initially intended for.
"I think when something breaks we need to think that there are so many ways to re-use and re-create the things. You can customize almost anything with spray paint in your hands. It's easy, and it's so much fun!"
Instagram: @lifewithzandra

Meet Lauren and her modular urban garden.
Lauren was excited about taking part in the Calgary Home + Garden Show's Ultimate Upcycle Challenge. Following her invitation, she turned to Pinterest to see if there was something that she could use as an inspiration.
"I use Pinterest frequently as it allows me to file photos I want to reference for inspiration in an organized fashion, which in turn helps me quickly pull ideas when I have a project I want to work on," says Lauren.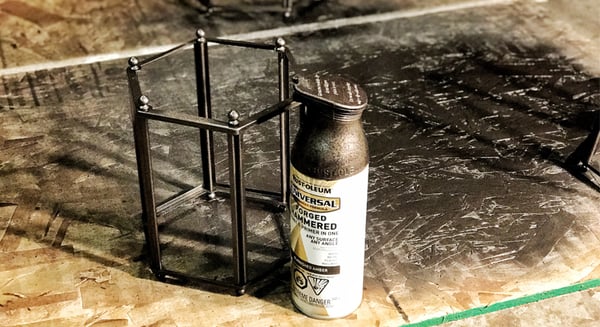 Being inspired by some design concepts on Pinterest, she headed to the Calgary ReStore to see what items she could give a second life. After a short time, she was able to purchase a boatload of hanging glass light fixtures for $5, which were perfect for the task.
Having all of the pieces together, she began a transformation of the light fixtures into a modern herb container. She started with unscrewing and removing each fixture to disconnect the electrical portion of the light. She then spray-painted all the remaining metal pieces using Rust-Oleum paint, which would add new vivid colours to the metal pieces.
From there she simply put all pieces together: slipping the glass pieces back in, screwing everything back together and placing the bottom inserts in each planter.
"I wanted my project to be modern as well as versatile as to easily fit in a multitude of spaces and that's exactly wat these light fixtures would provide," says Lauren.
Instagram: @spuddelivers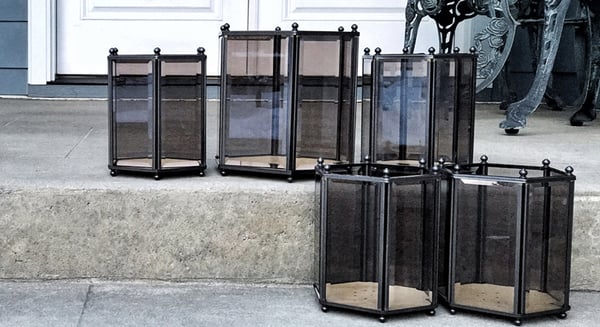 Stay tuned for our next installment of the Ultimate Upcycle Challenge series, and see what inspired our next three artists.