Seeing potential in an overlooked (and often tired) furniture piece has been a lifelong obsession of mine.
I can't help but see the possibilities and definitely can't bear the thought of seeing an item that is far better made than most furniture today end up in the landfill. When the Habitat Restore contacted me to collaborate with a piece from their store, I was all over it!
I was in search of a piece not only with great potential but a diamond in the rough. When I shared with a fellow furniture artist the piece I was considering, her response was "she uuuuuggggly" so that sealed the deal instantly for me!
This antique barrel dresser was a weird one, being unusually small and low to the ground. The ReStore had a sign asking customers not to sit on it and that's when inspiration struck: it's the perfect bench height!
How perfect would it be at a front entry where you could take a seat to put your shoes on?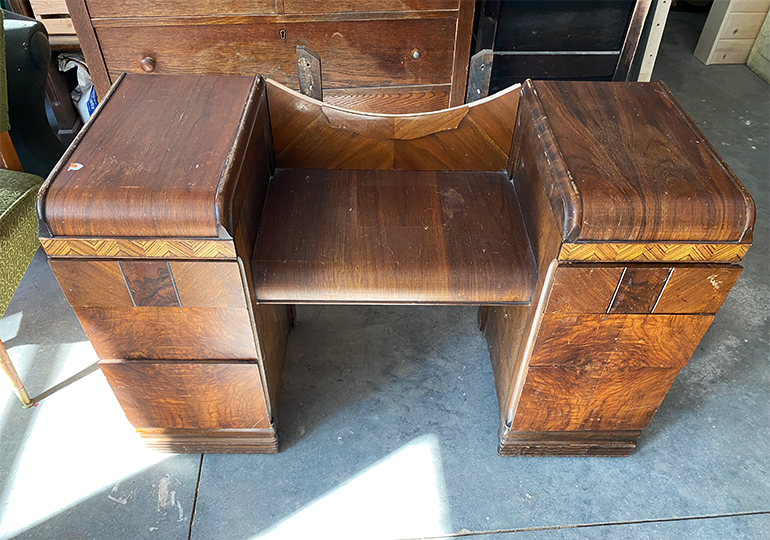 It was time to get started on the transformation!
Firstly, I looked over how the center piece was attached to the sides. Even though it was already extremely sturdy and well-made, I decided to reinforce it further by adding braces underneath, on both sides from front to back.
The braces were secured to an additional wood support on the inside (where the drawers were) using wood glue and nails. I also added a strip of wood in front from underneath the seat area running from top to bottom.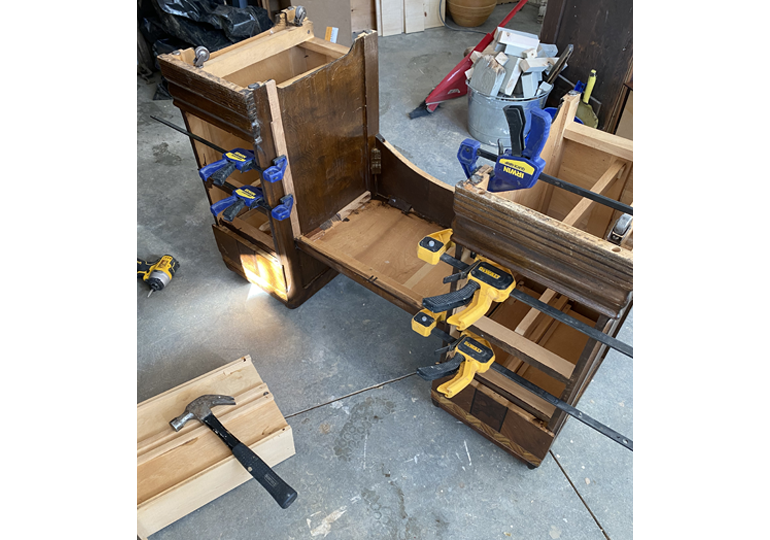 Next, I took the two bottom drawers on either side out and got ready to remove the drawer slides. The pieces from the front to back popped out with a little hammer strike. The remaining pieces were easily cut out using a multi-tool.
With the bottom sections now open to the floor, I needed to build a base and trim out the inside. I prefer to use solid wood and don't like waste, so I repurposed the wood from the drawers that I removed.
I dismantled the drawers, glued them and then cut to size. After thoroughly sanding them down, they were glued and nailed into place. I also added some backing and side trim to give a nice, clean look.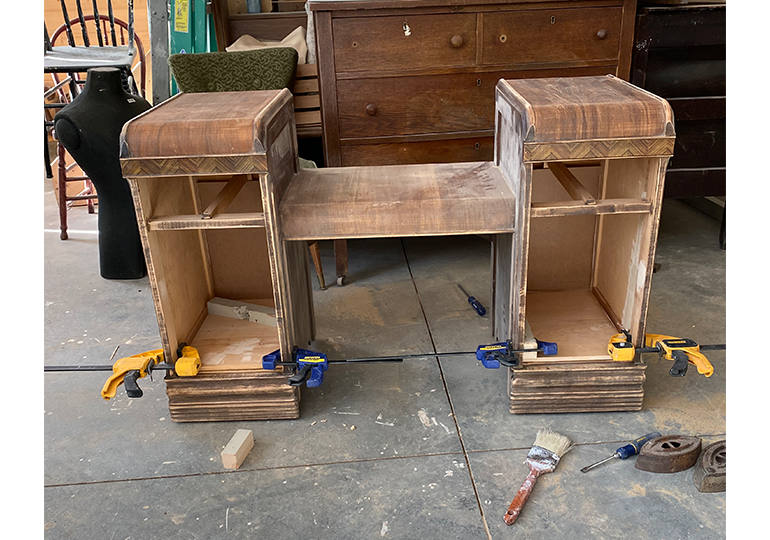 The next step was to scrape the old varnish off, repair blemishes, nail holes and veneer cracks and then give a thorough sanding. I also created hidden charging stations for small electronics by drilling two openings behind each drawer on the back of the piece.
It was now ready for the final touches!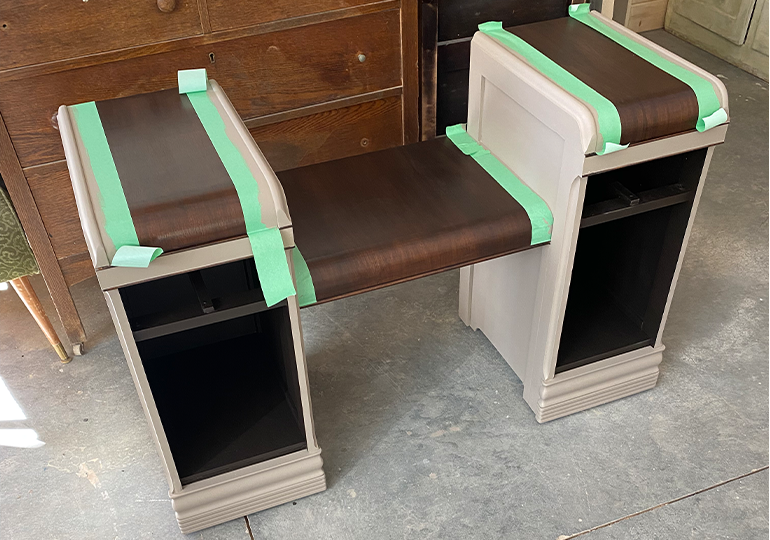 I painted the interior of the shelves in Chocolate Brown by Fusion Mineral Paint. The bench, drawers and side tops were stained with General Finishes Java Gel Stain. I painted the rest in Algonquin by Fusion Mineral Paint.
Once everything was dry, I gave the base of the shelves, and all parts that had been stained, three coats of General Finishes Flat Out Flat Top Coat.
Voila! New life for an old tired piece.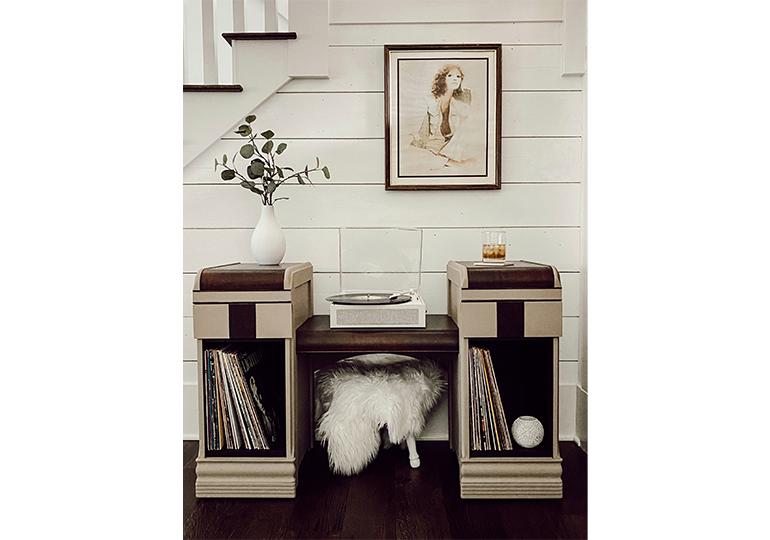 While sharing the process in Instagram Stories, I was curious what my followers thought I was doing with this piece.
I got wonderful feedback, but one suggestion in particular I had to consider. Carol suggested it would make a great place to put a record player and the side shelves are the perfect place to hold record albums.
What really spoke to me was that this tired old piece with one purpose – a dresser – now makes a statement with many different possible uses!